Chandler residents who may never have sought out food boxes, rent assistance or a domestic shelter before are now relying on services from the city's nonprofits.
Local nonprofit organizations throughout Chandler reported up to 80% more residents requiring support for basic needs and an increase in services since the coronavirus gripped the city and the nation in March. The number of individuals and families experiencing homelessness in the city is predicted to increase by 40%.
While servicing more individuals and families, nonprofit organizations had to make changes to their day-to-day operations to accommodate for increased cleaning and personal protective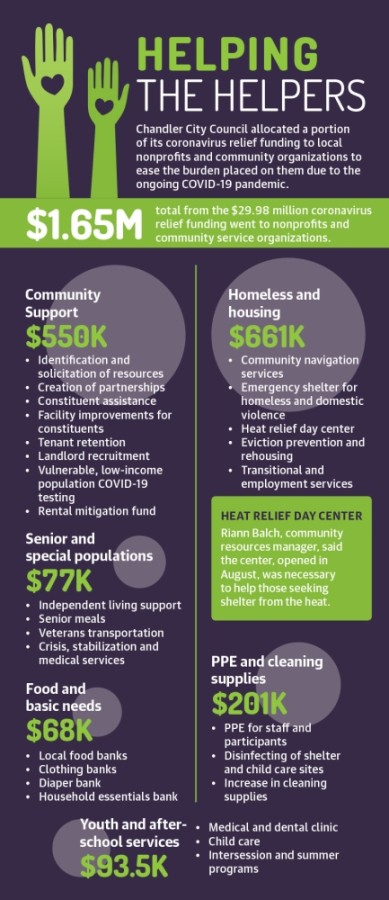 equipment despite tandem with reduced funding and far fewer volunteers.
However, the city of Chandler is stepping in to help by allocating additional funding to the city's nonprofit and community service organizations totaling some $1.65 million in addition to the funding the city grants the entities annually.
"All of us are facing the same barriers," said George Macedon, president and executive director of FANS Across America. "The lack of funding is important, and the lack of volunteers makes it difficult to be able to sustain and keep going forward and stay focused on helping families most in need. The dollars we get go directly back into the community."
Hadassah Baldinger, the assistant executive director at the East Valley Jewish Community Center, said the nonprofit, which provides services to all residents regardless of faith, had to adapt to be able to provide a space and a safe haven for children like it does every summer.
Now, the kids—some as young as a few months old—arrive at the community center in the morning to be cared for during the day, and their temperatures are taken by an employee donning a mask, gloves and scrubs to prevent the spread of COVID-19.
"There were several challenges, but the big challenge was that we needed more staff to bring the kids in from their parents' vehicles," Baldinger said. "We need scrubs, masks, cleaning supplies, tons of hand sanitizer; we needed to hire a professional cleaning company to sanitize everything before we opened back up. The cost was tremendous, but for us we never thought about the budget. We needed to be able to serve the community."
The East Valley Jewish Community Center is one of many nonprofits in Chandler that had to pivot quickly in March to recreate the way they deliver services to some of the city's population with the highest needs.
"Our parents didn't pay tuition for a couple of months, and when we got funding from the city—that was amazing for us," Baldinger said. "That's something we could only dream of. That helps us to have extra counselors, extra staff, extra supplies. It's everything."
Recognizing the need
Riann Balch, community resources manager at the city, said the city, nonprofits and faith-based organizations have a close working relationship that became even closer during the pandemic as organizations reported increased need and decreased resources.
"Everything flipped on a switch, but Chandler is good for being creative and having everyone rally together and figure out how to get services to everyone," Balch said. "The first thing for us was worrying about nonprofit staff and how they were going to continue operations serving our most vulnerable populations. The most vulnerable are the last to get services; they have no safety nets."
But these organizations are volunteer-driven, Balch pointed out, and with orders from the governor's office to stay home if one is more susceptible to the virus—which includes people age 65 and older—the Chandler nonprofits saw a 70% reduction in its volunteers.
With that reduction in volunteers, and in some cases staff positions that the nonprofits were no longer able to fund, the organizations are in tough positions. When the city asked for what they needed, nonprofit organizations suggested funding for personal protective equipment, community outreach, food and clothing as well as homeless and housing help.
Ann Marie McArthur, executive director of About Care, said the nonprofit organization that is dedicated to assisting homebound seniors with medical needs has seen a 30% increase in clients in Chandler, Gilbert and Queen Creek—clients for whom their only connection with the world outside their home may be About Care. Through spring and summer, About Care had a 40% increase in volunteers—something the executive director expects to change as young people head back to school.
But McArthur worries she will lose some of those volunteers when school resumes.
"This is the most clients we've ever had," McArthur said. "We have about 645 clients; we have increased over the last three months more than 130 people. These people don't know what to do. They are scared and to have someone call you to check in and ask if they are OK, or if they need anything—that's a life saver. And their isolation is just getting worse."
McArthur said for her, funding is the biggest concern. In the spring, she was forced to cancel the annual fundraising event that brings in between $30,000 and $50,000. With more need among some of the most vulnerable residents, the nonprofit is strapped for cash.
"Our expenses have gone through the roof, but donations are limited," McArthur said. "We are really trying to find a way to get some emergency funding, but it's not substantial, and it's not sustainable. ... If we were a for-profit organization, we would have money in the bank. But we are a nonprofit organization; we live month to month. So funding is an issue you always have to deal with. But it's never been like this."
Lack of volunteers, funding
FANS Across America works to serve families in transition, homeless students, domestic violence survivors, people who have experienced sexual trauma and foster children.
Macedon said the organization has been affected "like all other nonprofits" and is facing a lack of volunteers and a lack of funding. Looking to the future, Macedon said when the pandemic "eases up" the nonprofit will still be faced with higher need.
"We are still going to be faced with an economic crisis," Macedon said. "We have right now families that are struggling with rent subsidies; when that runs out they won't be able to make ends meet. With unemployment, there will be foreclosures and people put on the streets."
FANS Across America provides clothing, shoes, toiletries, basic housewares and cleaning supplies in its store-style building. The organization also runs a diaper bank to help families in need.
Macedon said the organization has seen an increase in domestic violence referrals since March. According to data from the Chandler Police Department, the number of domestic violence calls for service was up between 14% and 20% between March and May of this year compared to last year. Calls for service do not indicate that a crime was committed but do indicate that an officer responded to a call.
"With the pandemic and being at home and the stresses of kids being at home, we saw an upswing in domestic violence referrals because of the heavy stress levels," Macedon said. "And the party being abused has no escape. ... This happens everywhere. No ZIP code is immune."
Macedon said the nonprofit operates on a "responder basis," meaning it does not take walk-in visits but rather an individual or family is referred to them, and an appointment is set up.
"A high percentage of those coming to us now never thought they would have to reach out to an organization like ours before,"
Macedon said.
At AZCEND, CEO Trinity Donovan said the organization has seen increased need across every aspect of the nonprofit, from homelessness to rent assistance to the number of food boxes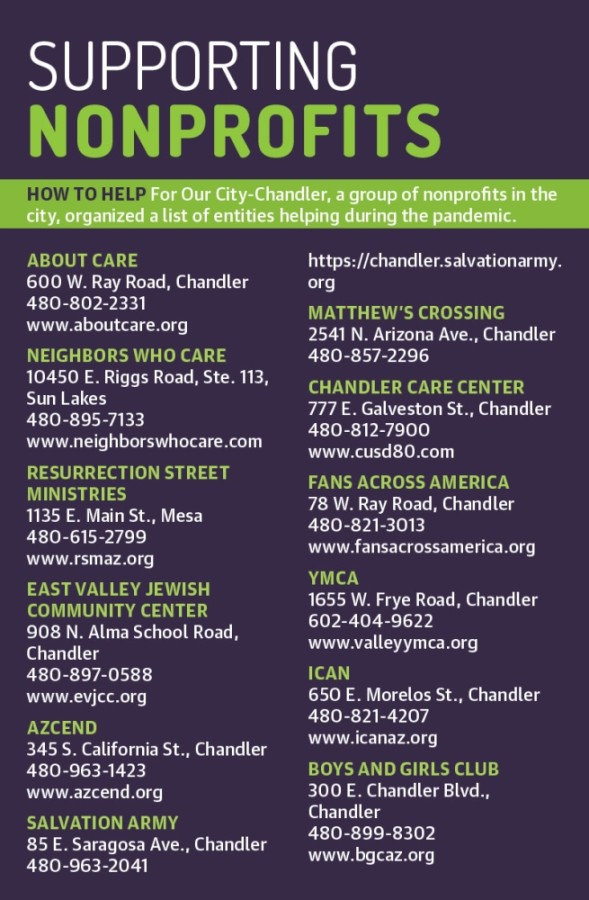 needed since the pandemic began affecting the region in March.
The funding the organization received from the city's allocation, Donovan said, will help to sustain AZCEND as it navigates the unknown in the coming months.
"As we look to the future, I think the impacts of this pandemic will last much longer in terms of the ones who are hardest hit take the longest to improve—those who make the least amount of money will be hurt harder and for longer," Donovan said. "When we look at the recession, 10 or 11 years later we were just seeing the levels of service start to go back down to a pre-recession time. Rent and utility assistance is going to be a critical need as there are unknowns about unemployment. This uncertainty can be hard for those who are hardest hit."
Part of the coronavirus relief funding allotted to AZCEND, Donovan said, will go toward helping residents with rent and utility assistance. Donovan said the community already saw a high need prior to the pandemic with rent and utility assistance because of the lack of affordable housing. Because of financial resources from Maricopa County and the city of Chandler, Donovan said AZCEND has seen more than a 70% increase in the number of households it has been able to help. But the organization is still not able to help all who apply.
"We need all the support we can get so we can support the people who need it most," Donovan said.•