Low inventory and a lack of new housing developments to keep up with the city's demand have contributed to sky-high housing prices real estate experts said they are seeing across Chandler.
"What we are living with now is a result of and reaction to the Great Recession," said Mark Stapp, the director of the master of real estate development program at Arizona State University. "The reason we have prices escalated as high and as quickly as we do is a lack of inventory. The Valley continued to grow during and after the Great Recession, but the entire homebuilding marketplace stalled and under-built from 2008 to 2015. We set ourselves up for this problem."
In the past year, Chandler ZIP codes have seen the median price of homes sold increase between 20% and 50% compared to the median prices the year prior, according to local real estate data from West and Southeast Realtors of the Valley, a real estate agent group.
Local Realtor Kathleen Banister said the median home price across Chandler as of June is $495,000, a 39.44% overall increase from June 2019 when the median was $355,000.
"Affordable housing is important in Chandler," Banister said. "Everyone needs a place to live. Chandler's economy is growing as more employers move to Chandler, and those employees need houses—290 people a day are moving to Arizona. Importantly, homeownership is the best way for most people to build wealth, which increases a family's quality of life and net worth for generations to come."
Stapp said the pandemic created a perfect storm for the housing market. With new builds taking longer due to a supply chain shortage—the low inventory has only exacerbated an existing affordability issue across the Valley.
"Add to this whole mix the pandemic, and it is the low-wage earning service workers that have been most hurt and that causes a really big disparity in income," Stapp said. "The Valley has a lot of working poor. And working poor can include teachers and phlebotomists—it doesn't always mean it's a bartender or server or someone working in a hotel or resort. These are critical jobs for our community. In places like the southeast Valley, the greatest share on a percentage basis of new home building growth is built for higher median incomes. People are getting pushed out of the market to places like Florence or Coolidge where the price of land is cheaper."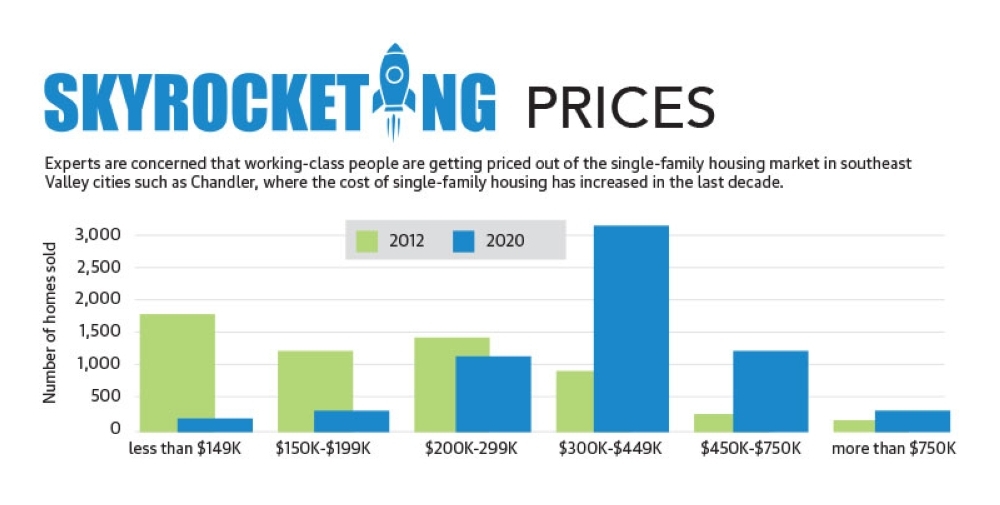 In the city of Chandler, multifamily housing developments are outpacing single-family housing developments, but officials say single-family housing is being developed—just on smaller infill lots as the city draws closer to build-out. According to data from the city of Chandler, 500 new single family residential units were completed in 2019 compared t0 1,500 multifamily units.
"Supply has not yet met demand, and it's still going that way," said Kevin Mayo, planning administrator for the city of Chandler.
Supply and demand
Mayo said unlike the rest of the Valley, Chandler slowed down—but never stopped—building single-family homes in the aftermath of the Great Recession. But, Mayo said, what was constructed in that time has not kept up with the city's population growth.
Many of the new single-family developments in the city have been smaller houses on smaller lots because the city only has about 9% of undeveloped land left before being considered built out, he said.
"Where Chandler is at the moment is normal outside of the current, crazy market," Mayo said. "Chandler planning has no influence over that outside crazy market. But where Chandler is in our evolutionary growth cycle, the sizes of lots that we are seeing is normal and to be expected."
But even with those smaller infill lots being constructed and opened—the city's housing inventory is far from meeting the needs of the people moving here, Banister said.
"Economists and real estate analysts project inventory levels to increase in 2021," Banister said. "First, builders have more permits in the pipeline, although that inventory may take longer because of lumber prices and availability. Next, mortgage forbearance is phasing out, and 15% of Americans do not have a solid plan to catch up on their payments. Homeowners have enjoyed rapid appreciation in the values of their homes so most have plenty of equity to sell quickly without foreclosing. Finally, more people are ready to list as they become open to having strangers come through their house with COVID[-19] easing."
Banister said more inventory does not necessarily mean prices will drop.
"Sellers have become accustomed to asking over the market value and getting it," Banister said. "With more inventory, the days on market get longer. Next, the percentage of price reductions start to increase. When buyers have more choices, sellers tend to accept offers with inspection and appraisal contingencies, agree to repairs, give concessions or throw in a home warranty. Increased inventory means fewer bidding wars. When a seller is reviewing one offer, instead of 12, the buyer is much less likely to have to pay over the asking price."
Helping residents find housing
Leah Powell, director of neighborhood resources for the city of Chandler, said the city is a public housing authority that receives federal funding to assist low-income Chandler families with housing.
There are 303 affordable housing units in the city, Powell said, but 1,000 families are on the waiting list for public housing.
•"I would say we have a demand that does not meet the available housing units, and the [Department of Housing and Urban Development] does not allow us to build additional units," Powell said.
The last year has also held off evictions with an eviction moratorium in place since the early days of the pandemic. That moratorium expires in Arizona at the end of July, Powell said, and the city is bracing to see people reaching out for rent and mortgage assistance to stave off eviction.
"There is a lack of affordable housing across the country," Powell said. "There is education that's needed. I think there is a negative view of Section 8 housing. If you did have it come to your neighborhood, it's not a negative. It's a positive. There are inspections; the people meet with a housing specialist and go through a series of background checks. There is a great deal of oversight. It can be a very good thing, putting someone in stable housing with the resources to go with it."
Powell said, ultimately, there just are not enough affordable housing options in the city.
"There is going to have to be more affordable housing, bottom line," Powell said.
Council Member Matt Orlando said Chandler City Council will continue discussing workforce housing, public housing and residential density.
"I don't want to drive the workers out of the city," Orlando said. "We have to be good civil servants and solve some of the problems [companies] are facing to keep employment numbers up. If they can't get the right mix of folks to work in their areas, they might leave. It effects the economic balance as well as the social balance."
Orlando said the city is discussing developer incentives to set aside a number of units in development for workforce housing; revitalizing older neighborhoods with code enforcement; and redeveloping city-owned properties for workforce housing, among other options.
"We are trying to keep folks locally without having them drive 30-40 miles to get to their jobs in Chandler," Orlando said.