Multifamily housing in the city of Chandler is outpacing the development of new single-family housing, according to city data.
According to data from the city of Chandler, in 2019 Chandler saw about 500 new single-family residential units completed compared to just under 1,500 multifamily units in the same year. The city continues to see more new requests for multifamily developments than it does single-family homes.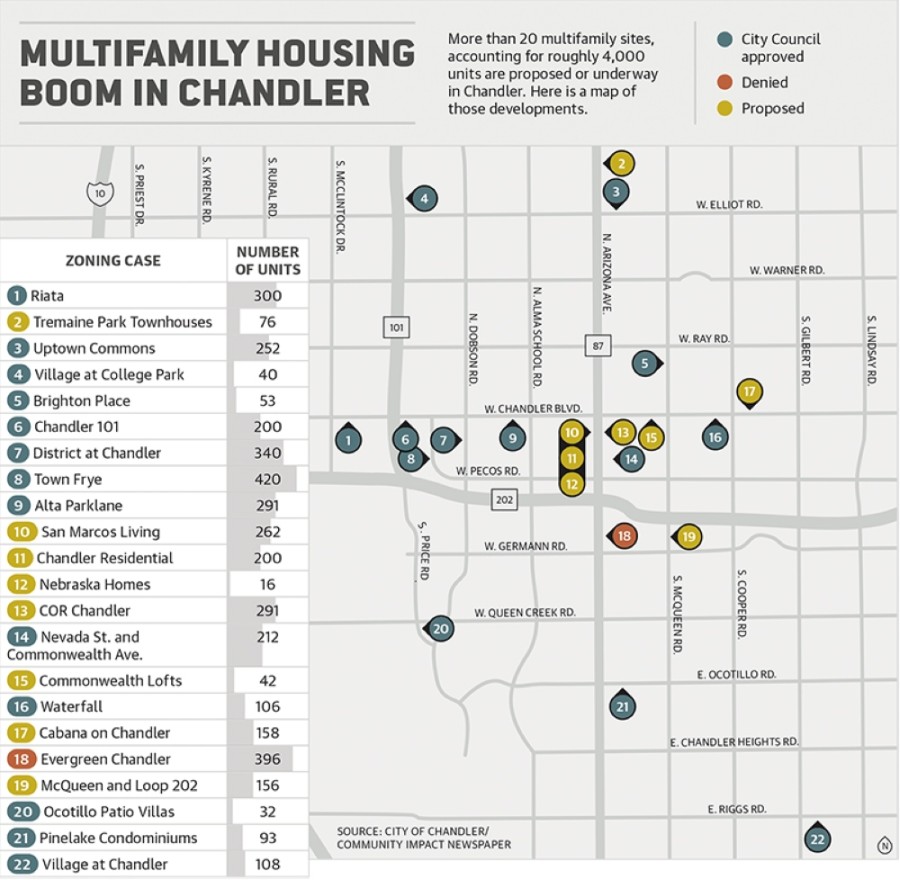 At a meeting in early November, Chandler City Council approved the rezoning ordinances for four multifamily projects scattered across the city. Each project varies in size and scope, according to plans submitted to the city.
"We are seeing what you would expect as a city transitions from suburban growth to maintenance," said Kevin Mayo, planning administrator of the city of Chandler. "From development to more infill and redevelopment."
Developers have brought forward 22 multifamily housing projects consisting of about 4,000 units between 2018 and 2020, according to the city. Multifamily housing can be condominiums, townhomes or, more commonly, apartments.
"Once a city develops from a rural agrarian city to a suburban city, then it moves into the next stage of redevelopment and infill," Mayo said. "Multifamily is a great component to that development cycle."
In 2019, according to data from the city, developers completed just under 1,500 multifamily units. Mayo says that is a stark contrast to nearly a decade ago when the city was paralyzed by the effects of the Great Recession and no multifamily housing was developed for about three years citywide.
"Around 2012, we had a few things happening; our economy was starting to surge back; and we had continued employment growth," Mayo said. "In 2012, we started seeing planning and zoning cases come through for multifamily again. Shovels weren't in the ground for those projects until 2015 or 2016. So visually, you didn't see a surge of multifamily in the area until then."
City officials, developers and housing experts in the Valley say Chandler will continue to see an increased need for multifamily housing as the city continues to develop land set aside for employment, adding jobs to the city.
"Employment drives housing," Planning and Zoning Commission Chair Rick Heumann said. "As we add more jobs to the city, we need to continue to add more places for those people to live. We don't want to get into a place where we have people living in Mesa or Queen Creek and commuting to their jobs in Chandler. We want people to live, work, eat and play in Chandler."
Matching inventory and demand
Chandler, like cities and towns across the county, saw a multifamily housing boom in the 1980s, said Mark Stapp, a professor at Arizona State University and local real estate expert. Even with that boom, the development of single-family homes had historically outpaced multifamily housing in Chandler, according to data from the city.
Stapp said the two housing products were bound to flip as Chandler reached build-out.
"Chandler is still evolving," Stapp said. "But it has gotten to a point in its evolution where it is in a more mature stage of existence, where the city is running out of housing inventory and where large parcels of undeveloped land just don't exist anymore. When you have employment growth, like Chandler does, you need to have enough demand from users that you have to diversify your housing stock."
Before the Great Recession, Stapp said, multifamily housing was concentrated in the Valley to Tempe, Scottsdale and downtown Phoenix, with more suburban areas having multifamily housing that was built in the 1980s and often not maintained.
"There was no new multifamily in the suburban marketplaces," he said. "It's taken the maturation of Chandler, and it's taken the investor and lending community's willingness to look at projects in those areas. Multifamily is the strongest product type for these suburban areas moving forward."
Mayo said Chandler has a low vacancy rate across its existing multifamily developments.
"Oftentimes you'll find that new developments are almost entirely rented out by the time they are complete," Mayo said.
Stapp said Chandler's focus on bringing jobs to the city in the last decade has increased the burden on the housing market, as seen in the city's low inventory of single-family homes and low vacancy rates of multifamily housing.
"The one thing Chandler has seen over the last decade is significant employment growth in technology and other higher wage-earning jobs," Stapp said. "In order to be able to sustain economic development, you have to have a variety of housing types. You have them for mobility. People often start off their careers in an apartment or condo, then own a home and then in their later years, return to renting and multifamily housing so there is less upkeep. It's a matter of lifestyle, and you have to have housing to cater to every lifestyle."
Developer Reed Porter, owner of New Village Homes, got a new project approved in November for single-story, rentable units in Chandler. The project will be located at Elliot and Price roads, according to city documents. Porter said it will include 40 one-, two- and three-bedroom units.
"This project is on an odd, thin parcel that had a single home on it," Porter said. "We do small, boutique neighborhoods of single-family, cottage-style homes as multifamily. We are doing infill projects in Chandler, and often neighbors react better to a multifamily project if it's single-story and doesn't necessarily look like traditional apartment complexes."
The first project like this Porter developed was in Chandler at Ray and McQueen roads. That success inspired this new one.
"It creates a single-family living experience with the benefits of a multifamily community," Porter said. "Chandler is perfect for that kind of project."
Multifamily affordability
Many of the newer multifamily developments in Chandler have rents for one-bedroom apartments ranging from $1,300 to $1,600—what the city considers "luxury."
Stapp said, even with more multifamily developments, he believes cities still need to find ways to address affordability, particularly for those who hold public-sector jobs like police, firefighters and teachers.
"The problem everywhere in metro Phoenix is that we are not as affordable as people like to think we are," Stapp said. "There is a significant portion of the population that is housing burdened, meaning more than 30% of their income is used on housing. It makes us less resilient to economic hardship and creates less diversity. Multifamily is not just housing for, quote-unquote, 'poor people,' but a lot of working poor often live in multifamily housing. These people can be working multiple jobs, and still the ability to afford to pay for a quality place is very difficult."
Stapp said rents have been on the rise across the Valley, and he expects that trend to continue. Many of the new developments, including in Chandler, have community amenities such as pools, concierge services and full-service gyms. Stapp said people pay more a month for the experience and lifestyle of living in a big, multifamily community and in a unit outfitted with the newest finishes.
"Multifamily is not about housing 'the poor.' That's a real misconception," Stapp said.
Heumann said he would like to see the city work with the private sector to bring about housing specifically for teachers, police and firefighters—among other working class professions—to improve Chandler's housing affordability.
"The challenge is that's not what is getting built," Heumann said. "I'm not talking about Section 8 housing, but it's housing for teachers, firemen, retail workers and more who want to live in Chandler close to where they work, and they are being driven out of the city because of pricing."
Mayo said the city continues to monitor the housing needs of the community. But, Mayo said, while multifamily is outpacing single-family housing, he expects single-family homes will continue to be built on the smaller land parcels left throughout the city as well.
"We kind of keep one eye on today and one eye on the future," Mayo said. "That's how we guide development. Right now, we are in line with where we expected to be on the path, and we are headed were we are expected to go."•