Short-term rental properties will soon be facing more restrictions in Chandler as the city looks to crack down on party houses.
Chandler City Council was approved Sept. 17 a change to city code that would allow the city to collect tax revenue from short-term rental properties and provide more oversight.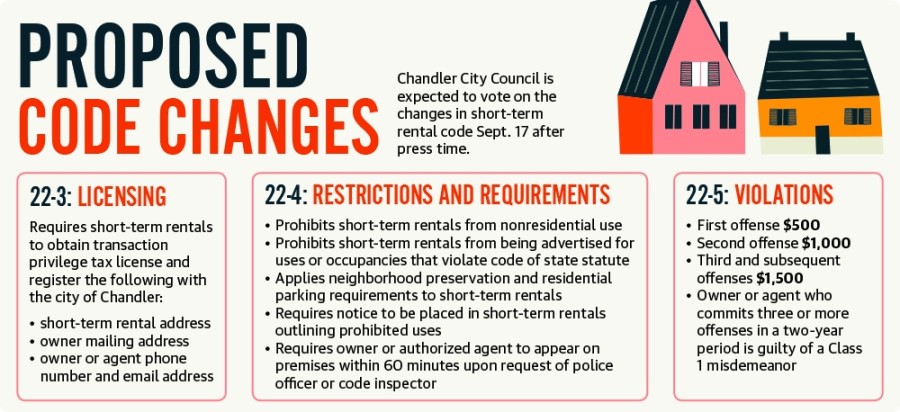 According to the city, there were 591 short-term rentals listed on Airbnb and VRBO in June. About 100 of those short-term rentals were licensed, and $150,000 was collected in taxes from those licenses from 2018-20 in an enforcement project.
The change to the code is born out of state legislation placed into law last year. House Bill 2672 offered local and state governments more autonomy with how they could penalize short-term rentals that had become a nuisance to surrounding neighbors—particularly those that have become a gathering point for multiple renters throwing loud, late-night parties.
If council approves the changes to code, the city would require all short-term rental properties to register for a transaction privilege tax license and register their names, email addresses, phone numbers and addresses with the city. The rentals would also be prohibited from any nonresidential use.
"If you have someone living there full time, they are contributing to the community," Council Member Matt Orlando said. "If we have police going there or code enforcers going there, it's costing the citizens of Chandler additional dollars. With the code changes, we could be getting our money's worth from the [tax], and with the permit, it at least gives us some control if things get out of hand."
Orlando, whose Chandler neighborhood has several short-term rentals, said he did not want the changes in the code to be punitive but said the city has to be "sensitive to neighbors."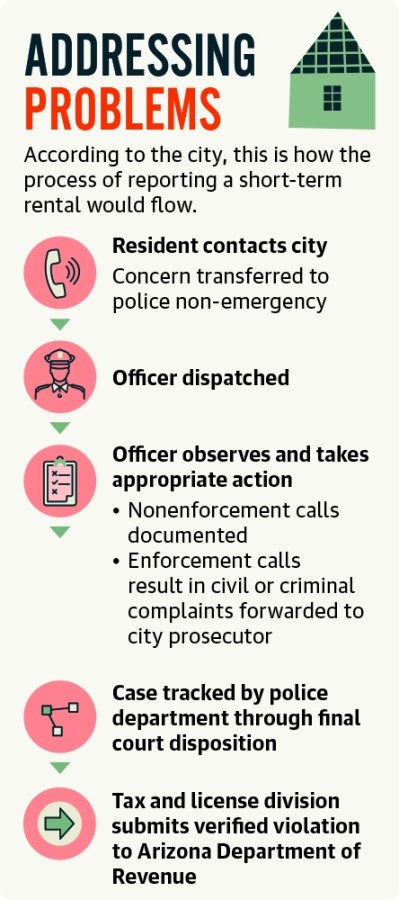 "I think this is a good thing, and I hope that we move toward this," Orlando said.
Cracking down on party houses
Property owners looking to list their homes on popular rental sites like Airbnb or VRBO would need to register with the city under the new code. Ryan Peters, government relations and policy manager at the city, said registration allows the city and the police department to have a contact on record if a nuisance call was made about the property.
"Registration is something that the new laws let us get our hands around," Peters said. "What the problems are, how many properties are really out there and when law enforcement is responding."
Peters said property owners' registration would also allow for the police or code enforcers to call the owner or manager, and they would have to arrive on site within the hour.
In June 2019, a fatal shooting at an Airbnb house party in Chandler took the life of a 26-year-old, according to police records. In late 2019, Airbnb banned party houses companywide, according to the company's website.
On July 22, a news release from the company indicated Airbnb had "cracked down" on Arizona's party houses—including an unknown number in Chandler. Fifty listings companywide across Arizona that had received complaints or otherwise violated company policies on parties and events were either suspended or removed from the Airbnb platform.
Peters said a variety of complaints have been lodged against short-term rentals across the city, and the changes in code are intended to give the city a way to lower the number of complaints.
"We are focused on trying to be responsive to neighborhoods and to make sure the quiet enjoyment of everyone's property is respected," Peters said. "The ordinance embraces a sharing economy, but not one that is too disruptive to neighbors. There are a lot of good [short-term rental property owners] out there. We are not looking to penalize the good ones, but we want to respond to neighbors who are burdened with the bad actors."
Community response
Orlando said he has received a few calls of neighbors complaining about party houses and has concerns as to how the properties contribute to the city's already low housing inventory. In June 2020 the city had about 400 active listings, half of what it did the previous year.
"I think that the party houses and the fact that these homes are taking up inventory in Chandler where we are already low on inventory in the first place are the main issues with the short-term rentals," Orlando said.
State Sen. J.D. Mesnard, R-Chandler, worked in 2020 before the legislative session ended to spark a conversation about a different aspect of short-term rentals—the taxes imposed on them. Mesnard said he proposed this legislation to create equity in the taxes on hotels and short-term rentals. Currently, short-term rentals are taxed in a bracket just above residential. Commercial properties, like hotels, are taxed at a much higher rate, Mesnard said.
"I tell people that if you have a hotel and right next door you have an apartment complex, and the hotel is paying commercial tax rates, and the apartment is paying Class 4 rates, that's fine. Except for if you turn your apartment complex into a hotel, it will function just like the guy next door," Mesnard said. "They would look very much the same. In both cases the person staying there doesn't own the furniture, doesn't have their mail sent there and isn't registered to vote there."
The state senate passed Mesnard's proposal, but the bill was not adopted into law. Mesnard said he was not sure if he would propose the same legislation in 2021, but said he thinks the conversation about taxing short-term rentals will continue.
Eshé Pickett, a member of the city's neighborhood advisory committee, said she was "kind of surprised" to see changes to the code regarding short-term rentals because she had not heard any complaints from residents about the properties.
"I thought that it must be pre-emptive," Pickett said. "I do think with aspirations to become more of a destination, or even an alternative to more populated destinations in the Valley, that making sure there is an actual supply for people looking to have an experience that is not long term or a hotel, and a set of rules for those properties makes sense. The city tries to support visitors to Chandler and also people who run small businesses, like a short-term rental."•