The city of Chandler is seeing record-low housing inventory, which is due primarily to the coronavirus pandemic, according to local residential real estate experts.
The Valley—Chandler in particular—was already seeing less than what experts consider a "healthy" level in the number of homes available on the market prior to March when the pandemic and closures began to grip Greater Phoenix and the nation. The market, aside from low inventory, has not faced significant trouble due to the pandemic, but some experts think difficulties could arise in the coming months.
"We are seeing tight inventory at all levels," said Mark Stapp, real estate expert and director of the Master of Real Estate Development program at Arizona State University's W.P. Carey School of Business.
Stapp said buyers looking for homes may be forced to look at the top of or above their price range, while in contrast people who are facing foreclosure or evictions may not find lower-priced options available.
"If you don't have enough inventory to pick up the changes, there is a push downward and those who can least afford it are forced out and are forced to pay more," Stapp said. "That's what I think is going to happen, and it doesn't sound like a rosy picture."
Week one of 2020 had 11,593 homes on the market compared to week 27, which had 8,495—about a 27% decrease, according to Realtor Kathleen Bannister who works in Chandler. The 8,495 homes on the market in week 27 of this year are about 41% less than the same time in 2019, Bannister said.
Local realtors, like Bannister, are seeing bidding wars and multiple offers coming in on the day the house is listed. They have also had to grapple with changes—like cleaning and technology—in their fields due to concerns around the spread of COVID-19.
"People are in the mood to buy homes today," Bannister said. "... Some economists say we are officially in a recession, but that housing is in good shape to weather the storm."
Potential impact on the real estate market
Stapp said while the real estate market in the Valley appears stable now, he fears it will not stay that way as the months go by.
"My big concern at the moment is that we are being kept alive in an induced coma," Stapp said. "We have been in an induced coma kept alive by medication and that medication is stimulus money. So long as the stimulus money exists and goes to people, we will be OK. But because that money runs out, we are going to see an impact. The other part is that most of the governor's orders that were focused on prohibition against foreclosures and evictions are set to expire simultaneously. What we see today, I don't think, is indicative of the real economic conditions. This isn't looking bad now, but you can't have millions of people out of work and not think that it is going to have an economic impact."
Nationally, the unemployment rate as of May was 11.1% and in Arizona that figure was at 8.7%. Both the state and national unemployment numbers decreased from April to May. In Chandler, the unemployment rate was 7.5% in May, according to data from the Arizona Commerce Authority.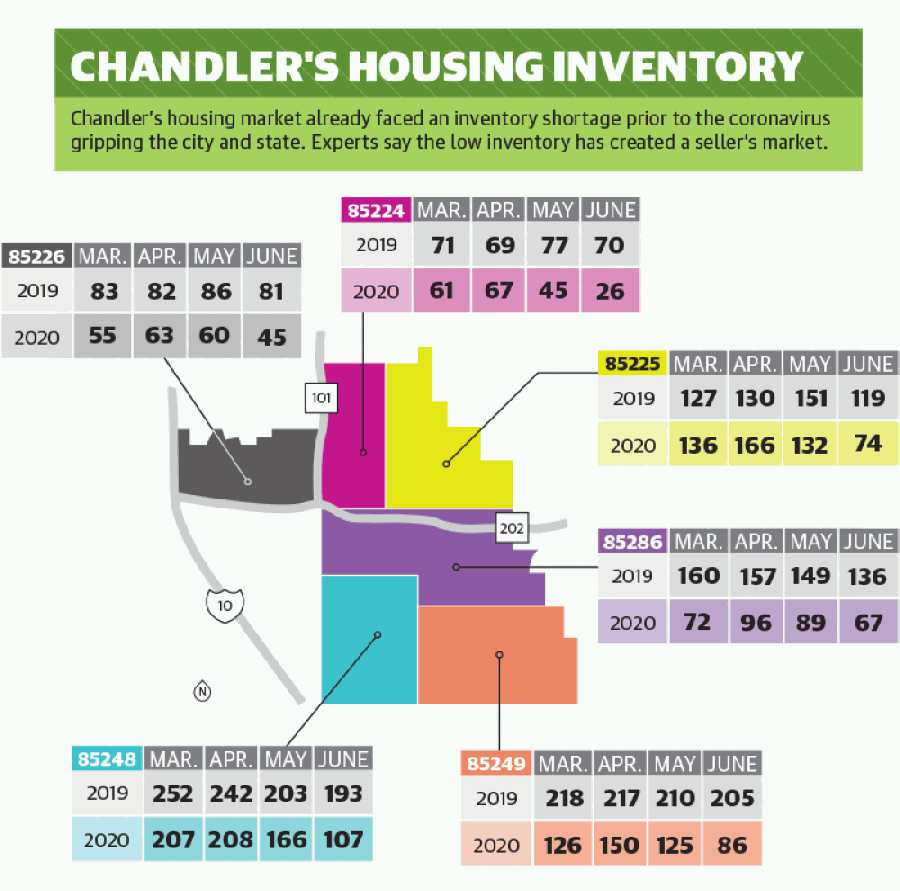 Stapp said it will not be completely clear for some time how residential real estate is impacted by the coronavirus.
"We won't really know what's happening until early August when we see how lenders are going to deal with missed payments and how landlords deal with missed rents when people can't go back to work," Stapp said.
He said there has also been an influx of people looking to move to Phoenix, a lower-density region than Chicago, New York City or Los Angeles.
"It's not like 'Grapes of Wrath'—people aren't pouring out of California—but they are moving at a greater percentage and because our housing inventory is so tight to begin with, that has helped us look good and has kept prices up," Stapp said.
Stapp predicts it will take through the end of the calendar year to figure out what is really going on in real estate in the Valley.
"You simply aren't able to add the number of units to get ahead of this," he said. "It's easy to pick up and move, but it takes years to build a house and it takes years to put an apartment unit into the marketplace."
Local experts weigh in
Sharyn Younger, broker and owner at Copper Summit Real Estate, said the pandemic did not have the impact on the industry everyone had initially thought.
"It's not at all what I think the industry really expected," Younger said. "Before COVID-19 hit, we were in a very strong sellers' market and we were expecting to see a little bit of a shift in that, but we haven't."
Younger said at the beginning of the pandemic in March, Chandler saw a slight bump in inventory.
"There was a lot of panic among investors, particularly people who had Airbnb's, they were holding mortgages and had no one willing to be in the home to pay the mortgage," Younger said.
Bannister said April is typically right in the middle of the Valley's hottest home buying season, but the pandemic put a "drag on the market" during that time—meaning the market slowed down.
"Unemployment, which in turn caused a tightening of lending practices because of forbearance and the potential for default; shelter in place orders and uncertainty caused consumer confidence to decline; and sellers didn't want the public coming through their homes," Bannister cited as reasons for the drag in the market.
"Now that our spring buying season has been pushed into the middle of summer, buyers and agents are very goal oriented," Bannister said. "With the heat and a shortage of houses for sale, people are motivated to get the job done. Now, more than ever, it's important for the buyers to have a solid loan pre-qualification, and the agents are providing a lot more online and upfront information to the buyers before they decide to go see a house."
But Younger said with so much economic uncertainty as the number of COVID-19 cases and hospitalizations continue to climb in Arizona, sellers may be hesitant to list.
"When you have economic uncertainty, people who were going to sell might change their minds and decide to wait and see what happens," Younger said.
Offerpad, a home-selling company headquartered in Chandler, is seeing even more business than before thanks to its model of cash offers for houses—eliminating the need for showing the home or putting it on the market, said spokesperson Courtney Read.
"We are more of a benefit for customers right now that want to sell directly to us than ever before," Read said. "People can sign everything online and close on their timeline. We believe we are more of a benefit now to provide certainty and safety during this time. We are still very, very busy. We haven't seen a decrease in volume at all. We have a lot of people reach out to us a day."
Younger and Bannister said they haven't seen a significant change in prices, but the low inventory bidding wars are driving selling prices up.
"If––starting July 3––no more homes were listed to sell, in 1.28 months Chandler would have sold every house in our market," Bannister said. "On July 3, Chandler had 272 active listings on the market and that includes single family homes, condos, townhouses, mobile homes and duplexes––everything."