East Valley mental health professionals and crisis response teams have seen more people reach out for help with anxiety, depression, grief and stress in the last year than in years past—but some say the COVID-19 pandemic has only exacerbated existing mental health challenges.
"It's about trying to help people know that it's OK to feel lost; it's OK to feel as though you are grieving this lost time," said Jessica Westmiller, crisis intervention coordinator for the city of Chandler Fire Department. "Grief is a natural emotion, and we move through grief—we don't just get over that loss. We learn how to accept that loss as time moves on. Nobody is without loss during all of this."
Officials working in mental health fields are optimistic that as more and more people get vaccinated and restrictions on gatherings ease through the Valley and the nation, people will begin to feel a greater sense of normalcy.
In a study updated in April, the Kaiser Family Foundation nonprofit found the share of U.S. adults who said worry and stress related to the coronavirus was having a negative effect on their mental health increased from about one-third—32%—in March 2020 to roughly half—53%—in July 2020. The March 2021 KFF COVID-19 Vaccine Monitor found 47% of adults continue to report negative mental health effects related to worry or stress from the pandemic nationally.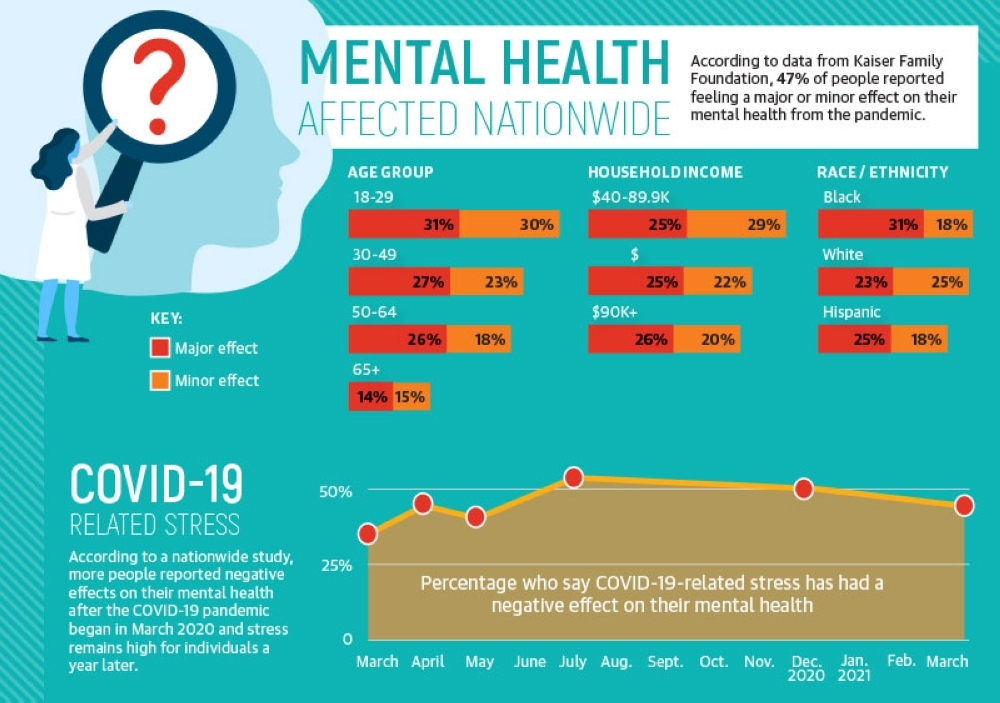 Anecdotally, crisis intervention specialists and therapists in Chandler said they have seen an increase in the number of people being treated for mental health illnesses in the last year.
"I have definitely seen more people coming in with anxiety and depression," said Kavita Hatten, a psychotherapist and licensed professional counselor in Chandler. "Particularly situational depression related to what's happened in the last year. There's been a lot of added stress and a tremendous amount of grief, not only if someone has lost a loved one, but that loss of connection and routine."
Increases in demand
Jerimya Fox, director of Banner Behavioral Health Outpatient Services and a licensed professional counselor, said nearly 80% of adults said the pandemic created a significant source of stress in their lives, according to a national survey. Over half of those people reported feeling a physical or emotional toll.
"Children, adolescents and adults have experienced more stress due to the pandemic," Fox said. "Mentally, one of the things that occurred initially with the pandemic was our bodies respond physically and emotionally with that fight or flight response. And then we had to adapt after a year's time of that continuous stress. So with that continuous stress from the pandemic, not everyone is able to bounce back to normal."
Matthew Moody, director of contact center operations at Solari's Crisis & Human Services headquartered in Tempe, said the center saw a decline in crisis line use in the last year—but more people have been calling in crisis in recent months, according to data from the center with about 5,000 more calls reported in May than December. Moody also said the company's warm lines—which offer a listening ear to those in need—have remained steadily busy.
"With the increase recently, the acuity of the calls—how intense the calls are—has increased as well," Moody said. "That's across the crisis response industry. We are all still trying to figure out that trend across the country."
A KFF health tracking poll conducted in mid-July 2020 found that, compared to households with no lost income or employment, a higher percentage of households experiencing income or job loss reported that pandemic-related worry or stress caused them to experience at least one adverse effect on their mental health and well-being. Those adverse effects included difficulty sleeping or eating, increases in alcohol consumption or substance use, and worsening chronic conditions, according to KFF. Chandler's unemployment rate spiked in April 2020 at 11.9% compared to 3.5% in April 2019.
Hatten said in her practice she has seen people who may not have ever previously struggled with mental health prior to COVID-19.
"There are those who didn't have any previous mental health issues; they may have experienced anxiety for the first time or had their first panic attack," Hatten said. "That can happen any time something happens that triggers that survival instinct in people. ... There are also people experiencing social anxiety for the first time as things open back up and socializing returns."
Mark Young, owner of ComForCare and Busy Day Senior Club, said many seniors have experienced "devastating" mental health effects in the last year due to the pandemic.
"There's been so much isolation in seniors, and their will to live is just ending," Young said. "And it's still here. We are well over a year into this, and our senior population is still afraid to come out. They are all getting shots; even if they are afraid to get the shot, they are getting it. But they are overly cautious because the mortality rate in seniors has been so high. ... People are aching to be around other people."
Young said he sees differences in how his 12-year-old daughter has coped with the last year and how the senior population has coped with the mental health effects.
"With kids and stuff, a lot of it seems to be behaviors. My daughter is more agitated and frustrated and loses focus," Young said. "With seniors, the depression that they have fallen into—they are not able to get out of."
'Nobody is without loss during this'
The city of Chandler's crisis response team is run through the Chandler Fire Department, Westmiller said, and the group of 11 responds to death notifications, allegations of abuse or neglect, homelessness and mental health issues when 911 is called.
"Our job is to support, navigate and encourage people," Westmiller said. "It's a privilege to be with people during a really bad time. ... We don't define crisis for the people we work with. If it's a crisis for them, it's a crisis for us."
Westmiller said she has seen more people struggling with mental health and violence against others or themselves during the last 15 months.
"A lot of those feelings were new feelings for everybody," Westmiller said. "A lot of people were feeling overwhelmed by their inability to do anything."
She said she believes residents are feeling "more nervous" this year than ever before and recommends people take the time to create a plan for a potential mental health crisis—just as a family may plan for a physical health emergency. She said communicating about mental health is key.
"Young children who were born during this time hadn't been anywhere," Westmiller said. "I remember a mom telling me a 1.5-year-old kiddo was overwhelmed by people at the grocery store because she didn't know what it was like to be exposed to that many folks. Even going back to pre-pandemic life looked distressing to some people as restrictions were lessening and wearing masks lifted."
Westmiller said she hopes people will continue to have conversations about mental health even as things return to a more "normal" world—with fewer COVID-19 restrictions.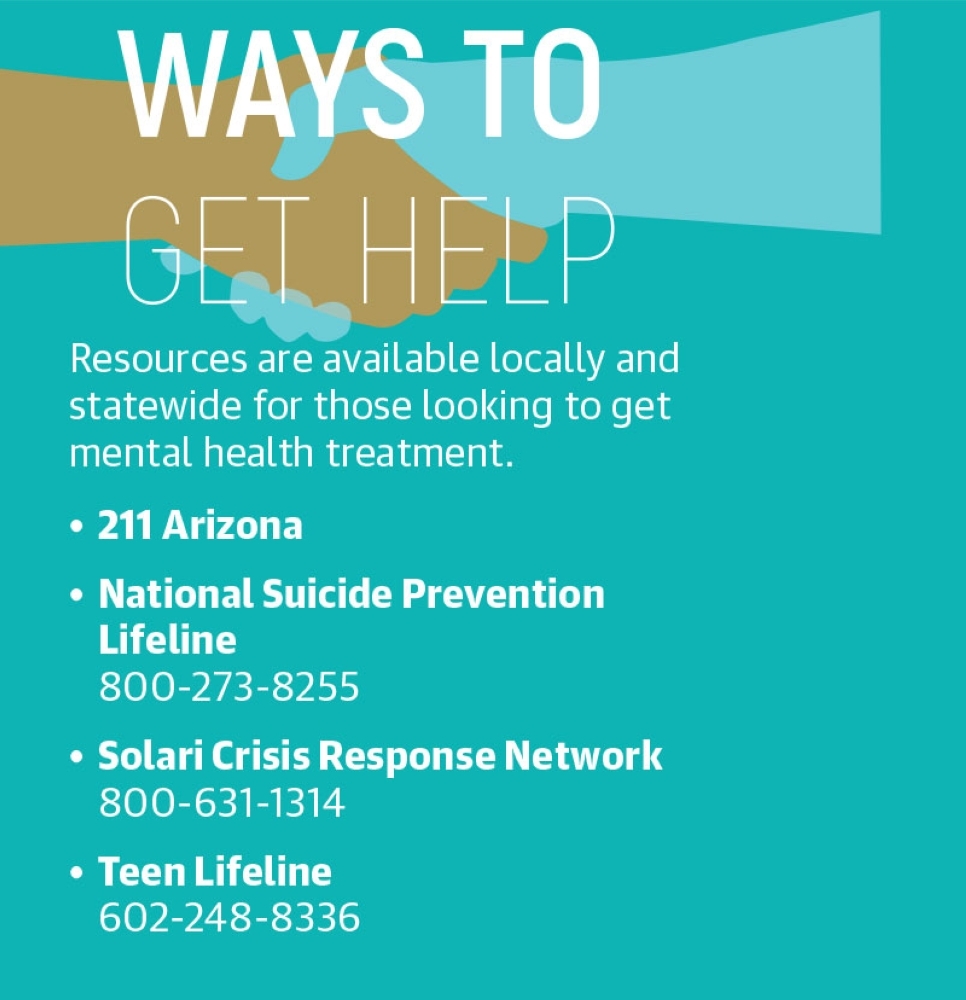 "We need to normalize a little bit and realize that it's OK that life is not perfect," Westmiller said. "It's been a trying year for everybody. This year has been a lot. People are trying to capture lost time ... and have to find a way to move through it. Grief is a natural emotion. We move through grief; we don't get over that loss. We learn how to accept that loss as time moves on and learn about positives. It takes time. There is bitterness and anger and sadness, and we are trying to help people honor that feeling and know it's OK. Nobody is without loss during this."