Chandler residents will see a $272.69 million bond request on the Nov. 2 ballot after Chandler City Council voted May 27 to call for an election.
The bond money would fund a series of multimillion-dollar projects relating to streets, parks, public safety and city facilities. It has been 13 years since the city's last bond election when voters approved $451.44 million in bond funds. Voters will see five questions on the November ballot.
If approved, the bond would not increase the city's portion of a resident's property tax bill, according to city officials.
"It's easy to spend money; there is always a need and always recommendations," Chandler Mayor Kevin Hartke said. "But we were able to look at the need and the responses and get that down to a number we believe will accommodate the necessary projects and not raise the secondary property tax rate."
The proposed bond calls for $72.99 million for parks, $55.19 million for the Chandler Police Department, $25.16 million for the Chandler Fire Department, $33.57 million for city facilities and $85.78 million on the city's streets. All the funding is one-time funding—meaning it is intended to go toward big-ticket items, not toward ongoing costs such as salaries.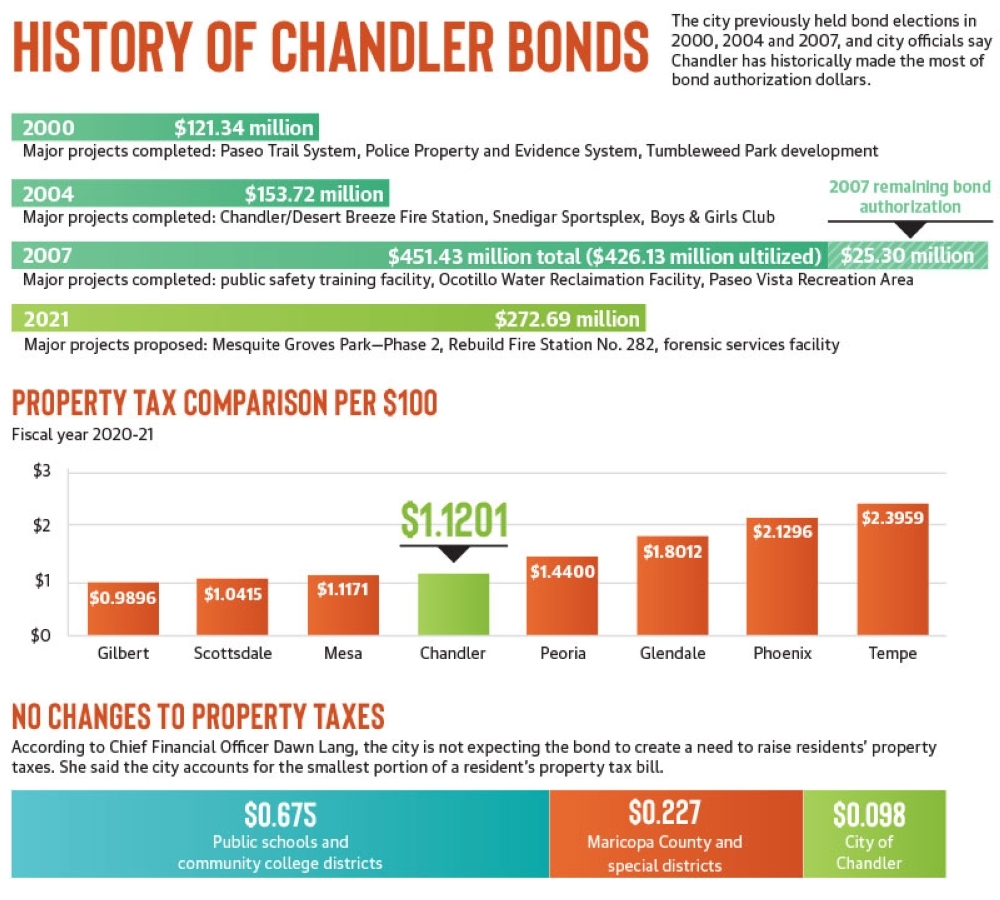 The project list and total amount for the bond were proposed to Chandler City Council this spring after a yearlong effort with 49 people who worked on the citizens bond exploratory committee. The residents and local leaders worked for a year to decide what projects should be funded with the bond dollars, whittling it down from 80 projects estimated to cost $851.97 million to $272.69 million.
"We whittled it down to 42 projects in five categories," said former Mayor Boyd Dunn, the citizens bond exploratory committee chair. "We looked at the list and decided which projects should be prioritized for funding with this bond, and it was a unanimous decision of 49 individuals. And this proposal still meets the needs of the community without raising taxes."
No tax rate increase
Chandler Chief Financial Officer Dawn Lang said because of the population growth the city has seen in the last decade, the bond will not cause an increase on residents' property tax bills.
"The property tax rate goes hand in hand with the growth of the city," Lang said. "If your assessed values are going up based on annual appreciation, it adds capacity, and the levy will go up."
General obligation bonds, such as the one proposed for the November ballot, are funds borrowed by the city for specific public purposes, Lang said. Bonds enable a city to complete larger projects that would otherwise be unaffordable or unachievable with typical revenue streams.
Authorization to borrow must be approved by voters and is repaid with property tax revenue.
The city still has $25.3 million in remaining authorization from its 2007 bond, Lang said.
"We knew that we did not have enough bond authorization to get us through our 10-year plan and would need more," Lang said.
That need led the city to begin identifying possible bond projects and come up with a number to take to City Council.
"It's important that we make sure we are able to do projects responsibly and in such a way that it isn't going to raise the community's taxes," Hartke said. "We have needs because we have grown. A lot of our roads were constructed in the '80s, and even many of the buildings that serve the community were built more than 20 years ago, and they just need updating and repairs. It's really important to us; we wouldn't bring it to the community if it weren't."
Rick Heumann, resident and former Chandler City Council member, said he believes the bond is necessary to maintain the city's infrastructure.
"Like your car or house, if you do normal maintenance all the time it's a lot easier to do instead of waiting until everything breaks and having to deal with the costs of replacement instead of repair," Heumann said.
Proposed projects
Voters will see multiple questions on the ballot asking for funding for police, fire, municipal facilities and public works, according to city officials.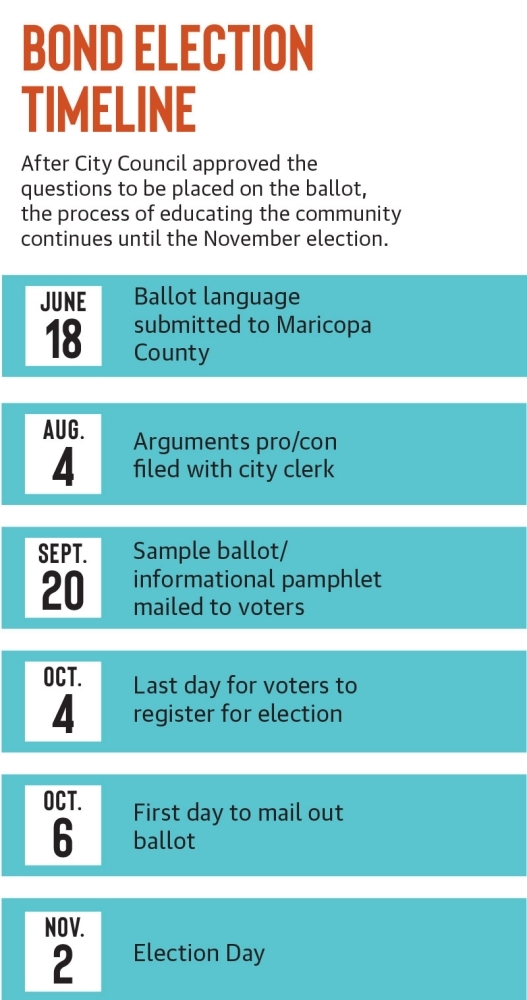 Under public works, one of the projects outlined is lengthening Cooper Road from Queen Creek Road to Insight Way near the Chandler Municipal Airport. That project is expected to cost $8.32 million, according to city documents.
"We are always focusing on the roads and the expansion of roads," Dunn said. "But we looked at active transit, too, and the dedicated bike paths that are separate from the streets in key corridors so people have another means of transportation. These are the final stages of what we call 'build-out,' and we are approaching our eventual build-out so we were looking at the other things we can do to help people get around."
For police, bond funding would go toward several facilities improvements, according to city documents and to the creation of a $38.33 million forensic services facility. The facility would be a central location for all the forensic-related services operated by the Chandler Police Department.
The most significant proposed projects for the Chandler Fire Department would be the rebuilding of two of the city's fire stations: Stations Nos. 282 and 284, projected to cost $6.96 million in bond dollars and $8.7 million, respectively.
Chandler Fire Chief Tom Dwiggins said the rebuilding of both stations is necessary as the buildings no longer meet the needs of the department.
"Fire Station [No.] 284 is the [busiest] station in the city," Dwiggins said. "Construction on that firehouse will be going on while crews are still working out of it. It's just reached a point where the building is getting older and needs to be updated to withstand the next several decades."
Bond dollars would also go toward new fire emergency vehicles—expected to cost $4.56 million—as well as allow the department to purchase thermal imaging camera replacements for the city's firefighters, Dwiggins said.
"The cameras allow us to see inside the walls when we are in a fire to see where it might be growing or spreading and provides extra safety for the firefighters," Dwiggins said.
Mickey Ohland, Chandler park development and operations manager, said if voters approve the bond, the city would be able to construct a regional park in southeast Chandler—an area identified as underserved by the city's existing parks. The project is expected to cost around $18 million.
"That southeast regional park would be huge for that area that really needs more parks options," Ohland said. "We hope to provide play fields and other amenities at this park."
Ohland said the bond dollars would also go toward the second phase of two parks—Lantana Ranch and Mesquite Groves.
Election Day is Nov. 2, but this will be an all-mail election, and ballots will be sent out in early October.