In 2007, the first iteration of what is now Arizona College Prep High School opened at Hamilton High School as a school within a school designed to give students an alternative to the larger high schools in Chandler USD with between 3,000-4,000 students on a campus.
The students and staff moved into their own space—the old Erie Elementary School—in 2012 and got renamed Arizona College Prep-Erie. There, the students and staff stayed for nearly 10 years without playing fields for students and without space to grow the student body, school officials said.
July 21 marks the start of the school year and the opening of Arizona College Prep High School—the district's newest campus—which will house the Arizona College Prep students and staff in a state-of-the-art high school facility, Principal Robert Bickes said.
The $84 million bond-funded facility is outfitted with a football field; baseball and softball fields; a soccer field; classroom buildings; and room for electives such as culinary arts, orchestra and choir.
"The demand continued to grow as we went on," Bickes said. "The first graduating class had eight seniors. Eventually around 800 students were interested in the campus, and it kept growing."
Bickes said he anticipates around 1,200 students will walk through the halls of the new facility located at Gilbert and Brooks Farm roads in Chandler this school year.
"We will maintain all the staff and students from the other campus and with them, we will keep the culture that is so important to ACP," he said. "It's all about the connections students make here. We are tight-knit and want to make sure we do everything we can to ensure kids are valued as individuals and get to the road they want to continue on after high school."
New facility
The new high school is 306,818 square feet, according to district officials, and construction—which was still ongoing in early July—will be largely completed by the time the school opens its doors to students July 21. Bickes said the school's gym will not be ready as the year begins.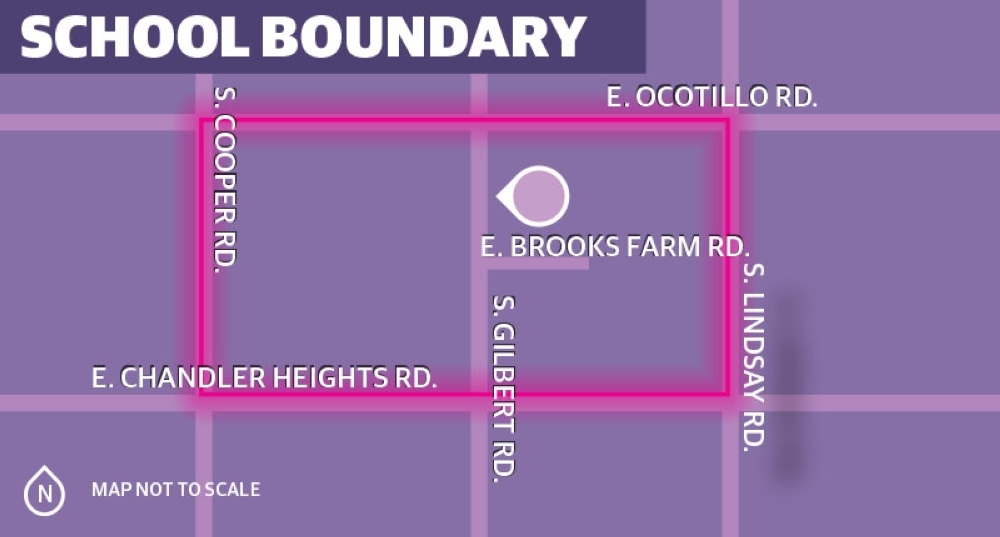 "The facility is beautiful," he said. "It's really a new beginning for ACP."
The facility offers seven sports spaces and seven buildings in addition to a gym, a cafeteria and a bookstore. Students at this campus, in keeping with ACP tradition, will continue to wear uniforms—the only high school in the district that requires it.
Arizona College Prep High School will, for the first time in its history, have attendance boundaries with the new campus. A 2-square-mile boundary between Cooper and Lindsay roads and Ocotillo and Chandler Heights roads is set for the school, but Bickes said students from anywhere in the district can attend the school through the district's open enrollment policy.
"We offer the full range of honors and [Advanced Placement] classes in addition to regular classes and special education classes," Bickes said. "Our aspirations are to build a personalized high school experience to meet the needs of each individual student."
In last year's graduating class of 187 seniors, more than $23.4 million in academic scholarships were given to students. Graduates from the school have been accepted to 128 colleges and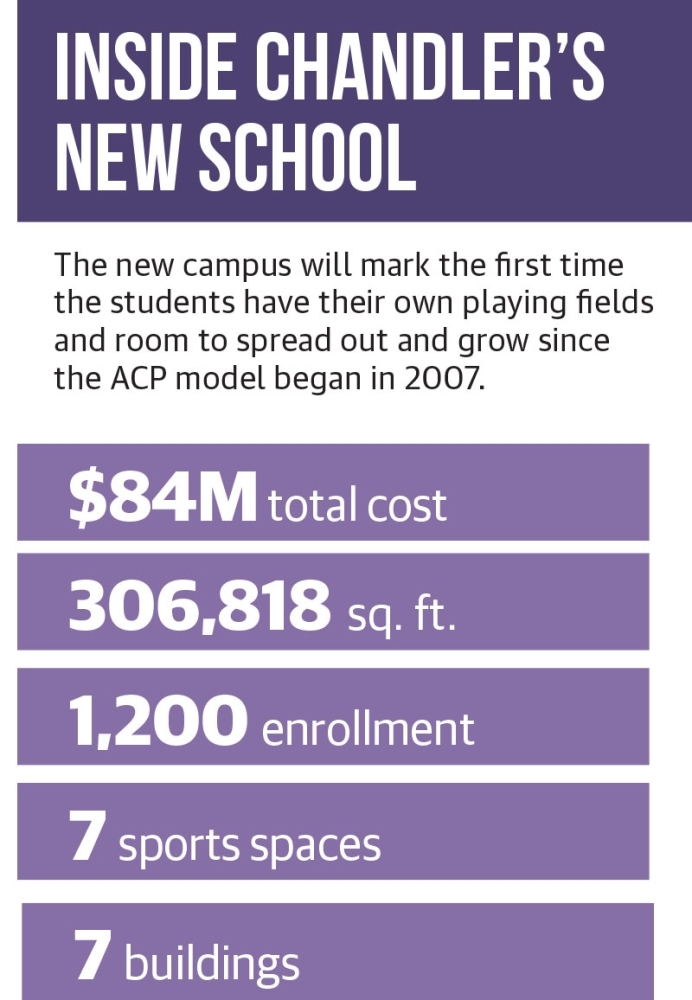 universities including Johns Hopkins University, Massachusetts Institute of Technology, Vanderbilt University and Yale University, to name a few. The school sees 99% of students matriculate to a college or university, according to school officials.
Former Superintendent Camille Casteel said it was an honor for this campus to be the last built in her 25-year tenure as superintendent before she officially retired in July.
"I am so excited for them," she said. "Teachers moved in [in late June], and the excitement at the campus is palpable. It's a great place for families and another wonderful option for our students."
Bickes said the full-service facility is creating as much excitement among students as it is staff.
"I watched a baseball practice here the other day and I don't know who was more excited, the students or the coach," he said. "We had sports teams before, but they always practiced somewhere else. They never had a home game on their campus."
School pride
Advanced Placement U.S. History teacher Kristen Bunch said she is excited to welcome students to the new campus in July.
"It's overwhelming in an exciting and fun way," she said. "You walk in and it's kind of like, 'All this is for us?' We always adapted to what was available and necessary, but it's awesome to see this campus be so much bigger than what we had ever imagined for the school. We will have a variety of different students, but we will keep that feel of being very focused on college and career readiness. We know this school is different."
Bickes said the new campus will be heavily influenced by the student body, just like at the previous campus.
"Seniors run the first day of school," Bickes said. "They create a vision for what they want the school year to look like and set the tone that first day. Their motto, they decided for the year, is '2022: The start of something new.' I think kids talking to kids can be more impactful sometimes than adults talking to kids. This is their school, and the atmosphere is really up to them."
Bickes said even with the opening of the larger campus, Arizona College Prep High School will not lose the quality that makes it unique.
"We all say it's a family, and we want to be that family at this new campus, too," he said.