Robert J. C. Rice Elementary School will open to students Sept. 14 for the first time.
Chandler USD's newest elementary school was scheduled to open at the start of the school year. The school board determined the year would start off virtually for students until COVID-19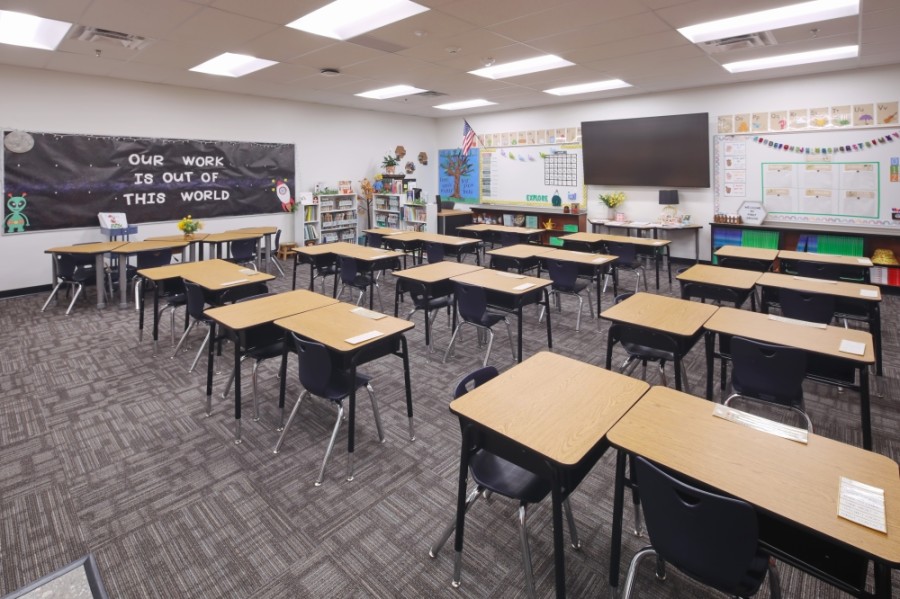 metrics showed signs of improvement. On Sept. 2,
the board voted
to send elementary school students back to campuses in a staggered start with some students returning Sept. 14.
The $23 million school has room for 800 students in kindergarten through sixth grade, according to a news release from McCarthy Building Cos., the builder on the project. The 93,000-square-foot building features a gym/multipurpose room, a media center, a computer lab learning center, classrooms and administration space, according to the release.
The new elementary school campus was built on an accelerated seven-month schedule on Ocotillo Road between Lindsay Road and Val Vista Drive near several new home communities, and it will help alleviate overcrowding at nearby elementary schools, according to the release.
"This project had one of the most accelerated timelines for a new build school project that we've completed to date – just seven months – and we are proud to have completed it successfully, despite the turbulent times," said Andrea Ramos, the project director for McCarthy Building Cos., in the release. "We know the new school will be an asset to the district as they begin the new school year."
Students who attended Weinberg Elementary School last year, which has been turned into a school for gifted students beginning with the 2020-21 school year, now attend Rice. Like Weinberg, the school will offer both the Chandler Traditional Academies education model as well as "classic" education; parents will have a choice on the type of instruction their child will receive.
"We are fortunate to have the financial support of our community CUSD Superintendent Camille Casteel said in a news release. "Passage of a $290 million bond election in 2019 provided the funding to build Rice Elementary which will serve a fast-growing area of our community. We needed to fast track Rice Elementary to open for the start of the 2020-2021 school year and once again McCarthy was up to the challenge."
About the school
The school has a sustainability emphasis, Principal Shirley Mathew said.
"Overarching theme of sustainability for our school," Mathew told
Community Impact Newspaper
ahead of the new school year. "It actually is going to be a one-of-a-kind school. Other schools focus on pieces of sustainability and have gardens in their schools, but ours is going to be beyond all of that. Every decision we make, everything we do is going to be informed by sustainability."
Mathew said the school focuses on four major areas: reducing environmental impact, creating a healthy and safe school learning environment, including sustainability curriculum and instruction, and increasing community engagement.
The school will look at and implement ideas that support reducing the impact on the environment, Mathew said. With a central plant, ground and polished concrete floors, water-refilling stations and a low-impact cafeteria with a dishwashing area were all built into the school.
"We are creating a healthy and safe school learning environment," Mathew said. "We are going to have an outdoor learning space where we will provide opportunities for our kids to learn in our garden. It's been kind of crazy, just the excitement of having a new building and new focus—it's so exciting. When you think about a school, the school has to be the life of a community. It's a central hub where everyone feels a part of and invested in. I'm very excited about that piece of it and to welcome our neighbors and thrive as a society together."