The Chandler USD governing board voted June 24 to delay the start of the school year by two weeks and approved a plan to reopen schools with students in kindergarten and above and staff wearing face coverings due to COVID-19.
Under the reopening schools plan, parents will be able to choose if they want their child to attend school online or in person.
The school year will begin for students Aug. 5, moved from July 22. The two weeks will allow the district to further prepare for the start of a school year that will look much different than previous years due to the coronavirus, said Superintendent Camille Casteel.
"The August 5th date gave us enough breathing room so we could do things well," Casteel said. "This is a difficult decision. We are doing it for a practical reason—to give us more time to prepare even more than we have."
Casteel said the two weeks also allows for the possibility that mask requirements imposed by the city of Chandler, town of Gilbert and Maricopa County may begin to slow the spread of the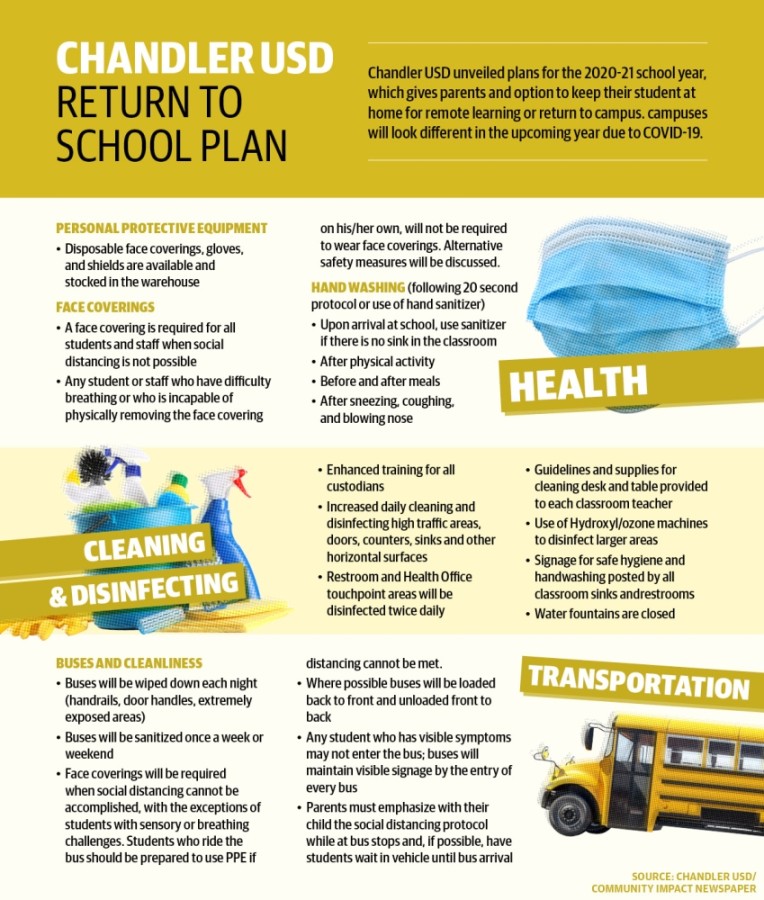 virus. Breaks in the fall and spring that had been historically two weeks will now be one week with the
adjusted calendar
.
"It's not the greatest solution, but at least we can allow people to start to be able to plan for the upcoming year," Board Member David Evans said during the meeting.
Board President Barb Mozdzen said the time also allows the district time to train teachers and staff in online models that will be available to students.
"We need the time to train our teachers to make sure we can give the best educational experience to our kids and our families and our community expect that from Chandler," Mozdzen said.
The board also unanimously approved the district's plan to reopen schools, which allows parents the options to send their student back to brick-and-mortar classrooms or enroll in Chandler Online for full-time remote learning. Enrollment in both online and in-person classes, known as concurrent enrollment, is also possible for district students.
"We have a number of you who are upset at some of our decisions," Casteel said. "For the most part the expressions of displeasure have been respectful and kind, and it's meant a great deal. I want to assure the community that we have received and read your emails and letters. We've listened to your phone calls and voice messages. Without a doubt, they are all passionate and heartfelt. There is no doubt that there is sincerity."
Casteel said she hoped the presentation June 24 would help families make decisions in the days and weeks ahead.
"We share the frustration, the concern and the fear of the unknown," Casteel said. "Several things have become crystal clear ... There is a no-win in this situation. There is not a right answer or a single solution. We don't have consensus from our community on the direction we should go. But the virus is not likely to disappear in the next few weeks, so it has become crystal clear that this challenge is not going to go away in the very near future."
Here is what school may look like for students in the 2020-21 academic year
The governing board voted 3-2 to approve online and in-person instructional options for families. Board members Lindsay Love and Lara Bruner were the dissenting votes, both expressing concern about the ability to maintain health and safety with in-person classes.
"There's not a right answer," Mozdzen said. "We have to come to terms with the fact that we cannot make every single person happy with what we do."
Here are the options outlined by the district by grade level.
Option 1 for PreK-12th grade: In-person model of instruction
Elementary (Preschool-6th grade)


Parents who choose the in-person model of instruction will maintain registration at their current enrolled site


There will be 5 full days of instruction per week


Students will report directly to classrooms when they arrive at school


Cohorts of students stay together where possible throughout the day, including breakfast, lunch, recess, specials, and dismissal


Restricted common area use


Structured transitions and scheduled playground use In classroom celebrations, virtual and on-site field trips


Staggered start and end times may be established for sites with larger enrollments


Large events, such as Meet-the-Teacher-Night, may take place virtually or may be scheduled over a period of time to limit the size of the gathering


Desks will face one direction when possible to allow for distancing


Sharing of school supplies among students will be limited


Before and after school childcare will be available


Parent drop-off and pick-up area, drivers stay in cars at all times


Parent appointments made through the office in advance


Non-essential visitors and volunteers will be restricted and not assigned in classrooms


Secondary (7-12 grade)


Parents who choose the In-Person Model of Instruction will maintain registration at their current enrolled site.


7th-8th grade students will be enrolled in a full schedule of courses


9th-12th grade students will be enrolled in six courses (seniors enrolled in four if on track to graduate)


Students will attend core and elective courses (some activities may be modified to address social distancing)


Assemble and celebrate students in small groupings


Field trips will be approved on a case-by-case basis to ensure safety measures and expectations are in place (at principal's discretion)


Students will have access to all athletic and extracurricular campus activities


Option 2 for K-12th grade: Online instructional model through the Chandler Online
Academy registering with Chandler Online
(this allows the district to record and report attendance to the sate and receive funding)
Elementary (K-6th grade) New: Elementary Connect


Parents who choose to enroll in Elementary Connect must register through the Chandler Online Academy and may retain their seat at their boundary or open enrollment site


Families may choose to transition back to in-person at the quarter or semester breaks


There will be five full days of instruction per week


District technology devices available if needed


Daily teacher-led instruction in whole and small groups (live lessons)


Course content will cover: math, science, social science, English language


Arts and elective areas




Individualized supports and accommodations will be provided


Customized online learning track will be available for English Language Learners, Special Education, Dual Immersion, and Gifted classes as appropriate (more details will be shared with the families this would affect)







Secondary (7-12th grade)


Parents who choose to enroll in the Online Learning Model of Instruction must register with Chandler Online Academy (COA) and may retain their seat at their boundary or open enrollment site


Families may choose to transition back to in-person at the quarter or semester breaks


Florida Virtual curriculum and Buzz (Learning Management system) will be used


COA has extensive course options for on level, honors, and Advanced Placement 3


Success coaches will work with teachers to implement a relationship-building component


Families who choose online instruction must commit and complete by the quarter or semester


Course requirements are equivalent to the in-person instructional model so that grades/credits can be transferred at the end of each quarter or semester


COA grading practices will be followed


Final exams are proctored


District technology devices are available if needed


Students will be engaged in virtual activities


Students may participate in athletics, extracurricular activities, and graduate from their boundary or open enrolled site