A rich history lays in the dirt on the southeast corner of Chandler Heights and Gilbert roads. Generations of a prominent Chandler family—the Riggs family—worked on a farm in that location. Later, the land gave way to a steelyard owned by the Riggs family.
As years passed, the steelyard fell out of function, and the family moved. In 2017, a development group—Capital Asset Management—approached the Riggs family to purchase the land and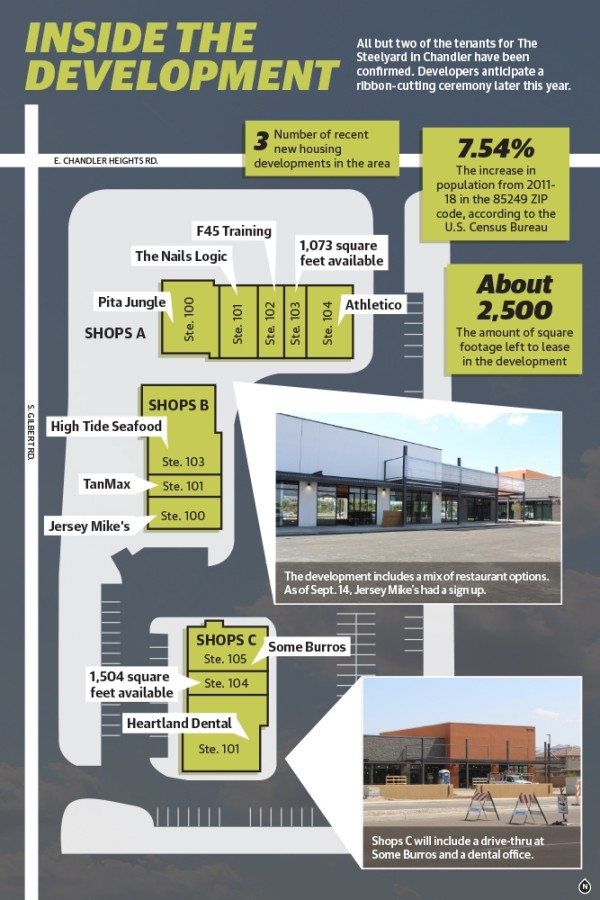 turn it into a hub for the growing neighborhoods that envelop it.
"To keep true to the Riggs family, we tried to keep as much stuff that was part of the family history," said Rachelle Strole, partner at Capital Development Group, the development arm of Capital Asset Management based in Phoenix. "That's why we named the development The Steelyard, and that's why there is a water tower on the property."
The Steelyard consists of three buildings structured for dining and retail use, and tenants are planning on •opening at the end of 2020 or the •beginning of 2021, Strole said. The space is situated in a corner of Chandler that Strole claims was in "desperate need" of restaurants and retail options.
"We were hunting for neat dirt, and with the water tower and the steelyard, we thought that this is the third corner in an underserved market and hoped we could make something to honor the family that has owned it for generations out of it," Strole said. "We wanted to honor the land in a way that keeps the agricultural feel with the water tower that was so important to the family and the community, and we wanted to build something really cool."
High Tide, a locally owned seafood restaurant, and Pita Jungle, a locally owned fast-casual Mediterranean restaurant, will anchor the development, Strole said. A total of 11 tenants will occupy the 26,000-square-foot development.
Addressing a need The south Chandler area has been a point of growth in the city over the last few years, said David de la Torre, planning manager with the city of Chandler. The 85249 ZIP code, where this development is located, has seen a population increase of 7.54% from 2011-18, according to U.S. Census data.
New housing tracts in the area have even caused Chandler USD to build both a new elementary school and new high school in the south Chandler area to account for expected growth. Three recent housing developments, containing about 200 homes total, are located just south of The Steelyard.
"As the pieces of the master plan were built, we would see homes being built, then once that happens, that forms the demand for retail," de la Torre said.
Jason Hersker, a partner at Capital Development Group, said he believes the tenants in the development will create a "lifestyle center" for the area.
"We have a really great tenant mix. It has really rounded out to be a true lifestyle center," Hersker said. "In a typical retail corner, you would see a bunch of smaller retail around a big-box store or a grocery store. These are the smaller businesses that chose not to be around a grocery because they felt the kinship of the tenant mix and liked the development and the area."
In addition to the anchors, tenants include: The Nails Logic, F45 Training, Athletico, TanMax, Jersey Mike's, Some Burros and Heartland Dental, Hersker said. About 2,500 square feet of the development is still available for leasing in two different suites, Hersker said.
Strole and Hersker said the neighbors they have spoken with at neighborhood meetings are excited about the promise of the new development and the tenants.
"It's been beautiful in that sense, building something for a community that so desperately wanted it and making it artsy and cool and different while staying true to the Riggs' history," Strole said.
Sara Best-Richerson, whose home backs up to the new development, said she had concerns about construction and the accompanying noise of new businesses behind her home, but the developers made sure to accommodate neighbors.
"I was scared, honestly," she said. "You heard that restaurants and businesses were going in there, and we immediately thought about the noise and pollution. From day one we started working with the developers and lawyers to protect us, and they tried not to interfere with our lives too much. They did the best they could."
Optimism for the future Bassel Osmani, one of the owners of Pita Jungle, said The Steelyard hit all the criteria the restaurant looks for when creating a new location.
"We were infatuated at 'hello' with The Steelyard," Osmani said. "It's a small, quaint development, which is perfect for our model versus a big-box, sprawling mall setting. It fits our brand image. We wanted to do something where we could kind of be the anchor and add a nice flair instead of going into a nondescript big center with a Home Depot or a big-box store. We are reverting back to strip malls from the '60s and '70s with services a neighborhood needs without invading or changing the character of the neighborhood."
As Pita Jungle's 24th location in 25 years, Osmani said the location will open by the end of the year, but he said he had hopes of opening before that. The prospect of opening a new restaurant during a global pandemic is not textbook, Osmani said. He said the coronavirus and subsequent restrictions and closures have made it a difficult year for those in the restaurant industry.
"We are lucky to be thriving; we've had a to-go and a delivery component by design prior to COVID-19," Osmani said.
The new location will feature a pickup window and a dining room with both indoor and outdoor seating.
"I used to live on Chandler Heights, and we would have to drive miles to get to dinner," Osmani said. "There is a need in this area. The whole area has blossomed. It's an amazing sight to see."
Chris and Kim Glass said bringing High Tide Seafood to the new development will build on what they have created with the first High Tide location in Gilbert.
"If we take that same model and we take it down to Chandler—which is craving some good food establishments that far down—I think that corner right there, with all the building and development going in will allow us to do well," Chris Glass said. "We've got a lot of people that come in from that far down to High Tide now and come in once or twice a month. They've actually helped convince me to put something down that way."
Chris Glass said they would not even be thinking of a second location if it were not for loyal customers who have continued to support them through COVID-19.
"We really appreciate the customers that come in," Chris Glass said. "Without their loyalty, I don't know that we would be doing this. We probably wouldn't be expanding. We've got regulars that come in four or five days a week, and it's a real kudos to the staff. They wouldn't come back if it wasn't for the excellent staff and food."
Best-Richerson said she believes the area needed new options—outside of Olive Garden and Texas Roadhouse—for dining. She said she is glad there will be options within walking distance with the new development.
"I love Pita Jungle. It's one of my favorite places, and to not have to drive 35 minutes to get to the closest one will be great," she said. "The restaurants fit our need. All we have is a lot of chains, so to have some of that extra variety around will be good for us. It gives people options."