Kenny and Linda Sarnoski were on a mission to consume better foods and pay more attention to the ingredients they were consuming about a decade ago, but Linda said she had a hard time letting go of her favorite treat—ice cream. So Kenny sought out to make homemade ice cream that was free of the ingredients and chemicals that comes from ice cream one might get at the grocery store.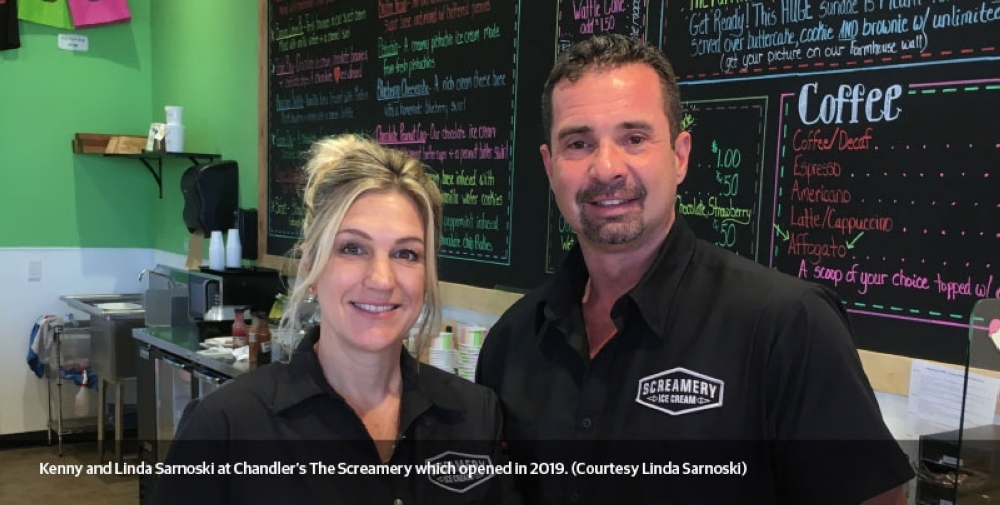 "You wouldn't believe all the chemicals in store-bought ice cream," Linda said. "I thought, 'Why do we have to have all that? Why can't we just have good, old-fashioned ice cream?'"
So Kenny began making it at home, Linda said, and it quickly turned into a tradition enjoyed by friends and family.
"We are both entrepreneurs at heart," Linda said. "Even though we had little kids and typical jobs, we always knew we would end up doing something that was our own."
Kenny began doing research and found that few ice cream shops were making their own ice cream from scratch—a majority of them were using a base that was created by the Food and Drug Administration and then churning their ice cream from there.
Linda and Kenny knew that when they created their business, they wanted it to be their recipes and their ingredients from start to finish. Through their research, they learned they would need to get a pasteurization certification and when they did, they became the first Arizona business to do so.
"Our ice cream has this amazing taste, and people weren't used to it," Linda said. "Your brain knows when it's getting something good. The ingredients in our ice cream are good, and you can tell the difference in the taste."
The couple opened the first Screamery location in Tucson seven years ago. In September 2019, the couple opened the Chandler location in the heart of the city's downtown.
"We were getting ready to go into the slow winter season when we opened, and we were revving up for a great spring and summer, and then the pandemic happened," Linda said. "We had such high hopes that the Chandler store was going to be hitting it out of the ballpark, but right when we were starting to, everything was changing. But the good news is, on the very bright side the last few months we have seen that store just explode with people coming and knowing about us and loving us and our ice creams."