Amid local and national calls for the review of police use-of-force policies, Mayor John Cooper announced June 15 a new committee tasked with reviewing community experiences with the Metro Nashville Police Department's use-of-force practices and recommending policy changes.
In June, Cooper signed onto former President Barack Obama "Mayor's Pledge," which challenges mayors across the country to review their police department's use-of-force policies, seek community feedback and report their findings publicly within 90 days.
As part of the pledge, the Use of Force Committee will also present its final recommendations to city officials and the Community Oversight Board, a group formed through a 2018 referendum to investigate claims of police misconduct and recommend department policy changes.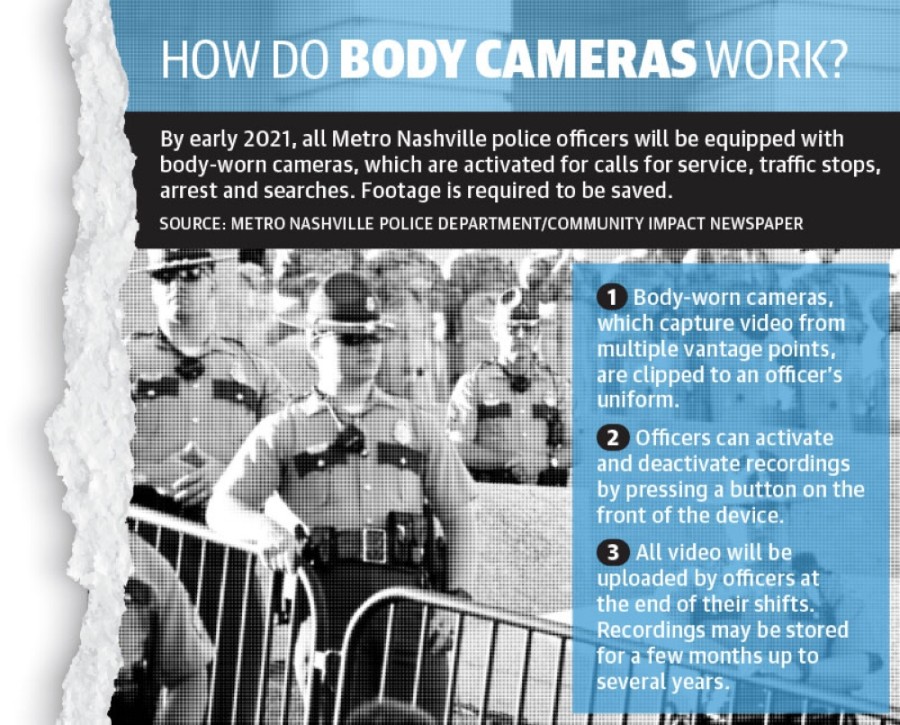 John Buntin, director of policy and community safety, and Eric Brown, coordinator of economic opportunity and empowerment and youth development—both from the mayor's office—will lead the Use of Force Committee and work with the COB as they independently review MNPD's policies.
Despite leading its own review, the COB unanimously voted June 30 to accept Cooper's invitation to be a member of the Use of Force Committee.
However, Brown and Buntin were met with criticism at the COB's June 24 meeting from board members, who expressed concerns that previous administrations have carried out similar initiatives that did not lead to policy changes.
"I'm just voicing my concern as a community member who is also from here and seeing this done over and over again," Vice Chair Jamel Campbell-Gooch said at the meeting. "It just feels like we're running on a treadmill."
In response, Buntin and Brown said they understood board members' concerns and that they are committed to making progress with this initiative.
"I think at the end of the day, if we want it to change, we have to be a part of the change," Brown said.
Community speaks out
At an 11-hour Metro Nashville Council meeting June 2, which included eight hours of public hearing, the majority of callers and in-person speakers asked council members to defund the police department and to redistribute those funds to community programs and services, such as education and housing.
"The budget fails to address the needs of Black people and of working-class people in Nashville," said Erica Perry, an organizer for Southerners On The Ground. "We're spending hundreds of millions of dollars on policing and jails, institutions that, for far too long, have failed to keep our community safe and have harmed our communities."
While some council members proposed budget amendments that would have cut funding for the MNPD and the Davidson County's Sheriff's Office by as much as $107 million, members ultimately approved an amendment in the final spending plan that increased funding for the MNPD by $2.6 million to hire 48 recruit positions.
Although the fiscal year 2020-21 budget passed without cutting law enforcement funding, the Nashville People's Budget Coalition—a group of nonprofits and organizations such as Black Lives Matter Nashville, Southerners On the Ground, Gideon's Army and others—continues to host rallies in front of the Metro Nashville Courthouse to demand change and the defunding of MNPD.
"We are ready to defund cops and cages, and we're ready to invest in our people," Perry said. "The only thing that will work to address police violence in our communities is to defund police. There is no reforming an institution founded on anti-Blackness and founded on slave patrols."
Areas for improvement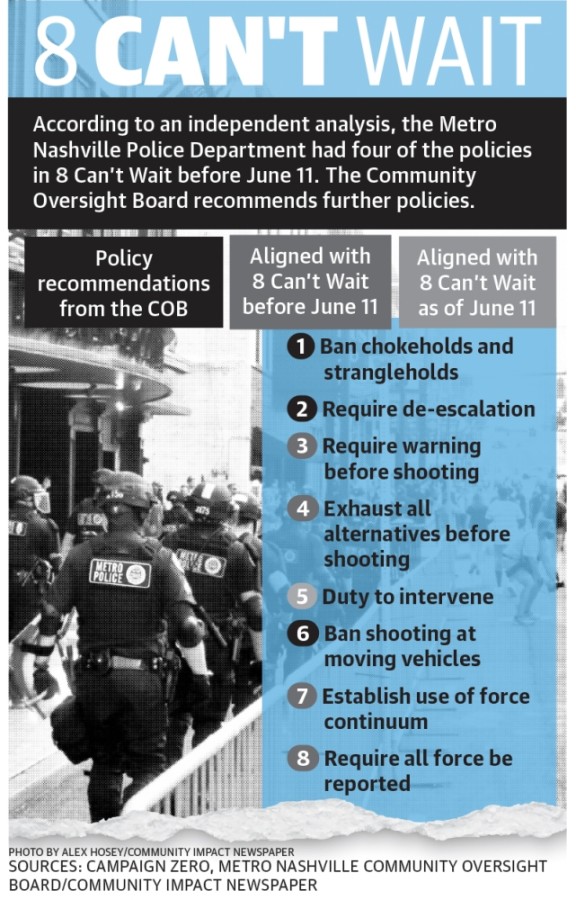 The MNPD, at the direction of Cooper, updated its use-of-force policy June 11 to explicitly ban the use of chokeholds, which are prohibited by Tennessee law under most circumstances.
Cooper said he requested that the MNPD review the department's policies and procedures in response to 8 Can't Wait, a national initiative launched by Campaign Zero that calls for changes to use-of-force tactics. He also asked the COB to conduct an independent review of MNPD's use-of-force policies, which the oversight agency approved and released June 24.
"Today's announcement in no way precludes additional changes in the future; rather, it reflects my commitment to move quickly to improve policies and procedures where there are immediate opportunities to do so," Cooper said at a press conference.
According to MNPD Chief Steve Anderson, who announced plans June 18 to retire later this year, the use of chokeholds is not a part of the MNPD training curriculum and has been prohibited for decades.
The department also clarified its policy that all officers are obligated to intervene if they observe any member engaged in an "improper or unlawful act," including excessive force, abuses of process, abuses of authority or violations of department policies.
The COB's policy advisory report acknowledged that the MNPD had already adopted some of the "8 Can't Wait" policies but posited that MNPD must implement three additional policy changes to be in full compliance with the campaign.
The board said its is asking the department to update its ban on chokeholds to include other types of neck restraints; to require officers to use de-escalation tactics before using force and to use physical force only as a last resort; and to ban shooting at moving vehicles.
Peter Vielehr, lead research analyst for the COB, said he considers the eight policy recommendations in 8 Can't Wait to be a starting point for police reform. He said he will continue to research use-of-force policies for further consideration.
"There's additional research outside of the 8 Can't Wait analysis that does show that restrictive use-of-force policies is correlated with fewer lethal and non-deadly uses of force," Vielehr said.
Meanwhile, Metro Council members introduced five new ordinances in late June and early July that address police reform. Four of the five ordinances were withdrawn at the July 21 meeting.
District 17 Council Member Colby Sledge withdrew an ordinance that would have put limitations on MNPD's use of police force modeled after 8 Can't Wait.
Sledge said the MNPD had made some policy changes since he introduced the ordinance, including updating its use-of-force policy to prohibit the use of chokeholds and requiring officers to intervene if they observe other officers using excessive force.
"When this [ordinance] was filed, it was meant to bring us in line with policies known as 8 Can't Wait regarding the use of police force," Sledge said. "In the time since this bill has been filed, the department has adopted several of those policies or has clarified its policies to be better in line."
Council members also withdrew measures that would ban the use of tear gas, allow residents to ask officers if their body cameras are recording and require police officers to receive annual implicit bias training.
The council narrowly advanced an ordinance sponsored by At-large Council Member Sharon Hurt that would prohibit the MNPD from hiring police officers who were previously fired or currently being investigated for use of force. The ordinance will be up for a final vote at the Aug. 4 meeting.
Body cameras on the horizon
In addition to policy updates, MNPD will also begin deploying body-worn cameras among officers in July, according to the department.
"Body-worn cameras will promote trust between law enforcement officers and the communities they are sworn to serve," Cooper said. "They will be an important tool in addressing racial injustice throughout Davidson County."
In December, Cooper announced his plan to begin testing body-worn cameras on a small group of Metro Nashville Police officers in the spring. As of early June, MNPD's West Precinct is the only precinct equipped with the technology to support body cameras.
As part of the deployment process, 1,325 officers and 30 Metro Park officers will be equipped with body-worn cameras. MNPD will also install three additional in-car cameras inside the department's 734 patrol cars "to further enhance accountability," according to Cooper.
MNPD is expected to complete technology infrastructure upgrades to other precincts within six months, with body-worn cameras deployed to all other precincts by February 2021.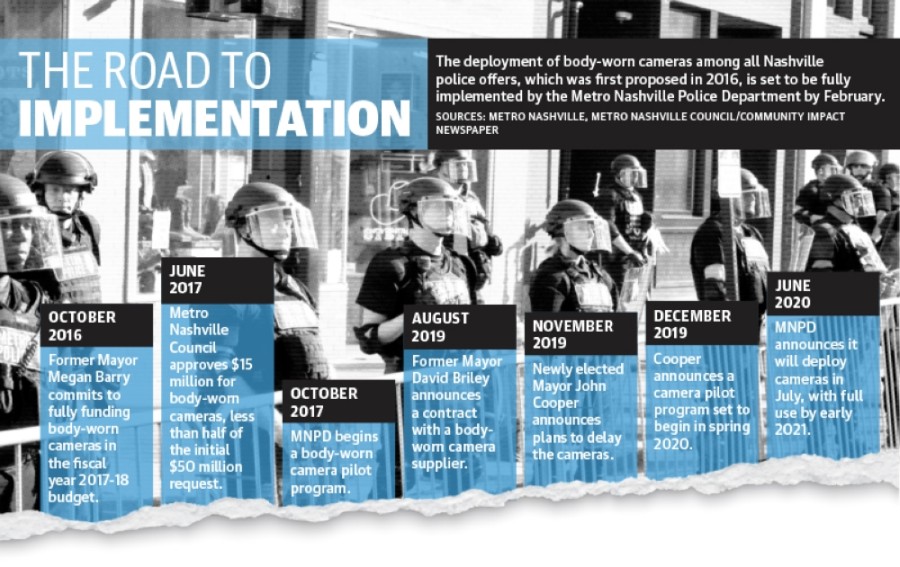 Previously, body-worn cameras were estimated to cost $40 million per year and would have required the district attorney's office and the public defender's office to hire more than 200 full-time employees, Cooper said.
The operating cost for body-worn cameras, which comes from MNPD's public health and safety contingency fund, will now cost the city $2.1 million in FY 2020-21, with additional payments deferred until 2023, Cooper said. Staffing requirements have also been reduced from 200 to 16 new staff members.
Following Cooper's announcement, the COB released a statement in support of the city's decision to fully implement body-worn and in-car cameras in the coming months.
"Since its inception, the [COB] has identified body-worn and in-car cameras as a step in the right direction; however, we want to be clear that this is not the sole solution that will change organizational culture and fix systemic problems that have existed for decades, even centuries," the board said in the statement. "The reform necessary requires dedication and a multilayered approach that is built on a foundation of accountability, transparency and communication."•