Despite facility closures and program cancellations through at least April 6, parks, greenways and some golf courses throughout Nashville remain open to the public.
Although parks remain open, all playgrounds, dog parks, basketball courts, tennis courts, picnic shelters and skate parks will remain closed until further notice, according to a March 25 announcement from Metro Nashville Mayor John Cooper.
Additionally, Metro Nashville Parks and Recreation urges residents to practice social distancing and maintain a distance of 6 feet whenever possible, as recommended by the Centers for Disease Control and Prevention
Here are 23 green spaces to check out in the Southwest Nashville area.
Battlemont Park
817 Park Terrace, Nashville Located in the Battlemont neighborhood, this park features access to the Brown Creek Greenway, a half-mile paved loop.
Bison Meadow Park
Hillsboro Pike and Tyne Boulevard, Nashville
The 2.5-acre green space situated on the corner of Tyne Boulevard and Hillsboro Pike was established as a public park by the city of Forest Hills in 1994. Bison Meadow features bison-shaped shrubs throughout the park.
Centennial Park
2500 West End Ave., Nashville
In addition to The Parthenon, this 132-acre park West End is home to gardens, a 1-mile walking trail and more.
Rose Park
1000 Edgehill Ave., Nashville
This park in Edgehill is the former site of the Edgehill Civil War battleground area.
Edwin and Percy Warner Parks
50 Vaughn Road, Nashville
Between Percy Warner Park's 2,058 acres and Edwin Warner Park's 623 acres, residents can access hiking trails, golf courses, an equestrian center and more.
Elmington Park
3531 West End Ave., Nashville
This 13-acre park bordering I-440 features a large grassy field.
Fair Park
300 Raines Ave., Nashville
This park is located at The Fairgrounds Nashville.
Fannie Mae Dees Park
2400 Blakemore Ave., Nashville
Also known as Dragon Park, this green space in Hillsboro Village features a large mosaic dragon in the center of park
Flora Wilson Community Park
Grand Avenue between 14th Avenue South and 15th Avenue South, Nashville
This pocket park functions as a small area of green space between the Edgehill and Music Row neighborhoods.
Fort Negley
1100 Fort Negley Blvd., Nashville
This 55-acre, city-owned park is the site of a stone masonry fortification constructed during the Civil War. In addition to an education center, the park features several walking areas.
Frankie Pierce Park
130 LifeWay Plaza, Nashville
Located in downtown Nashville, Frankie Pierce Park opened in November and includes grassy areas and space for yoga.
Gale Lane Community Park
1001 Gale Lane, Nashville
This small park features walking paths as part of the 440 greenway.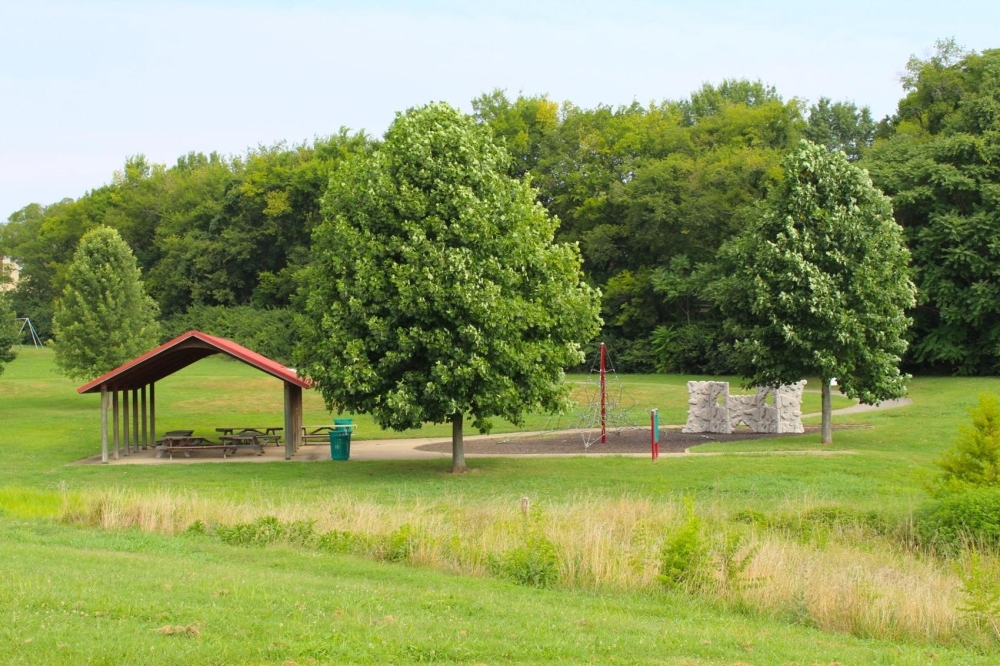 Green Hills Park
1200 Lone Oak Road, Nashville
This 12-acre park features walking paths, soccer fields and more.
Owen Bradley Park
1 Music Square E., Nashville
Located off the roundabout in Music Row, this small park established in 1975 features a statue of Owen Bradley, a producer known for his contributions to Nashville's music scene in the 50s and 60s.
Parmer Park
578 Leake Ave., Nashville
Parmer Park spans nine acres and is located within Belle Meade's residential area. The park is located on the former grounds of Parmer School, an elementary school that burned down in 1985.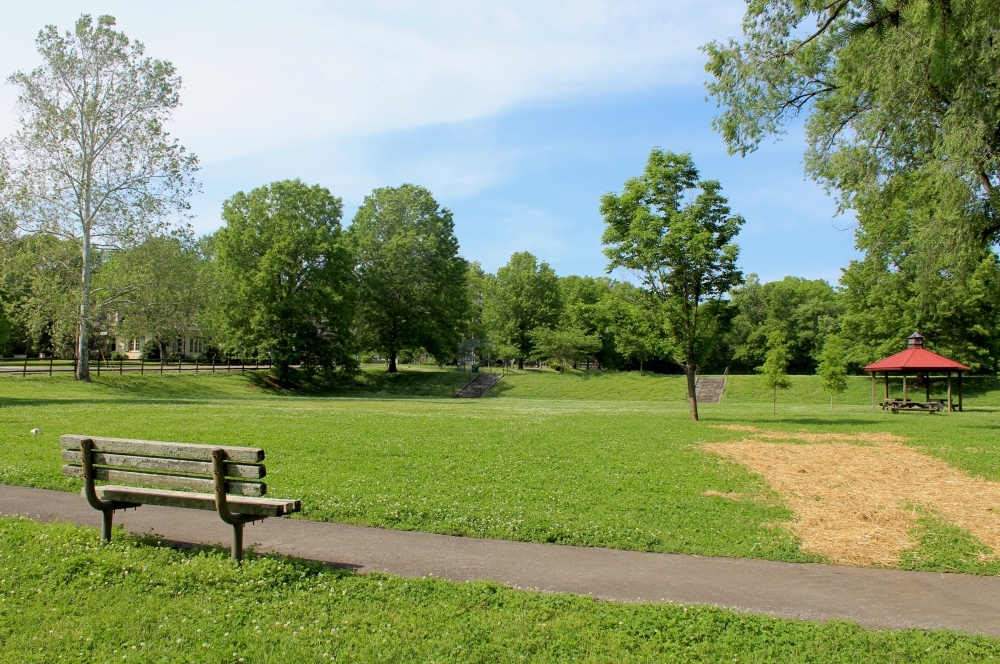 Radnor Lake State Park
1160 Otter Creek Road, Nashville
This 1,368-acre state park, which is protected as a Class II Natural Area, is home to owls, herons and waterfowl as well as amphibians, reptiles and other species. Pets, jogging and bicycles are only permitted on the Otter Creek Road trail.
Reservoir Park
824 Argyle Ave., Nashville
This park in Edgehill borders the 8th Avenue Reservoir, the largest of Metro Water Services' 37 reservoirs.
Sally Beaman Park
3701 Benham Ave., Nashville
Located next to the public library branch in Green Hills, this 5-acre park features walking paths and grassy areas.
Sevier Park
3021 Lealand Lane, Nashville
Sevier Park in 12 South includes walking paths, large, grassy fields and more.
Tony Rose Park
8 Music Circle E., Nashville
This small park is located near Music Row.
Watkins Park
616 17th Ave. N., Nashville
Watkins Park is an 8-acre park near Marathon Village.
William Edmondson Park
1642 Charlotte Ave., Nashville
This 1-acre park located off Charlotte Avenue features walking paths.
Woodmont Park
912 Estes Drive, Nashville
Located in a residential area in Green Hills, Woodmont Park features a walking loop through the park.
Tips for using parks during the coronavirus outbreak:
• practice social distancing by keeping six feet from other people while walking, biking and hiking;
• wash hands, carry hand sanitizer and do not use trails if ill;
• bring personal drinks or snacks, as public drinking fountains may be disabled;
• bring a small trash bag to protect used items from park workers and others;
• keep in mind that public restrooms may be closed.
Source: Metro Nashville/Community Impact Newspaper