The killing of George Floyd, who died in police custody in Minneapolis on May 25—as well as those of many more Black Americans in recent weeks—has put the spotlight on police brutality and systemic racism in the U.S.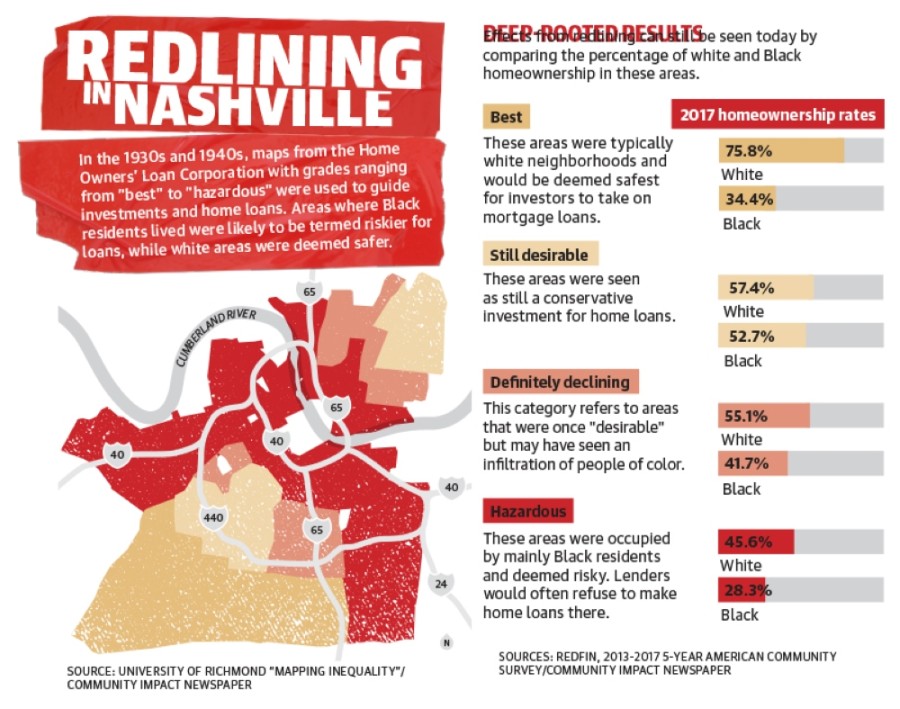 However, amid nationwide protests and calls to remove Confederate statues, there is also a renewed push to understand how decades of systemic racism have affected various areas of society, one facet of which is housing and wealth. According to fair housing experts, such practices have widened, not closed, the home ownership gap among Black families and white families.
In the late 1930s, the Home Owners' Loan Corporation, a federal agency, created "residential security maps" of major U.S. cities, including Nashville, which were used routinely to deny minority residents access to equal loan and housing opportunities, according to fair housing experts. This process, also known as redlining, has had long-lasting effects on Nashville that can still be seen nearly 90 years later.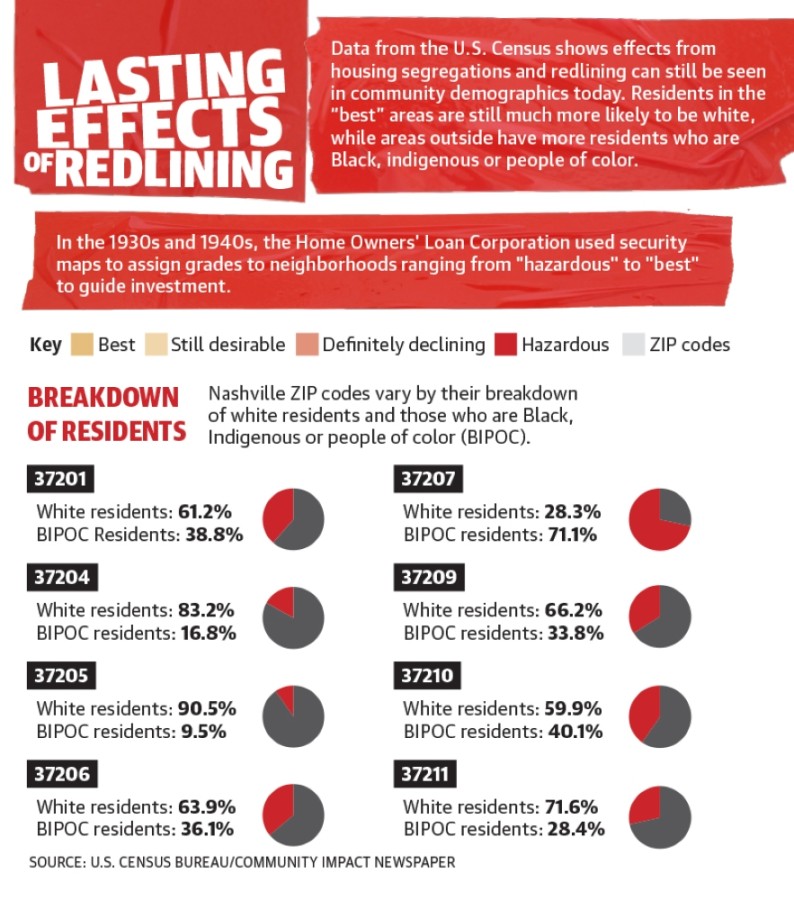 "When we think about the systemic impacts of discrimination today, we think about the disproportionate numbers of Black families that are impacted by mass incarceration and have greater contact with the police, but that's not all," said Melody Fowler-Green, executive director for the Metro Human Relations Commission. "There's also this reality that even when Black families have the same or higher income as a white family, they still have less wealth, and that impacts their ability to buy a home. That's the continuing legacy of redlining, and it's absolutely still with us today."
Fowler-Green, who oversees the 17-member MHRC, which is charged with resolving discrimination complaints and carrying out educational programs in Nashville, said there is still more work to do to ensure city leaders prioritize equitable access to housing.
"We've made a direct recommendation that it is a clear and prime opportunity for Metro [Nashville] to embed some equity metrics to measure how we are serving our community," Fowler-Green said.
A closer look
A digitized map of Nashville released by the Digital Scholarship Lab at the University of Richmond shows that the HOLC classified neighborhoods into four categories that were used to determine which individuals would receive home loans—a process called redlining. The categories were "best," "still desirable," "definitely declining" and "hazardous."
Neighborhoods in more affluent areas, such as Green Hills and Belle Meade, were exclusively considered "best" areas, while neighborhoods east, north and southeast of downtown—48% of the city—were considered "hazardous," according to the map. Nearly 90 years later, the effects of these boundaries are still present throughout the city.
"Residents in ['best'] areas were allowed to get mortgages and were considered the best risk, so those areas were able to start growing wealth," said Kathy Trawick, director of the Tennessee Fair Housing Council.
Owning property has historically been the ideal way to grow wealth, according to Trawick. Residents who lived outside of "best" neighborhoods were still granted mortgages in some cases, but often with much higher interest rates, which further fueled racial wealth disparities, she said.
"The perpetuation of segregation still goes on because people have been caught in a cycle and weren't able to grow wealth," Trawick said. "People used to grow wealth by buying a starter home, building a family and then selling their home [for] a profit. That didn't happen for everyone."
Ownership, equity gaps widen
Redlining has created lasting disparities in home ownership and housing equity in cities across the U.S., including in Nashville, according to data released in June by Redfin, a national real estate brokerage firm.
Redfin found in its analysis, which covered 41 metropolitan areas, that in 2019, the typical homeowner in a former "best" area in Nashville had 131% more home equity than the typical homeowner in a former "hazardous," or redlined, area—$648,000 versus $281,000.
Since 1980, the home ownership rate for Black families in former "best" neighborhoods in Nashville dropped from 36.6% to 34.4%, while the rate for white families rose by more than four percentage points to 75.8% in 2017. This represents a 41.4% ownership gap between Black and white families in "best" neighborhoods, up from 35.1% four decades ago.
"The expanding home ownership gap between Black and white families can in part be traced back to diminished home equity due to redlining, as it's one major reason why Black families today have less money than white families to purchase homes either as first-time or move-up homebuyers," Redfin Chief Economist Daryl Fairweather said.
While redlining and other discriminatory lending practices were banned as part of the Fair Housing Act of 1968, a report released last fall by the MHRC explores how these practices, both past and present, have shaped Nashville's neighborhoods.
The report, the third in a series about affordable housing, was inspired by group dialogue sessions on race, equity and leadership held during former Mayor Megan Barry's administration, according to Fowler-Green.
"It was pretty clear that there was a lot of community concern around gentrification and displacement during Nashville's boom and the disproportionate impact that that was having on the Black community," she said.
Both Fowler-Green and Trawick said that while obvious forms of housing discrimination are not as common in modern times, other, subtler practices are still prevalent today, such as limited access to credit, which can result in prospective homebuyers settling for subprime mortgages.
"Hearkening back to the days of redlining, in areas today that are majority-minority, a lot of times there's no easy access to banking," Trawick said. "People are then forced to look on the internet for loans, and that's when they end up with a subprime mortgage when they really could have qualified for an A+ or an A loan."
Nationally, disability discrimination is now the most common type of housing discrimination complaint filed, according to the U.S. Department of Housing and Urban Development. However, that does not mean that racial discrimination no longer exists, according to Trawick.
"There's still a lot of racial discrimination, but those instances are harder for victims to see," she said. "We don't really have the blatant stuff of the '60s. It's a lot more subtle."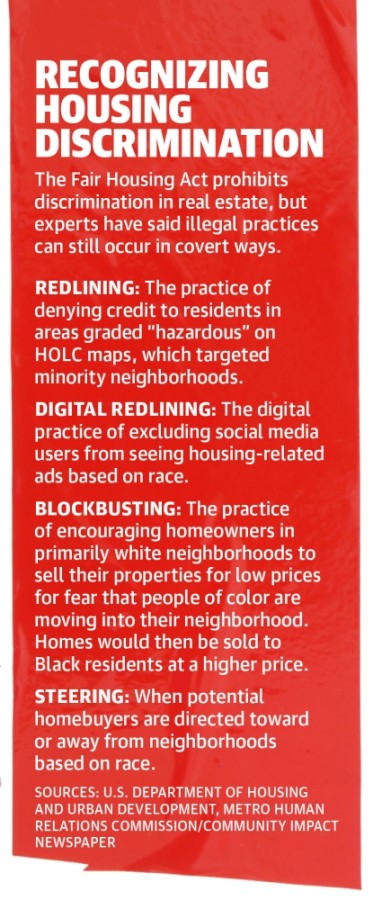 Closing the gap
Census data shows that in 2018, 43% of Black families in Nashville owned their home, as compared to 72% of white families. The city's racial home ownership gap is similar to that of the U.S. as a whole, in which during the first quarter of 2020, 44% of Black families owned their home, as compared to 73.7% of white families.
The National Association of Real Estate Brokers, a trade association formed by Black real estate professionals in 1947 to promote fair housing, launched a series of eight initiatives in 2016 to help create two million new Black homeowners in five years, according to Rob Mack, president of NAREB's Nashville chapter.
"These eight points are to educate, empower and mobilize us not only as an organization but as a community of African Americans," Mack said in a July webinar hosted by the Tennessee Mortgage Bankers Association.
In January, the National Association of Realtors adopted a Fair Housing Action Plan, also called ACT, which commits the organization to create more fair housing education and launch a national study to determine what factors motivate discrimination.
"Our ACT plan makes sure there's accountability and a culture change among the real estate industry and training on fair housing," said Bryan Greene, director of fair housing policy for the National Association of Realtors. "We don't want people buying [homes] that aren't in the best interest of them and their families."•