As health care systems nationwide adapt to ongoing challenges caused by the COVID-19 pandemic, hospitals in Southwest Nashville are working to ensure patients continue to receive emergency and preventive care.
Hospitals in Nashville and statewide are seeing record numbers of patients through telehealth and other services, but physicians are finding that patients are slow in returning to emergency rooms—or, in some cases, avoiding care altogether.
Nearly 45% of adults in Tennessee surveyed in the U.S. Census Bureau's Household Pulse Survey reported delaying medical care between April 23-May 26 because of COVID-19.
While the survey does not specify whether residents have postponed emergency care, physicians at TriStar Centennial and Ascension Saint Thomas said they have seen a sharp decrease in the number of patients seeking emergency services since the start of the pandemic.
As of early June, hospitals had yet to see a return to the level of ambulance traffic they were experiencing before coronavirus hit the region in March.
"Emergency room visits have not rebounded back to the pre-COVID levels," said Dr. Chris Jones, chief of staff at TriStar Centennial. "We're seeing an increase in our emergency room volume, but we're still seeing a lot of people that are afraid to come out and get care."

Postponing care
Jones said many physicians have found that residents age 65 and older—an age group at higher risk of developing serious complications of COVID-19-related illness, according to the Centers for Disease Control and Prevention—are among those most hesitant to come to the emergency room to receive care due to fear of exposure to the virus.
However, Dr. Greg James, Ascension Saint Thomas' chief clinical officer, said putting off immediate emergency care could result in long-term negative health effects for patients. James and Jones stressed the importance of patients getting to the hospital during emergencies, especially in cases of possible heart attack or stroke, and said that emergency rooms are the safest places to receive care in these situations, even during the pandemic.
"We've been talking with [Vanderbilt and HCA], and we all saw the same thing here locally, too, and we've termed it 'The Other Public Health Crisis,' meaning that it [does] appear that there were many patients who just put off care or delayed care or, sadly, did not receive care," James said. "So now, many of them have had either significant [illness] or probably didn't survive, and the reason they didn't do it is presumably out of the fear of [COVID-19], out of fear of coming to the health care facility."
James said people sometimes have a tendency to minimize symptoms of stroke, such as weakness or numbness in the extremities. Other signs of stroke include dizziness, trouble speaking and trouble seeing in one or both eyes, according to the CDC.
"Many times, these things can fluctuate, and unless they are really intense and severe, people forgo seeking help for those immediately now in light of this pandemic," James said. "We're trying to get the word out to people that if you have symptoms [for which] you would have sought medical care before [COVID-19] ... if you have those symptoms, it's time to come back and receive the care that you need."
Doctors are not just concerned with emergency care for high risk patients. Officials with Monroe Carell Jr. Children's Hospital at Vanderbilt also stressed keeping up with routine visits for children to check growth and development and to ensure all vaccinations are up to date.
"Well-child visits are essential to ensure your child is healthy, gaining weight [and] developing according to his or her age and to receive the appropriate vaccines to prevent disease," said Dr. Shari Barkin, chief of the Division of General Pediatrics Chief.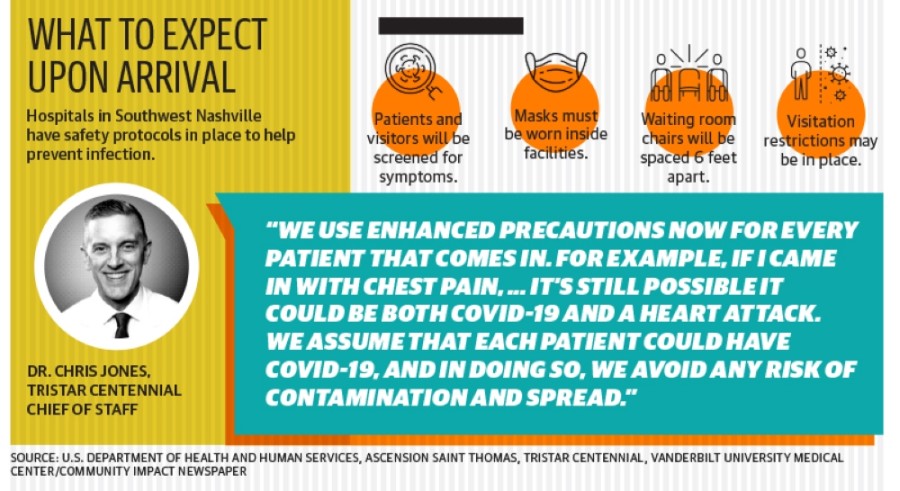 New normal for elective procedures
James and Jones said they are optimistic that emergency rooms will soon return to normal volumes; however, both doctors said patients are generally not delaying elective procedures.
On March 23, Gov. Bill Lee issued Executive Order No. 18, requiring elective and nonemergency procedures to be delayed to help reduce the spread of coronavirus and preserve hospital capacity in the event of a spike in critical cases.
In the weeks following the resumption of elective procedures May 1, these types of procedures were already approaching pre-coronavirus levels, according to Jones.
As a cardiologist, Jones said surgeries in his practice are not often considered elective but can sometimes be slightly delayed. While heart procedures have returned to normal levels, he said patients are also following through with elective procedures.
"Other procedures, like joint replacements, for example, have returned to pretty high levels," Jones said. "Most people are starting to come back to pursue elective procedures at about 90%-95% compared to pre-COVID-19 levels, so we're not quite there yet, but we're getting close."
The Tennessee Hospital Association released guidelines April 27 for hospitals resuming elective procedures. According to the guidance, hospitals must screen patients for COVID-19 symptoms and require health care workers to wear N95 masks and eye protection during procedures.
•Additionally, hospitals are required to screen staff and visitors for symptoms and to separate chairs in waiting rooms by 6 feet.
James said physicians at Ascension Saint Thomas have contacted patients to notify them of what to expect when visiting the hospital.
The health care system announced in early May that it would begin requiring every patient scheduled for elective or nonemergency surgery to undergo screening and, if determined necessary, testing for COVID-19.
"We're doing everything we can to keep patients safe—all the masking, all the precautions that we're taking internally, in addition to all the testing," James said. "[Patients] feel relieved that we are actually taking all these steps, although it may be a little bit of an inconvenience to undergo the testing part of the procedure. I think most of them are grateful that we're taking those kinds of steps."
Turning to telemedicine
In an effort to establish alternative care options for patients who want to limit their risk of exposure, several health care facilities have expanded telemedicine services in response to COVID-19.
Prior to the first reported coronavirus case in Tennessee on March 5, Vanderbilt University Medical Center averaged about 10 telehealth appointments per day at all outpatient clinics, according to Director of VUMC Telehealth Amber Humphrey. In just two months, the health care system surpassed 100,000 virtual visits.
When insurance companies relaxed telehealth guidelines in early March, Humphrey said VUMC worked practically overnight to enable telehealth for 2,500 providers, up from 130 providers.
"[The new guidelines] gave Vanderbilt a huge opportunity to quickly scale the telehealth platform we already had to reach any and every patient at Vanderbilt who wanted to have a telehealth visit," she said.
According to James, health care providers at Ascension Saint Thomas went from conducting almost no virtual visits to more than 25,000 visits in two months. He said the health care system expects 10%-20% of visits will continue to be virtual following the pandemic.
"I think that virtual care is no longer going to be largely conceptual. I believe it's really here to stay or remain a part of how we deliver care and how we do business going forward," James said. "This pandemic has clearly been a watershed event in so many ways, but our use of virtual care has certainly been one of those ways."