Firepot Nomadic Teas, the organic and fair-trade tea brand Sarah Scarborough runs out of Firepot Tea Bar in 12 South, originated 1,700 miles away from Nashville at a teahouse in Montana.
Although Scarborough pursued other tea-related jobs in Alaska and New Zealand before returning to Nashville in the mid-2000s, she said she always held on to the first chai recipe she created.
Firepot Chai, made with black tea, milk, sugar, vanilla and various spices, is just one of several tea varieties on the menu at Firepot Tea Bar.
"I always kept my tea business in the background, knowing that one day, I would bring it back to life in a bigger way," Scarborough said. "At first, I started brewing and bottling tea for local coffee shops, and it was just a matter of time before it grew into what it is today."
Before Scarborough opened Firepot Tea Bar in April 2018, she used the space to brew tea and expand her brand online. She said she decided to open the shop to the public as a way to bring people together over a cup of tea.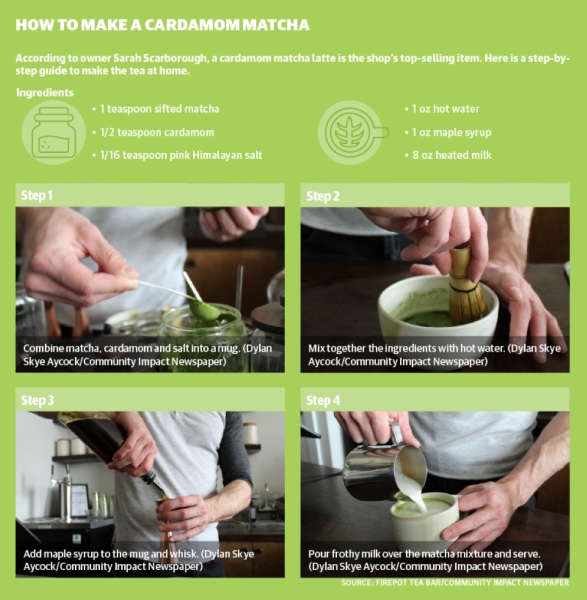 "I think more and more people are wanting to connect over tea rather than alcohol or coffee," Scarborough said. "Those drinks have their own time and space, but tea has a calming energy to it that people enjoy."
Firepot Tea Bar's menu features matcha, chai, seasonal teas and other drinks. While customers can order drinks to-go, the shop also offers limited indoor and outdoor seating. In addition to the drinks available at the tea bar, guests can browse products, such as mugs, whisks and teapots. Scarborough also stocks the store with rugs and other items she brings back from her travels.
For residents interested in learning more about the teas served at Firepot, Scarborough offers tastings every Friday at noon as well as monthly workshops on the first Monday. Guests can register online for the free tastings two months in advance.
"People are curious about tea, but at the same time, they may not know about all the different kinds or know how to steep it," Scarborough said. "We're trying to demystify the tea leaf and help people understand that making tea is actually really simple."
In the long term, Scarborough said she hopes one day to open a second location that will offer food and provide more seating for customers. The location in 12 South offers seating for about 10 customers, she said.
"We love the community we're in now because we're surrounded by so many like-minded people and businesses," Scarborough said. "The room is small and cozy, but we'd love to one day have a larger space to share it with more people."
Editor's note: This story ran in our February issue, and while the tea bar has temporarily closed, its online tea store remains open at www.firepot.com.