As many local nonprofits were still dealing with the fallout from a tornado that hit the Nashville area in March, the region was quickly hit with its first cases of coronavirus. The illness soon spurred an unprecedented public health emergency, causing widespread unemployment and creating greater need for health care funding.•On March 17, officials with the United Way of Greater Nashville announced the launch of the COVID-19 Response Fund to help provide financial support to local nonprofits that are helping to provide health care as well as to address some of the unforeseen effects of the coronavirus.
To date, the UWGN, which has been in Nashville for nearly a century, has received approximately $5 million in donations to its COVID-19 Response Fund and has distributed more than half of that to local nonprofits, including FiftyForward and Graceworks Ministries Inc. in Williamson County.
"The key thing has been distributing the funding as quickly as possible," UWGN President and CEO Brian Hassett said. "Initially, the focus was on helping people pay their bills—people that had lost their jobs and, in many cases, [people who] had never had to ask for help before."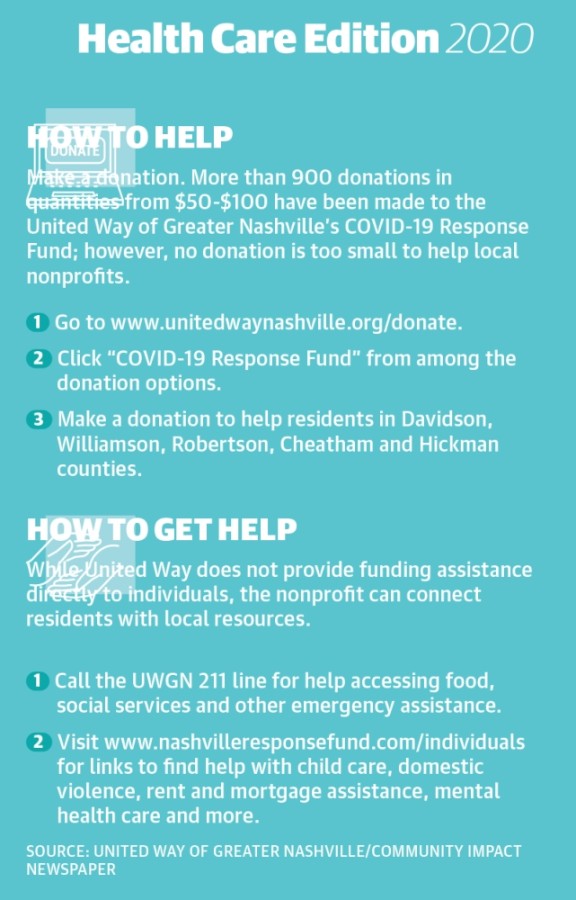 To decide how funding is distributed, the United Way uses data compiled from its 211 help line as well as from community partners to determine where dollars are needed, according to Chief Community Impact Officer Erica Mitchell.
"We've been looking at a lot of different data sources to inform the process. 211 has been a great source of data for us. We've had friends from [the Vanderbilt University Office of Equity, Diversity and Inclusion] who have really helped us put together trend data using 211 so that we can see what the top needs are across the community," Mitchell said. "We knew for a period of time that housing insecurity was one of the top needs—people needed assistance with rent and mortgage—but then, there were also conversations and signals around things like ... people being able to have personal protective equipment so that they would feel safe."
Mitchell said another trend has been an increase in demand for mental health care.
"We have seen lots of spikes in mental health and crisis counseling needs, so organizations that have been able to pivot to telehealth counseling have also been very high on the support list," she said.