Home prices are on the rise in Franklin—a signal of higher demand as inventory levels dip, according to data from the Williamson County Association of Realtors. However, the recent rise in competition is compounding Franklin's existing affordability issues.
In the past five years alone, the median home value in the city of Franklin has risen by more than 30% to $466,400 in 2019, according to the U.S. Census Bureau, outpacing income levels, which have risen by only 13% in that same time. City officials said they are working to ensure there are still options for residents who make less than Franklin's median income of $103,813 per year.
New neighborhoods under construction in Franklin reflect the rise in prices, according to listings from local homebuilders. One such community, Lockwood Glen on Carothers Parkway, features home prices from the mid-$300,000s to the $700,000s, and homes in the upcoming neighborhood Terra Vista start in the mid-$600,000s.
To help provide a wider range of prices, the Franklin Board of Mayor and Aldermen approved an ordinance Feb. 23 that would reimburse some city impact fees for developers in exchange for building more low- to moderate-income housing in the area. The intent of the ordinance is to remove some of the financial barriers faced by builders in developing such projects.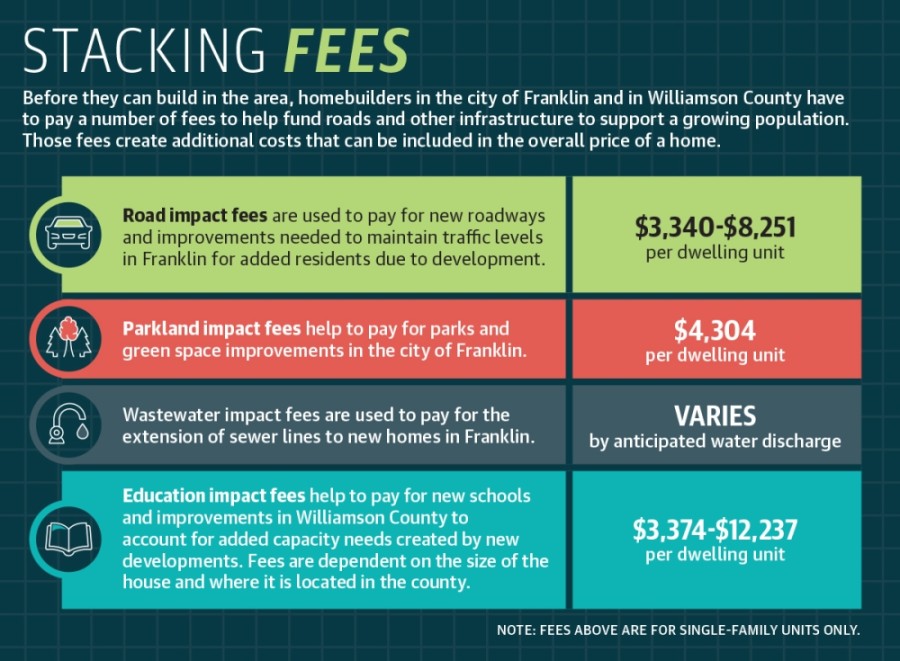 "We have become a very desirable community for many reasons: the quaintness of the city, the friendliness of the people, the very highly regarded school system, the infrastructure," said John Besser, chair of the Franklin Housing Commission, a board that works to address the shortage of affordable housing in Franklin and helped develop the ordinance. "What the housing commission is trying to do is make sure there's at least some housing so we don't become a one-face type of community."
While officials said they hope the ordinance will help provide more diversity in housing price ranges to cater to a wider group of prospective buyers, other obstacles to affordable housing remain.
"The average home in Franklin today is probably $750,000-$850,000, and of course you've got [homes] going into the millions," said David McGowan, owner and President of Regent Homes, which has built homes in communities such as Berry Farms in Franklin. "The city of Franklin over the last few years is trying to address what I consider a housing crisis right now, and that's workforce housing."
How it works
While the city has long worked to encourage more diverse housing options, FHC board member Elizabeth Wanczak said there is often confusion and stigma when the city talks about affordable housing, a term used by the U.S. Department of Housing and Urban Development referring to low-income housing. Instead, the ordinance aims to provide what is often called attainable or workforce housing, catering to a more middle-class sect of the community.
"What is defined as affordable in Franklin is 30% of income, and most people are gobsmacked when they hear what that really means in Franklin," she said. "The city uses a lot of terms like attainable or the 'missing middle.' We are talking about the people that serve in our community: our firefighters, our police officers, our nurses, our teachers."
Those eligible for housing under this ordinance would be required to make 80% or less of the median household income for the Nashville-Davidson-Murfreesboro-Franklin Metropolitan Statistical Area, which as of 2018 was $65,919. To qualify for this housing, homeowners would need to make $52,735 a year or less. For reference, the starting salary for a teacher in Williamson County is $40,150, according to Williamson County Schools.
Wanczak said the ordinance helps accomplish some of the goals set out in Envision Franklin, the city's long-term planning document approved in 2017, which calls for neighborhoods with a range of housing options and price points.
"Envision Franklin really lays out a city that is multifaceted that has a very vibrant quilt of things interwoven, and this program is now going to be a portion of that to really continue to walk out the vision that Franklin has set for itself," she said. "It's not just the vision of those that sit on the housing commission. This is what Franklin has identified as what they want to manifest."
Additional barriers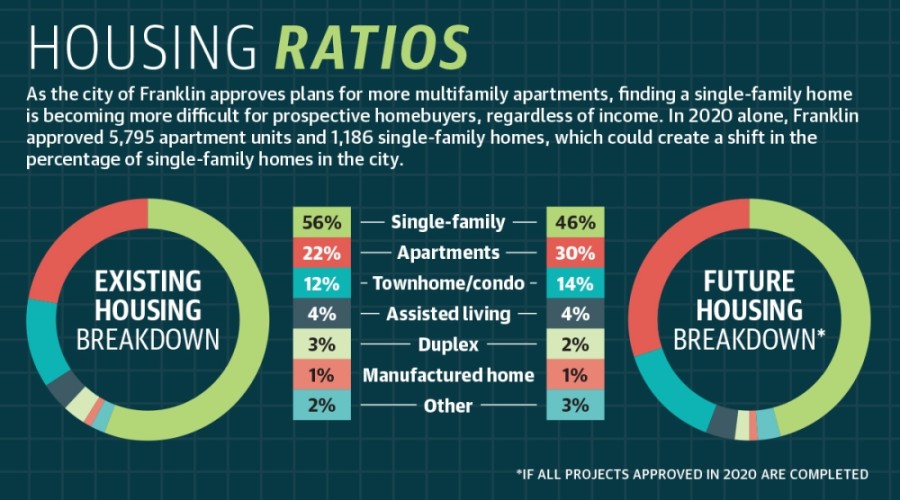 While the city ordinance does remove some local impact fees for developers, which Besser said can total about $13,000 per unit, it does not remove all the financial barriers that might otherwise allow homebuilders to construct lower-cost housing.
In addition to city impact fees, developers are also required to pay fees for education impact fees, a fee required by Williamson County to help build future schools needed as people move into the future developments. Those costs can range between $3,374-$12,237 per dwelling unit, according to Williamson County.
"People don't realize that with an average house built today, you can be close to $40,000 in impact fees, so making a difference on that can make a big difference," McGowan said. So I applaud Franklin for wanting to do something to help reduce the cost of those fees."
Additionally, McGowan said Williamson County's high cost of land can also be a deterrent to building affordable units, particularly as demand for homes increases.
"Imagine you have a 5-acre lot—they're going for $35,000 an acre in Maury County, and in Williamson County, you're looking at close to $75,000-$100,000 and that's [before] anything to do with infrastructure, roads or things of that nature," McGowan said.
Another barrier to home ownership in the Franklin area is the availability of single-family homes or owner-occupied units. A recent report on 2020 development in Franklin presented during a joint BOMA and Franklin Planning Commission meeting Feb. 25 showed that nearly 5,800 apartment units were approved by the city in 2020, accounting for 54% of all housing approved that year. To compare, 1,186 single-family homes, or 11% of housing, were approved.
That number is expected to have an effect on the overall ratio of single-family homes to multifamily units, according to projections from the city. At the end of 2020, single-family homes accounted for 56% of all housing in the city. However, if all projects approved in 2020 come to fruition, that percentage would drop to 46%.
"We have the future build-out, which is the existing plus the approved housing, so this is if everything that has been approved gets built and added to what we have now, [that] is the breakdown that we'd be seeing," said Eric Connor, principal planner for long range for the city of Franklin's planning and sustainability department.
Apartments would see a rise of about 8%, and multifamily units would account for about one-third of all housing in the city. That number drew criticism from some BOMA members who argued that too many apartments have been approved.
"I would ask the question to planning commission and BOMA, 'Is anyone else bothered by this than me?'" Alderperson Beverly Burger said during the presentation. "I've got a big problem with that; we're getting to a saturation point."•However, a portion of new developments in the area are considered affordable. One such community is Walker Place, a new owner-occupied condominium development to be located just south of the Williamson Medical Center. The units, slated to cost as much as $254,000, are constructed by the Community Housing Partnership of Williamson County, a local nonprofit that develops affordable housing units for qualified buyers.
Wanczak said she hopes the demand for these new homes will inspire other builders to develop similar offerings in the area.
"This is going to be an asset for the community and not anything that is going to detract the community," she said. "Franklin has very high standards for building codes, the look and the layout of any property that is built in the city. I think people will be amazed at what this really means once it's developed."