The effects of the ongoing coronavirus pandemic can be seen in nearly every aspect of Williamson County's economy, and the real estate industry is no different. However, as many small businesses deal with tough losses due to closures, local Realtors are seeing some unexpected consequences of the virus—namely, more buyers looking to spend more on housing.
In the months since the first case of coronavirus was confirmed in Williamson County in early March, the number of active home listings in ZIP codes for Franklin and Brentwood has dropped by as much as 48% as compared to this time in 2019, according to data provided by Parks Real Estate.
"I think even before COVID[-19] happened and the pandemic happened, we were starting to have an inventory issue," said Jordan Vaughn, broker for RE/MAX and 2020 board president for the Williamson County Association of Realtors. "Our data shows that, and our National Association of Realtors economist has been talking about that for quite some time. I think the pandemic has increased that."
While on their own, these dips in inventory may signal a significant slowdown in the market, recent data shows that while the number of homes sold in recent months has slowed, it has not done so at quite the same rate. In fact, ZIP codes in Franklin and Brentwood saw small gains in the numbers of homes sold as compared to 2019.
"I've been in business almost 20 years, and this has been my best year ever, and I almost feel evil that it's in the midst of this global meltdown," said Gabrielle Hanson, principal broker for Williamson Real Estate. "It just doesn't seem like it's right, but it's the truth. We have so many people moving from other places. It's been a strangely amazing year."
Supply and demand
Local realtors agree the reaction from buyers in the weeks after the pandemic began has been surprising, as most predicted a downturn following sudden shutdowns across the Middle Tennessee region.
However, even in the midst of economic uncertainty, the area remains attractive to prospective buyers.
"I think the virus has affected everything—as far as sales, we're doing really, really well," said Danny Anderson, a managing broker with Parks Real Estate in Franklin. "Like everyone else, I think we expected it to be this big drop, and it hasn't."
Anderson said the area's low inventory has created demand for housing, even in higher price ranges, which was not always the case.
"We are in a little bubble in this area, and we're not hit like some areas are, but we're still impacted by it greatly," he said. "We have a lot of multiple offers because ... it's supply and demand, and the demand is greater than the supply. And a lot of that's [always] in a certain price range, but now, it's even in a broader price range."
One demographic that has not slowed down is buyers from out of state. Hanson said prospective buyers from states such as Washington and California are showing a lot of interest in the area, with some even willing to buy homes sight unseen.
"I've sold $2,000,000-plus homes that people never even stepped foot in. It's all from virtual tours," Hanson said. "People are so desperate to get out of where they are that anything is better than where they're coming from."
Even locally, Williamson County's tax rate of $2.22 per $100 assessed home value—compared to Davidson County's recently raised rate of $4.22—attracts buyers looking to make moves in the Greater Nashville region.
"With Davidson [County]'s taxes going up 32%, that's only going to drive more buyers into Williamson County because our schools were better anyway," Hanson said. "So it gives them one less reason to be in Davidson County."
Creating competition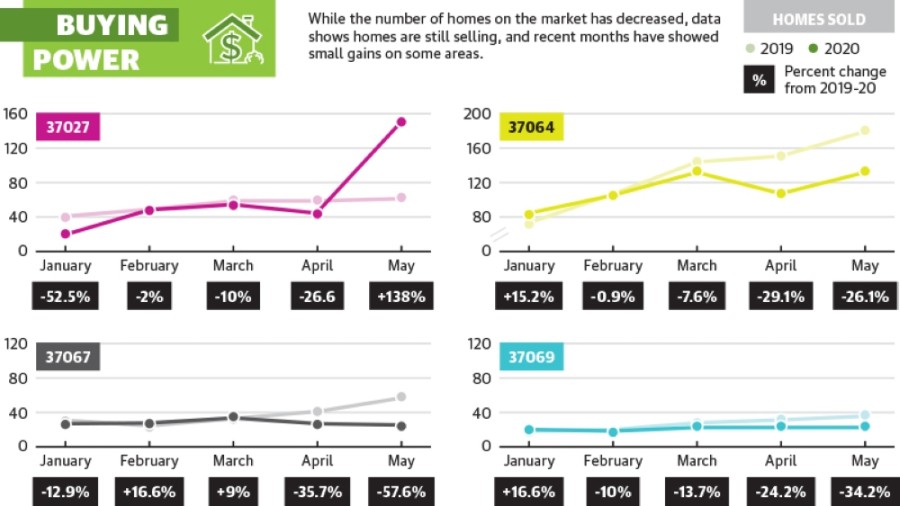 Homes in Williamson County are also selling faster now than in the past, according to recent data. According to statistics released from WCAR for the month of June, the average number of days on the market for a home in Williamson County was just 26, down from an average of 32 days in June 2019.
"There was a small, little slowdown [in home sales] as we were entering into April, but we're seeing that pick back up, for sure," Vaughn said. "We're seeing multiple-offer situations on homes that are just on the market for a few days before they're getting purchased."
With increased competition and less inventory to work with, real estate experts said the market may be becoming tougher to enter for first-time homebuyers or buyers with less cash and lower credit—a problem that is not new to Williamson County.
In June, the average price for a home sold in Williamson County was $648,849, 3.8% higher than the average price in 2019, according to WCAR. Additionally, median sales prices have risen by nearly 20% since 2016.
Vaughn said issues not related to the coronavirus, such as lower availability of new home lots and increases in land costs and municipal fees, have led to higher home costs overall, making new housing in Williamson County harder to get.
"[Rising costs] just makes it more expensive to build, and ultimately, that just makes a more expensive end product, so attainable housing is a little bit harder," Vaughn said.
Figuring out financing
While many factors indicate sellers have had the upper hand during much of 2020, Hanson said residents looking to sell should be wary of setting their prices too high, as changes to lending prices and employment have caused hurdles for buyers.
Hanson said prices in Williamson County and particularly in Franklin can often venture into jumbo loan territory, which includes homes that would require a loan of more than $510,000 for purchase and are not secured by government sponsored lenders. In the recent economic climate, she said, lenders are wary of taking on such a large amount.
"The mortgage market has changed dramatically, so that has affected some things. I've had to dig deep into my barrel of lenders to cover some of my clients," Hanson said.
Credit scores are also a factor to consider when going to purchase a home, and many lenders have raised their minimum credit scores needed to qualify for a mortgage, according to Bob Smith, a senior mortgage loan officer with Bell Bank Mortgage in Brentwood.
"I don't know if anyone is going as low as 580 anymore. Most lenders have moved up to 680 or above," he said. "As a minimum credit score, we're still at 620 on a conforming [loan], so, yes, those scores have been raised during this period. Some of that just has to do with controlling the volume, I'm hearing, but that can exclude some individuals if their credit scores are lower than that."
However, with interest rates at a historic low, Smith said now is still a good time for buyers looking to purchase a new home or for owners looking to refinance their current mortgage if they are still employed.
"I've had some clients that have taken reductions in income, 20% or 50%. ... Even though they've had cuts, I have not seen any candidate yet that was excluded—as long as they were working," Smith said.