In the lead-up to the creation of the Blue Ribbon Task Force in Franklin in 2019, Mayor Ken Moore said he heard from residents throughout his community that the number of people struggling with substance abuse and mental health had been going up and that many local resources available to help were not so easy to find.
"We were experiencing the rise in the use of various substances, and our officers were having to respond with narcotic reversal agents, like Narcan, and there were some scary stories that concerned me," Moore said. "For several years, we've recognized that we have a higher-than-average rate of suicide in our community, and the police chief and I have both had concerns about that."
Moore said despite having been recognized by the governor as one of the healthiest communities in the state, Franklin could improve resources for those struggling with obesity, tobacco use and mental health, the last of which he said is the hardest for people to talk about and has only increased as a problem during the coronavirus pandemic.
"We found it was easy for people to talk about all of [those issues] except mental health. There was a taboo or reluctance to talk about those issues, particularly if it had to do with themselves or their family," Moore said. "Certainly, we've seen an uptick in anxiety and mental health issues during this pandemic."
Among the first initiatives of the mayor's Blue Ribbon Panel was the creation of Find Hope Franklin, a website launched in April that includes a directory of local, statewide and national resources available to those in the community who are struggling with mental health.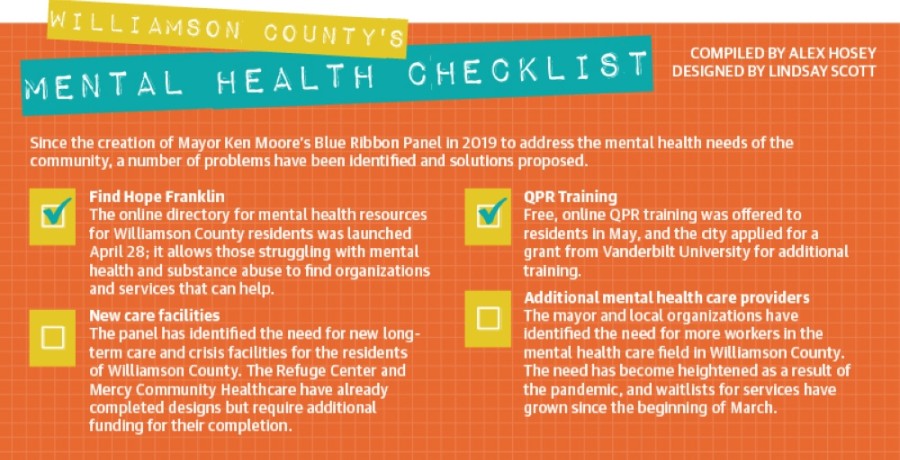 Side effects of a pandemic
When closures and stay-at-home orders began in March, Behavioral Health Officer Jon Boye with Mercy Community Healthcare said the waitlist for those seeking treatment for mental health has upwards of 200 names on it.
The Franklin-based organization provides professional counseling services; it is included in Find Hope Franklin's directory and provides help for those with and without health insurance.
"Every note I've done in the past two months since COVID hit has a sentence about COVID in it," Boye said. "There is not a patient that has come through my doors that is not suffering with the isolation, dealing with not being able to interact with peers or spending tremendous amounts of time interacting electronically, and people are fatigued."
The trend of those looking for help as a result of the pandemic can be seen statewide, as well.
Matthew Parriott, director of communications with the Tennessee Department of Mental Health and Substance Abuse Services, said calls to the statewide crisis line for those struggling with mental health have increased since the pandemic hit, from 835 calls in March 2019 to 1,022 calls in March 2020.
"Increased feelings of anxiety, isolation, fear, despair and even depression are the natural results of uncertainty, stress, job loss and more caused by the COVID-19 pandemic," Parriott said. "Additionally, the social distancing measures necessary to slow the spread of the disease contributed to isolation and negative mental health impacts. Substance use is a common coping mechanism that people turn to."
Boye said that along with existing health care providers needing more monetary resources to tackle the community's needs for mental health care in both the short and long term, Williamson County needs more workers in the field—a sentiment shared by Moore.
"In our studies as a group, we've found that there aren't enough mental health professionals in our community," Moore said. "Both The Refuge Center and Mercy Healthcare have a long waiting list for people to see them. There's not enough psychiatrists for the population that we have, so we need more mental health professionals. That is a critical area we identified."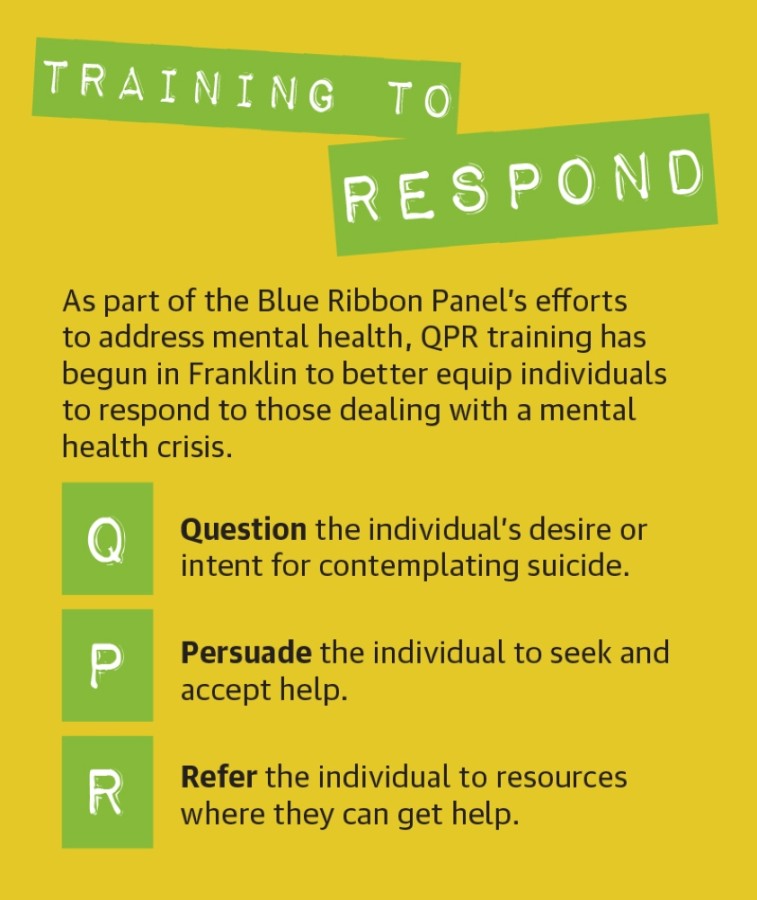 Reducing the mental health stigma
Before connecting residents with resources and helping those struggling with mental health get referrals to professionals, officials with local counseling centers said the community must first recognize its need for those resources.
Amy Alexander, the co-founder of The Refuge Center and a member of the mayor's Blue Ribbon Panel, said she believes 2020 will be the year that the Williamson County community accepts mental health as an issue and begins work to improve the resources it has available.
"I think it's been fairly recent that this community has been openly embracing the idea of its own need for mental health resources," Alexander said. "There was this thought that it had to be either-or—that we can't be so successful and so high-achieving and acknowledge our pain, too. I think 2020 is the year where it changes in this community, and it's kind of had to because our suicide rate was increasing. We were seeing more people take their lives from the Natchez Bridge, and more teens were taking their lives."
To help get the community talking about mental health and to help empower residents, officials have been working to provide training to help those who may be in crisis.
Along with starting Find Hope Franklin, the city and the nonprofit Franklin Tomorrow partnered with the Tennessee Suicide Prevention Network in May to provide residents with free QPR training—question, persuade, refer—to teach them how to respond to someone dealing with a mental health crisis. Moore said they have also applied for a grant from Vanderbilt University to help fund more QPR training.
"QPR is a proven suicide preventative response to people that you are concerned about that may be experiencing suicidal thoughts, and [it can] help you understand how you can help them," Moore said. "We will take the trainers who completed the course [and] go out and train groups in the community."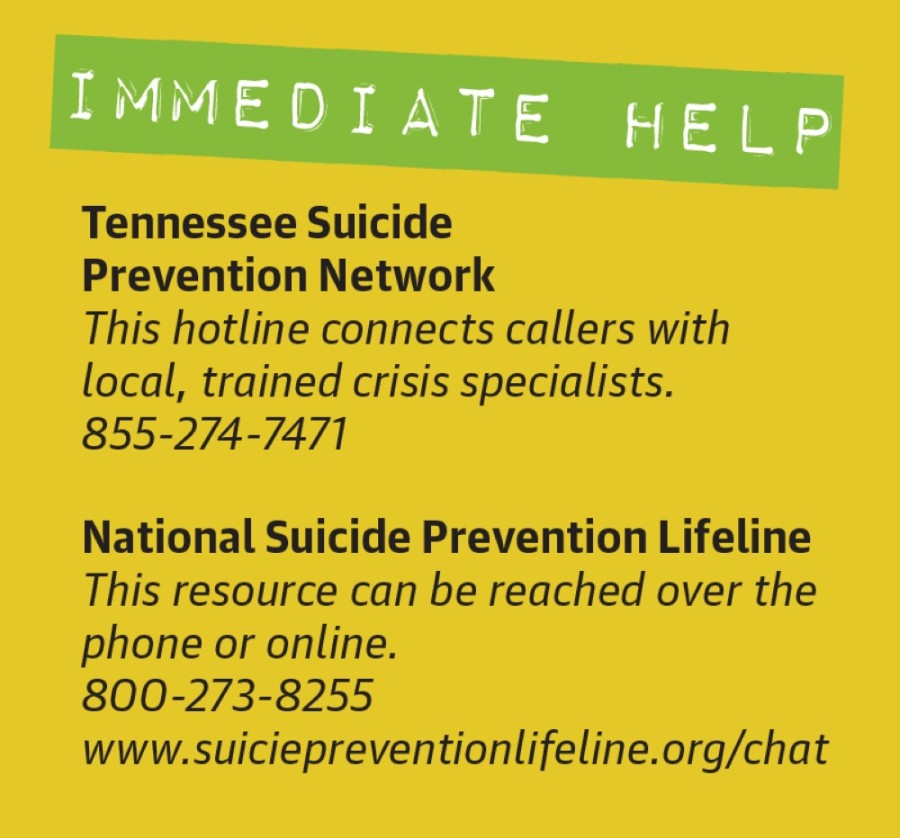 Increasing access
Aside from identifying needs, there is also an issue of access in the community, health care providers said.
Looking into the future, Moore said the Blue Ribbon Task Force has found that the Williamson County community needs a facility that can offer long-term, continuing care for those in a mental health crisis.
Both The Refuge Center and Mercy Community Healthcare have designs and land for the construction of new facilities in the area. Their main obstacle is a lack of funding.
"In general, I am not sure this county has prioritized investing in mental health resources, though I think there's many other things they've invested in," Alexander said. "For us, we have everything in place to expand our capacity and help more people, but we still need to raise $2.2 million to start construction. I hope this is the year that our community says, 'This matters.' COVID has shown us that the demand [for treatment] is going to be higher than ever. We need this community to prioritize this."
Bullard said Mercy Community needs more space and more funding to better support the community.
"[For] anyone who wants to care about Mercy, we ask them to please pray for us, and we pray for our community, our patients and our staff," Bullard said. "We want donors who are willing to give and show they believe in the services we provide and the help we bring to this community."
Statewide efforts have also ramped up: Parriott said his department has taken steps to help address the increase of mental health and substance abuse statewide. The TDMHSAS recently received a $2 million grant from the U.S. Substance Abuse and Mental Health Services Administration to go toward the state's existing crisis services, treatment and recovery support services.
"[It] is OK to not feel OK right now," Parriott said. "The essential human connection we all need has gone unmet for months. Anyone who is feeling the adverse effects of our current situation should first reach out to someone you trust. If feelings of anxiety, despair, or depression are becoming too much, start a conversation with your doctor."