Local mental health care specialists in Williamson County are offering tips for residents who are under local and statewide stay-at-home orders and experiencing big changes in their day-to-day routines.
Williamson Inc., the county chamber of commerce, hosted a virtual First Friday meeting April 3 with specialists from The Refuge Center for Counseling, located in Franklin, to offer tips on coping with staying at home and how stressful situations can affect mental health.
"Anxiety is often connected directly to fear, so it is a fear response," said Pike Williams, a licensed marriage and family therapist. "We're afraid that something is happening or has happened, and it could be future fear that hasn't happened but that we're afraid is going to or it could be something that's happening in real time. When we say the word 'anxiety,' it's that feeling that we get when we're afraid. There is an autonomic part of our nervous system, meaning it's involuntary; so when we are triggered or activated, something happens in our bodies. ... We begin to feel a sense that there's something physically uncomfortable in our bodies."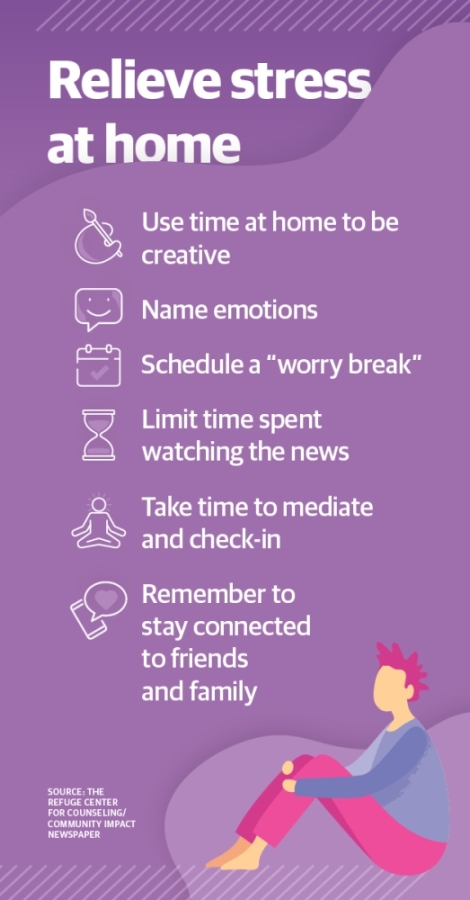 Williams said many people may be experiencing anxiety during the worldwide coronavirus outbreak. Anxiety can spike adrenaline and other hormones that can cause shifts in mood and thinking.
"When we feel that, there's nothing wrong with us. We're doing exactly what our body is supposed to do," he said.
Weston Crafton, a licensed therapist and director of The Refuge's contract program, said that while many people want to stay informed on the latest news related to the spread of coronavirus, too much information can be harmful.
"In this time, we are feeling a loss of autonomy. We can't leave our homes; we're feeling powerless [and] trapped. And so it's easy for us to want to seek out information," Crafton said. "Watching the news is probably the worst thing we can do continuously—I think recommending a 10-minute check in, maybe in the morning. Limit it to 5 minutes, and then, that's it."
Lauren Milikin, intake specialist and counselor for The Refuge, said using time for creative activities can help engage other parts of the brain to help better express emotions.
"I would also encourage everyone who is able [to try] to also disconnect a little because right now, we're spending way more time than normal engaging in a digital realm. And that's really helpful for us for that social connection that we need, but it's also helpful for our brains to disconnect from that digital place and to get analog," Milikin said. "If you journal, write it on an actual piece of paper. Get out in your yard, in your neighborhood, take a walk in the garden—whatever it is you can do to get out and engage in more real and less virtual realities."
Williams said
The Refuge Center
is offering telehealth sessions to allow residents to access care from home. Individuals may be eligible for sliding-scale fees based on income.
Staff at The Refuge offered some tips for residents to practice at home to help relieve stress and anxiety.


Use time at home to be creative: Write in a journal and work through your thoughts.


Name emotions: Talk through your thoughts out loud to help give context to what you are feeling and why you might be feeling that way.


Schedule a "worry break": Crafton said for individuals who know they are going to worry, it can be helpful to give themselves permission to worry for 10 minutes a day. Should they experience anxiety outside that break, they can make a note of it for the next break.


Limit time spent watching the news: Pay attention to how much time is spent watching television and on social media.


Take time to mediate and check-in: Phone apps, like Headspace, can help with guided meditation and relieving stress.


Remember to stay connected to friends and family: Use time to call and video conference friends and family to stay connected while practicing social distancing.