While students and staff have seen dramatic changes •over the past two academic years due to the coronavirus pandemic, at least one thing has been business as usual for Williamson County Schools: planning for the rapid growth of the county's population.
Planning for student population growth in Williamson County has long been part of the district's strategic plan. From 2015-19, WCS saw a 12% increase in student population, according to WCS. In that same time frame, the district has also added eight new schools.
However, for the first time in at least the past 20 years, WCS saw a decline of 1,475 students at the start of the 2020-21 school year. WCS Superintendent Jason Golden said that while many districts have seen numbers drop due to the coronavirus pandemic, he expects enrollment will rise again, which means new campuses will still be needed in the future.
"I anticipate from a numbers perspective that we'll have about a two-year window that the effects of COVID are really felt for us, but again, we are rebounding," Golden said.
The district is still planning to open 10 new schools and build additions to five existing campuses over the next five years to help meet future capacity needs, according to the WCS 5-Year Capital Plan.
To fund these buildings over the next few years, the Williamson County Commission approved resolutions March 8 intended to provide approximately $35 million in funding as part of the county's fiscal year 2021-22 budget. Projects being funded this year include $2 million for engineering work on a new middle school slated to be built near Jordan Elementary School in Brentwood; $3.6 million for new turf for the football fields at Centennial, Ravenwood and Fairview high schools; and $16 million for the addition of 22 classrooms at Summit and Ravenwood high schools.

Enrollment decline, expected rebound
With an estimated enrollment of 39,972 students, the district fell short of its own enrollment projections for the 2020-21 school year by about 2,300 students, according to WCS.
However, a decline of this sort is not unique to Williamson County. Statewide, an estimated 35,000 students across the state did not return to public schools in fall 2020 following the first few months of the pandemic, according to a report from the Tennessee Commission on Education and Recovery. The report cited multiple reasons, such as students postponing kindergarten or moving to home or private schooling, for the decline.
"From the first reporting period at the start of the school year, districts reported 5.77% below last year's student counts," said Victoria Robinson, director of communications for the Tennessee Department of Education. "This number has fluctuated throughout the year."
Golden said he believes that decline will be short-lived, as a number of students have already returned to campus for the spring 2021 semester.
"We were reduced in number by about 1,500 when the fall started with COVID—to my knowledge, every public school in the state had a reduction in student numbers. We've recovered that by about 600 or so from that 1,500," Golden said.
In the past, the district has projected future growth that would bring WCS' student population to around 48,000 by 2023-24, accounting for an average 3.8% increase each year. Projections are based on known local housing developments that report population projections to the district, according to WCS. Three new schools outlined in the district's five-year plan are expected to be located on the east side of the county, according to the district.
Those projections did not account for the pandemic, but for the 2021-22 school year, Golden said the district is anticipating 1,000 more students will be added to the rosters and that the district has already begun to see monthly growth.
"From a numbers perspective, we've increased by 48 students since Feb. 10. ... Those kinds of numbers are what we typically experience, and we've started to experience that growth that, at least for us, is an indicator that things are getting back on track," he said.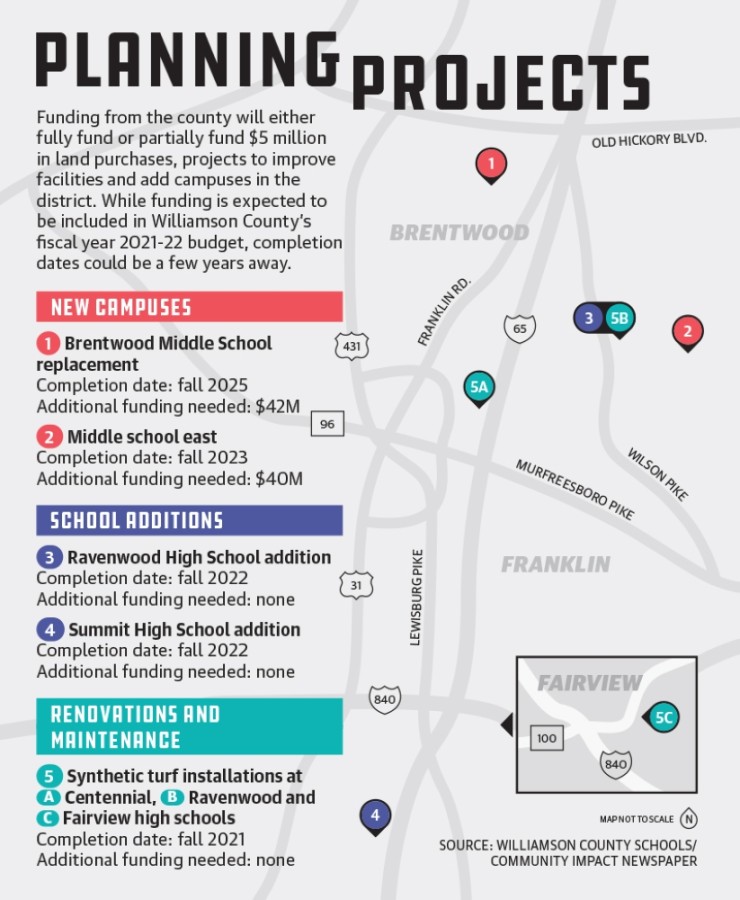 Budgeting for campuses, facilities
While the Williamson County Commission did approve many of the district's request, which include new campuses, maintenance projects, renovations and additions, commissioners said the pandemic has prompted concern over how that money is budgeted.
District 6 Commissioner Paul Webb, who serves on the county budget committee, said that because the county approves intentions to fund projects, that money cannot be used for other purposes, which limits the county's financial flexibility.
Not all requests were fully funded. Webb said that while the district initially requested $11.25 million in funding to buy three parcels of land for future school sites, the county opted to approve $5 million instead.
"This is pretty much like the county is putting $11.5 million in an escrow account where we can't touch it for anything else except for the purchase of the land. That's the concern that the budget committee had," Webb said. "We want to work away from this intent to fund because it locks up our cash and can inhibit our ability to make decisions, especially in a pandemic like we're in now."
Should more funding be necessary, Webb said, district officials can request additional funding from the county at a later date. This year's requests will cover only the first year of WCS' 5-year plan. To complete all projects in the plan, the district will need an additional $137.51 million.
One cost-cutting strategy the district is employing, Golden said, is making additions and renovations to some existing campuses instead of only planning new ones. Funding requests for this year included $16 million for additions to Ravenwood and Summit high schools and $2 million for a building replacement at Brentwood Middle School.
"If you do the math on a per-seat cost, expanding the building the way we're doing it at our newer high schools is about half the cost of a full-blown new building that includes the infrastructure, cafeteria, library, etc.," Golden said.