While many students have returned to on-campus learning in the past several months, they have also been subject to learning loss due to pandemic-related school closures in early 2020, which has prompted local and state officials to take action in 2021.
According to preliminary data from assessments given to students in the fall, Williamson County Schools officials calculated that some students have lost as much as 9% proficiency in reading and math as a result of school closure last spring. This number is lower than the 50%-65% decreases estimated by the Tennessee Department of Education officials in September; however, local officials said, there is still catching up to do.
"We haven't seen nearly that kind of loss in our students, but we have seen some that definitely need to be addressed," WCS Superintendent Jason Golden said.
Statewide, education experts estimate learning loss could range from a few months to up to a year of lost time, which school districts are working hard to recover.
Teresa Wasson, director of strategic communications for the State Collaborative on Reforming Education, or SCORE—a nonpartisan, nonprofit education advocacy group—said Tennessee is suffering from the short-term effects of learning loss and long-term evidence is also becoming apparent.
"Everybody knows this has been an extraordinary year, and there's a lot of concern about learning loss, understandably, and student experience has been very, very different during this pandemic, even within the same district," Wasson said.
Learning loss
While the district did not conduct TNReady or TCAP assessments during the 2019-20 school year, WCS fall data indicates some scores decreased as compared to those of years past.
In a special meeting Dec. 17, Golden presented the results of those assessments to the WCS Board of Education. He said the district issued additional screening assessments in early January, the results of which will be reviewed at the end of the year to see how students progressed.
"We don't have anything to compare it to for the years past, but it does give us a driver so we can compare what's happening in the fall to what's happened in the winter and what's happening in the spring as we finish the year," Golden said.
Golden said data at the elementary level shows students in younger grades—particularly those lower than third grade—have lower proficiency rates than what the district has typically seen in the past. Only 67% of first-graders, who would have been kindergarten students in the 2019-20 school year, showed proficiency in reading, and only 66% showed proficiency in math.
"One of the biggest challenges is that K-[second grade] is dedicated to learning to read, so when kids are learning to read, any hiccup along that process is going to have dramatic impacts, whereas when kids are older, they're using their reading skills to learn more information," said David Allen, assistant superintendent of teaching, learning and assessment for WCS.
At district middle schools, average scores for reading and math among students in grades 6-8 decreased by 2%-9% as compared to scores from last year, a net 4% decrease in reading and a net 7% decrease in math.
Statewide, concerns about reading skills are much the same. Even prior to the pandemic, early literacy was a concern for students statewide. According to SCORE, only one in three third-graders in Tennessee is reading at an appropriate grade level.
"Literacy rates are not great for any students in the state, and we, in particular, focus on literacy proficiency at the end of third grade because if you haven't learned to read well by the end of third grade, the data shows that students don't catch up in the later years," Wasson said.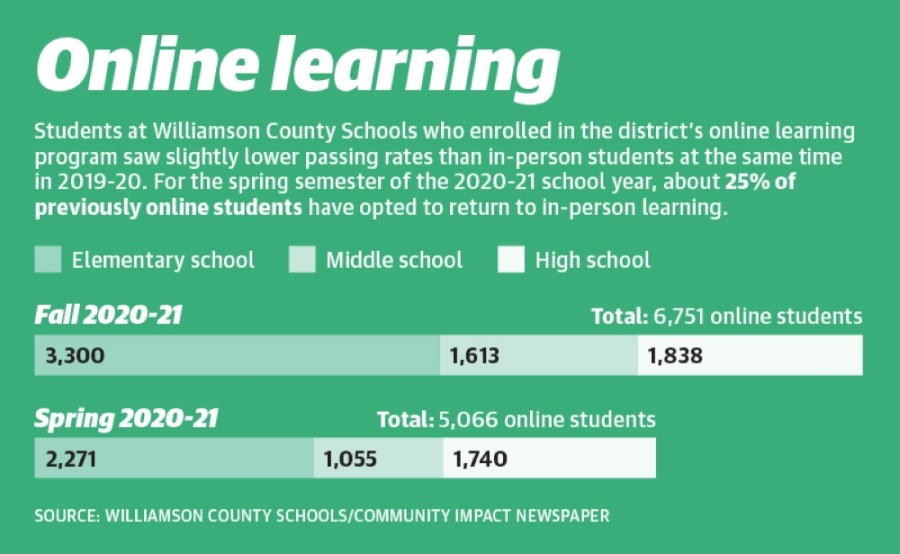 Online learning, inequity gaps
WCS assessments also show that online learners have a slightly lower passing rate than in-person students as compared to data from the 2019-20 school year, according to the district. In the first quarter of the 2020-21 school year, high school passing rates were 1.6% lower than they were at the same time the previous year for in-person students. Among online learners, passing rates were 3.8% lower than the previous year.
"We were concerned that this was a risk—that the online students would have a higher failure rate, and they do," Golden said. "So what that means is more intervention, more intervention."
That rate could change again in spring semester assessments, as 25% of online learners opted to return to campus at the start of 2021. Middle and elementary school students saw the highest rates of returning to campus, as a combined 1,587 students opted not to continue online learning.
While there has been a loss in learning proficiency overall, Wasson said, such losses are often more significant for students of color and those who are economically disadvantaged.
Additionally, the effects of the pandemic on learning do not end after graduation, according to SCORE. The organization estimates an average 19% of students statewide did not enroll in community college programs in 2020. Racial gaps are evident there as well: White student enrollment was down by 17%, and Black student enrollment was down by 31%.
"That's very troubling given the fact that most jobs in Tennessee now and in the future are going to require employees to have that kind of education after high school," Wasson said.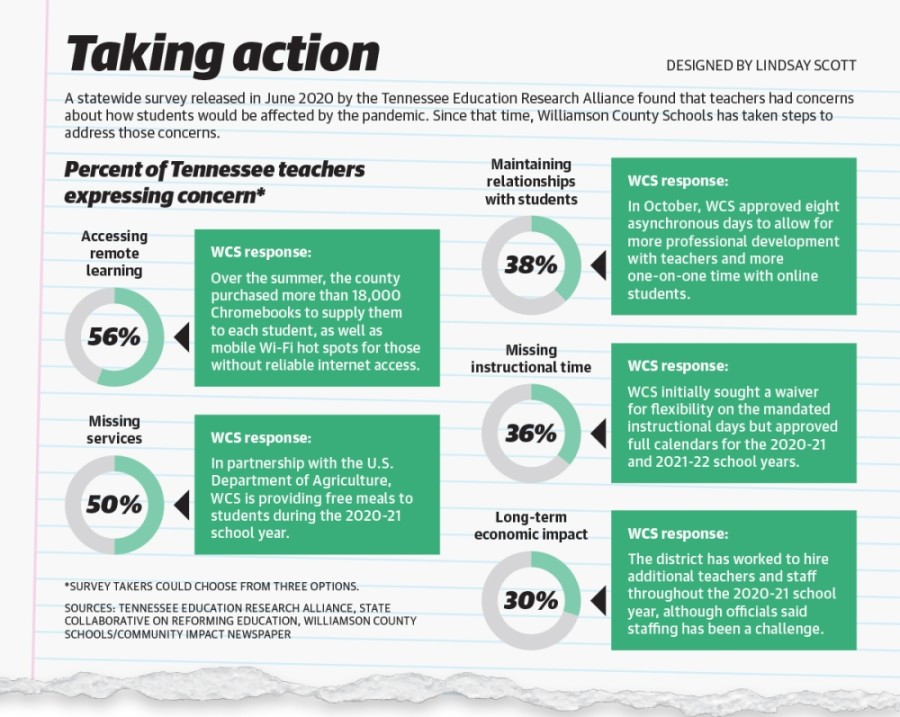 Student intervention
By pursuing early intervention, school officials said they hope to close learning gaps caused by the pandemic and to allow younger students to catch up. While the district already has math and literacy coaches and 18 interventionists on staff, it does not have full-time interventionists at all schools, a need the district will look to fill when it presents its annual budget to the county.
"We will be asking for more interventionist positions because we want to make sure that we don't have that anomaly that shows up with our screeners for first grade, and we want to make sure that we do catch up," Golden said.
The district is also working to implement a new phonics-based program targeted at younger students to help them improve their early literacy skills. Allen said WCS has already seen promising results in young readers.
Additionally, the Tennessee Department of Education announced Jan. 4 it will commit $100 million toward a new statewide initiative, Reading 360, which will help students develop phonics-based reading skills by third grade by providing tutoring and online support as well as training for educators and districts. The program is expected to be funded through one-time COVID-19 relief funds and federal grants, according to the TDOE.
"Tennessee has a literacy crisis," said Sharon Roberts, chief K-12 impact officer for SCORE, in a statement. "The Reading 360 proposal from [Gov. Bill] Lee and [TDOE] Commissioner [Penny] Schwinn will help school districts and educator preparation programs adopt literacy instruction that is proven to work: developing foundational phonics skills, building knowledge with high-quality reading materials and supporting current and future teachers to implement these practices."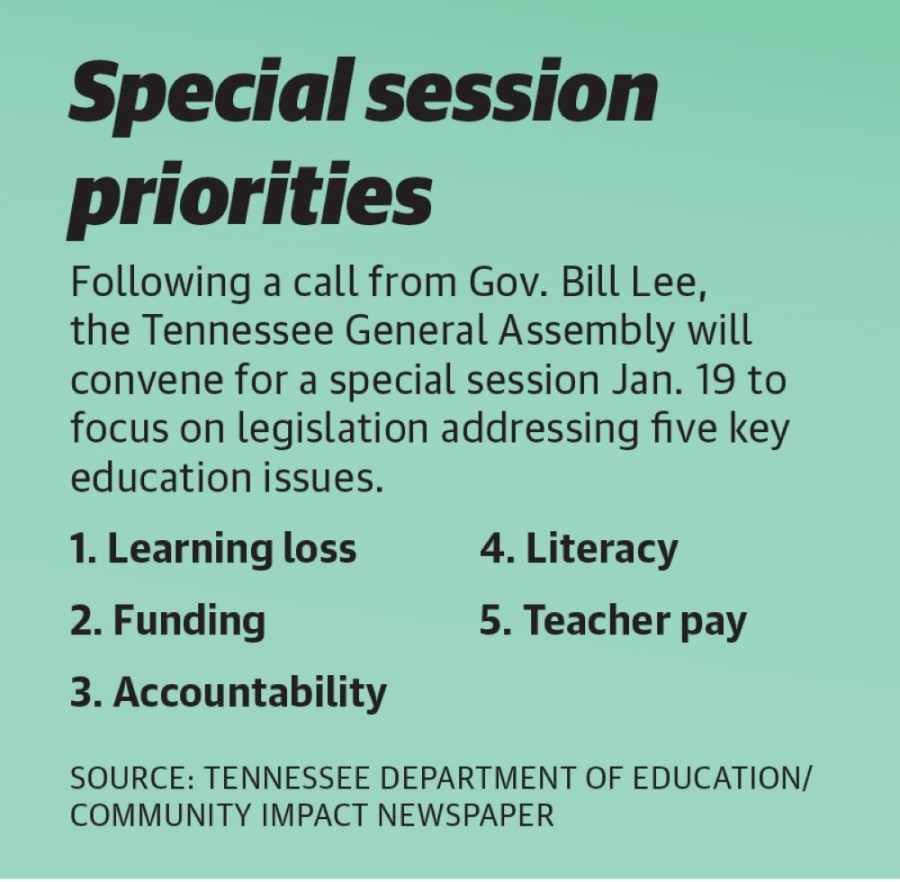 State action
Beyond the moves made by WCS, educators are watching the state capitol for future legislation related to funding and accountability.
On Dec. 29, Lee called on the Tennessee General Assembly to convene for a special session beginning Jan. 19. Lawmakers will focus on five key issues related to education: learning loss, funding, accountability, literacy and teacher pay.
"We know that the COVID-19 pandemic has caused immense disruption for Tennessee's students, educators, and districts, and the challenges they face must be addressed urgently," Lee said in a statement.
One law filed to date is House Bill 14, also dubbed the School Stabilization Act. Proposed by Rep. Scott Cepicky, R-Culleoka, the bill would require the Tennessee Basic Education Program to use results from 2019-20 assessments rather that 2020-21 assessments when calculating school funding.
SCORE also supports not penalizing districts, although Wasson said the organization believes the assessments should still be conducted.
"We support statewide assessments every year because it's one of many metrics that show how well schools are serving all students, and we think that during the pandemic, ... it's important that we have more information about student learning rather than less," Wasson said.