After a long summer of watching ever-changing case numbers and waiting for state and local guidance, students in Williamson County Schools went back to school Aug. 7, although the majority of students remained at home.
The district began school this year under its "medium-spread" scenario as laid out in the WCS Reopening Framework released in early July. That means students in grades 3-12 began learning remotely, while students from early education through second grade were allowed to return in person if they chose.
However, WCS officials announced Aug. 14 the district will now begin a phased-in return to school plan this month, with all students allowed to return to campus by Aug. 31. Elementary school students will be allowed to return to campus Aug. 24, grades 6-9 can return Aug. 28 and the rest on Aug. 31.
District officials said a recent decline in active cases allowed them to move into the "low-spread" scenario.
"The structure and the purpose of that was to try to honor the health department's recommendations. When every student's in the building, social distancing is a practical impossibility in just about every classroom," WCS Superintendent Jason Golden said.
Franklin Special School District also announced Aug. 14 it will allow all students in the K-8 district to return to campus beginning Aug. 24.
Bus and meal service will be available, and students who have opted to continue learning remotely will be able to continue to do so, according to the districts.
"Now, I know that this year will be a big challenge with the pandemic," Golden said in a July 23 press briefing. "We're in a pandemic, but I know we all ultimately have the same goal for our students and staff: for our students to safely receive the excellent WCS education that we're all here for."
Subject to change
Active cases of coronavirus in Williamson County rose by more than 1,000 this summer after businesses reopened to the public, peaking at more than 1,500 in July. Although there has been a steady decline through early August, WCS officials said they are watching the data closely to determine how schools will operate this year.
Because cases were confirmed in between 0.5%-1% of the county population, the district opted for its medium-spread scenario then moved the low-spread when active cases slowed.
However, if active cases see another increase similar to the one in July's numbers and they rise to more than 1% of the county population, district officials said the high-spread scenario could be activated. These metrics were developed in conjunction with hospital leaders and county officials based on the county's capabilities to respond to a certain number of cases, Golden said.
The district will make decisions about protocol in two-week increments based on county data on cases and hospital capacity.
Golden has said that he aims to have a "sustainable return" to school to limit how many tines the district may need to move from in-person to remote learning throughout the school year.
"In the event we have to move from one level to the other, [we'll decide] to move no less than two weeks [at a time] so that parents can have some consistency in that," Golden said. "It is possible that when we make the decision to move to the next protocol, it may be for longer than two weeks."
Golden said the district will work to alert parents with a week's notice about which protocol changes, if any, will take place during the semester.
In an informal survey conducted in July by
Community Impact Newspaper
, WCS parents said that while they expect this year to be different, they are glad to have a virtual option based on the current number of cases statewide.
"The school system is doing the best they can based on the current situation," said Tom Tunnicliffe, a WCS parent and the District 7 Williamson County commissioner. "I have faith in the staff and school board."
However, other parents have stated they are concerned with how the district's framework will work in practice rather than just on paper. Many have questioned how mask usage and social distancing will be enforced, particularly for younger students.
"I feel as if there are still a lot of unknowns and [that] information provided to the schools is being interpreted differently from school to school," said Michelle Sutton, parent of a WCS first-grader. "There is inconsistency, and my family and I do not have a lot of confidence that it will be a consistent year."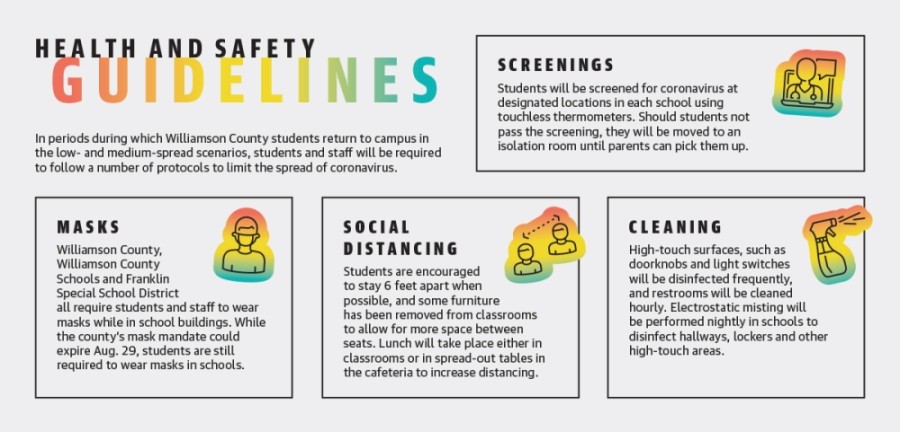 Push for in-person learning
While many areas of the state are still dealing with a rising number of active cases, most school districts in Tennessee are offering some form of in-person learning during the 2020-21 school year. According to Tennessee Department of Education Commissioner Penny Schwinn, 145 of 147 districts have made in-person options available, although some, such as WCS, are dependent on active case numbers.
State and local officials have said offering the option is also important because while many students have the ability to learn from home, not all have the resources or environment to do so. Additionally, many students rely on other services the district regularly supplies, such as mental health care and access to food.
"Millions of students went hungry this summer," Schwinn said in a July press briefing. "Many, many students in the state of Tennessee rely on our schools for breakfast, lunch, supper and snack. So it's critically important that regardless of what happens in terms of local decisions, we provide all of our students with these critical services and support to ensure that they are taken care of."
In-person instruction was an option that received strong support from parents locally as well. In a survey released in early July by WCS, more than 80% of parents said they would, or were more likely to, send their children for in-person instruction when given the choice. Only 3.1% said they would not send their children if given the choice.
The district also surveyed teachers to gauge how many would not be comfortable returning to the classroom to match them with online students.
In actuality, about 17% of WCS families have chosen fully virtual instruction for the fall semester, according to WCS.
However, 17% is actually lower than the state average, he said, as the majority of families opted for in-person learning when allowed. Some parents said virtual learning presents its own challenges, and others said they need the support it provides so they can return to work.
"The inconsistency for our young child—remote learning is not an option for our household with two working parents," Sutton said. "We tried it in the spring, and it was miserable, with little guidance from the school, trying to come up with our own lesson plans and making up for lost work during the day and having to work from bedtime until 1 a.m. most nights."

Confirmed cases in schools
While WCS has an approved framework for how students will be required to social distance and wear masks to help prevent the spread of coronavirus, state health officials have said it is a matter of when, not if, cases will be confirmed in schools.
At the start of the school year, Chapman's Retreat Elementary School in Spring Hill could not open after several staff members had to quarantine after being exposed to the coronavirus. Golden also tested positive for coronavirus in mid-August and had to isolate.
"I have said for weeks now: We know there will be cases in schools," Tennessee Department of Health Commissioner Dr. Lisa Piercey said in an Aug. 6 press briefing. "There will be in-school transmission; we know that's going to happen. We also know that the risk of not being in classrooms can be devastating and lifelong
as well."
Should a WCS student become infected with the virus, the framework states that the district will work with the Williamson County Health Department to determine if a building should be closed. Should a campus close, parents will be alerted and all students will immediately shift to remote instruction until a campus can be sanitized and a quarantine period is over.
However, while students could be exposed, medical experts and recommendations from the Centers for Disease Control and Prevention agree children are less affected by the coronavirus than their parents or older relatives.
"When it comes to transmission or the risk of the impact COVID[-19] has on a child, children are the largest group of asymptomatic carriers," said Dr. Anu Seshadri, an internal medicine and pediatric physician at the University of California in Los Angeles. "When they do get infected with COVID-19, most of them don't even show any symptoms—at least for now."
However, Seshadri said there is a concern about spreading the virus to adults they live with who may become more ill.
"This is why policies need to be fluid when reopening schools," she said. "Yes, we can plan and prepare, but they also need to be fluid enough to make the adjustments that are needed depending on what difficulties they face and make those adjustments quickly [and] efficiently and communicate that very well."
Danica Lloyd contributed to this report.