As the pandemic stretches on, many companies are adapting to a new work environment while looking ahead to how they will grow in an uncertain economic climate.
In 2019 and early 2020, a number of companies, such as Mitsubishi Motors North America, THNKS and Ramsey Solutions, announced they would move offices to or expand their •current footprint in Franklin. However, the state of Tennessee saw its first case of coronavirus confirmed in Williamson County in March. Within weeks, many major offices closed, and the area's unemployment rate rose to 10.4% in April.
But as many businesses begin their return to the office, a recent study cited in the U.S. Bureau of Labor Statistics Monthly Labor review shows that areas with demographics similar to Williamson County may be better poised to succeed in a telework environment.
During Update Williamson, a Williamson Inc. event held Oct. 20, several companies spoke about how Williamson County's demographics and characteristics have allowed them to adapt and move forward in 2020.
"To say this has been a challenging time is both a cliché and an understatement," Williamson Inc. President and CEO Matt Largen said. "There is real pain in our community and our region and our country. I certainly don't want to minimize the impact COVID is having on our families, our hospitality industry and our nonprofits. Thankfully, there are some good signs for the Williamson County economy. Our current unemployment rate is [3.6]%."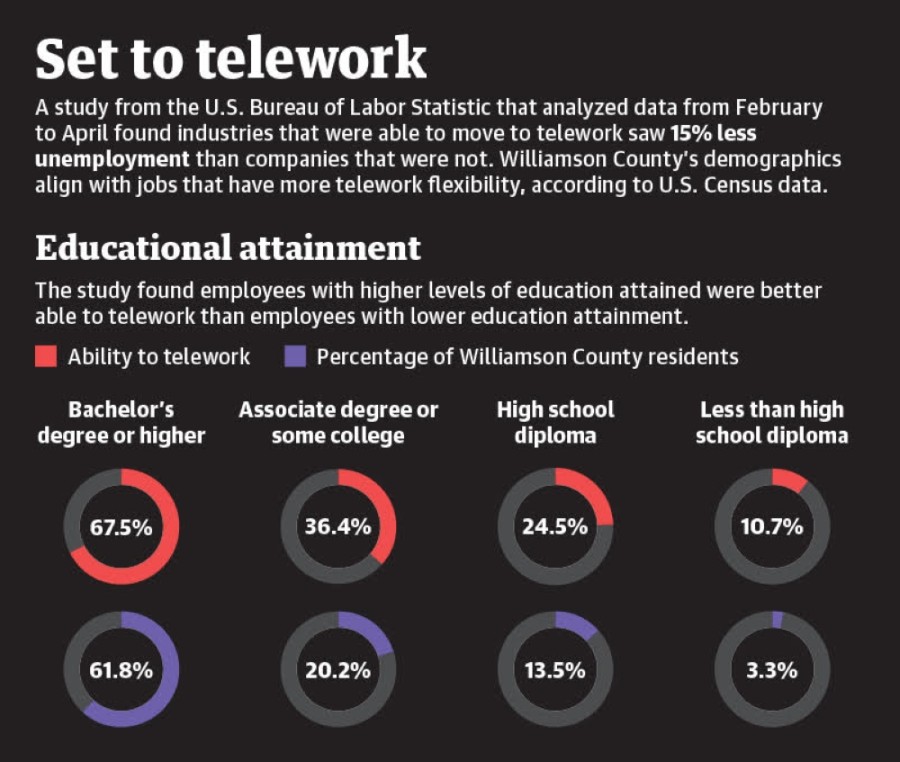 Attracting pre-pandemic
In the last five years, more than 30 companies have relocated or expanded in Williamson County through the Tennessee Department of Economic and Community Development, which has brought more than 4,000 jobs to the area, according to the TDECD.
Many companies cite the lower cost of living as compared to more expensive states, such as California and Illinois, as a reason to relocate, according to Williamson Inc. Additionally, employers said factors unique to the area were a selling point.
Brendan Kamm, co-founder and CEO of THNKS, a company that allows individuals to send thank-you gifts to clients and colleagues, said the schools and the business environment made Williamson County stand out when looking at new markets. The company announced in 2020 it would relocate its corporate headquarters from New York to Franklin and bring an estimated 50 new jobs to the region.
"We looked at a lot of different places, and the thing about Williamson is ... it's a place that's accommodating," Kamm said. "It's very open for business. Personally, the schools and the family focus of the area meant a lot to me."
Companies also said the pool of potential employees in Williamson County is an advantage. Tractor Supply Co., which is headquartered in Brentwood, announced in October it had hired about 8,000 new employees companywide to help respond to the demand from coronavirus, many of which were in Williamson County.
"We recruit a lot of external hires, and Nashville's on everyone's radar screen in terms of a city that they've liked and moved to or would be open to moving to," said Hal Lawton, Tractor Supply Co. president and CEO. "We've found those who reside here to be a great employment base as well and opportunity for talent."
Adapting to work from home
Some of the factors that drew companies to the area may have helped the local economy adapt to the work-from-home environment, according to the BLS study. As employees of many nonessential businesses were told to work from home during the pandemic, some companies were better able to adapt to remote work.
When employees in the Tractor Supply Co. Brentwood office went to work from home, the original plan was to have a day-long trial run and potentially to return to the office.
"The pandemic moved so much faster that we decided after that first day to just stay work from home, and we've been dominantly work-from-home since then," Lawton said. "We have 50 to 60 people in the office a day right now, whereas historically, we would have had about 1,200."
The Bureau of Labor Statistics study found administrative, office and professional support positions had higher rates of employees able to telework as compared to jobs in other industries, such as construction and agriculture. According to data from the U.S. Census Bureau's 2018 American Community Survey five-year estimates, more than half of Williamson County's workforce is employed in management, business, science and arts occupations.
Additionally, the study found education levels were also a factor that played into telework rates.
"There's many high-end, white-collar employers that have everything from back-office skills to sales skills and technology skills," said Chris Cochran, CEO of Freightwise, a Brentwood-based logistics company. "We feel like the area is ripe, and we can find the talent that we need."
Back to work
While it is not yet clear whether the economic effect of the coronavirus will prevent companies from relocating to the area in the future, many of the companies that committed to opening in Williamson County before the pandemic still did so in 2020.
Red Collar Pet Foods and THNKS opened new offices earlier this year, and Mitsubishi moved into its new headquarters in Cool Springs in May. Additionally, Ramsey Solutions, which began work on its second office building in Berry Farms in 2020, announced in August it would complete construction in 2021. Additionally, Largen said Williamson County is still seeing new businesses opening.
"The number of new business licensees filed since COVID was almost 500 at the end of July, and, in fact, we've had 20 ribbon-cuttings as an organization, with eight in October alone," Largen said. "People are willing to take a risk for their business, and they're willing to take a risk on this community, and that's something we should all support."