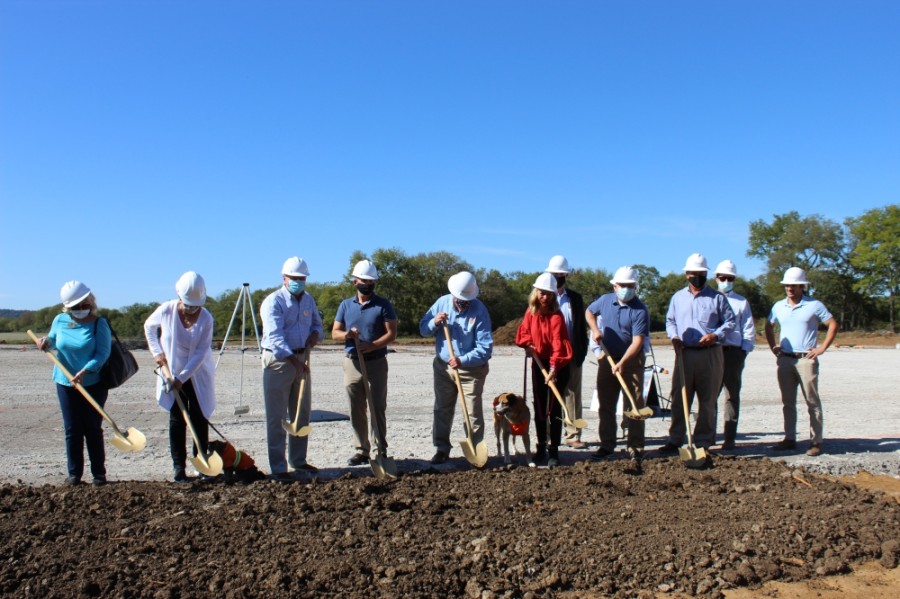 Work is now officially underway on the new Williamson County Animal Shelter.
Shelter employees and county officials broke ground on a new $15.4 million facility Oct. 14 in Franklin on Old Charlotte Pike Road East. Work on the shelter is slated to be complete next fall, and the shelter is expected to begin occupying the space in November 2021.
The new, 33,000-square-foot facility, designed by local firm 906 Architects, will include capacity for 86 dogs and 100 cats and will also feature a surgery center and medical wing, an indoor dog training area, an outdoor dog exercise trail, and an education and multipurpose space.
"I just can't tell you how excited my entire team is for this new building. We've spent a lot of time preparing and working with 906 Architects and Oversite and shelter planners of America to make this shelter the absolute state of the art," WCAS Executive Director Ondrea Johnson said. "We're going to have the best in animal housing, office space ... and I'm honored to be here in this point in history."
Approximately $14 million in funding for the shelter came from the county, and another $1.4 million was donated by Friends of the Williamson County Animal Shelter, a local nonprofit organization.
Williamson County Mayor Rogers Anderson spoke about the new facility during the groundbreaking.
"This is a project that has been going on for the better part of five years; we had kind of a dream and a vision, and Ondrea came on board and took it to an entirely new level," Anderson said.
The facility will sit on 11 acres within a larger 37-acre land tract adjacent to the new Mack C. Hatcher Parkway extension, according to Williamson County officials. Wooded areas around the land are expected to be preserved, Anderson said.
Plans for what will be done with the existing facility, which was built near Franklin High School in the late 1980s, have not yet been determined.