Following Gov. Bill Lee's announcement of the Tennessee Pledge on April 24, restaurants, businesses and local municipalities in Williamson County have begun work to reopen during the ongoing coronavirus pandemic, balancing the safety of the public from the virus and the work to restart the economy in a responsible way.
"[The Tennessee Pledge] includes specific recommendations which enables most businesses to reopen responsibly without the burden of having mandates," Lee said in his April 24 announcement. "This will be a gradual return to business-as-usual, with room to adjust as we evaluate changing data."
After weeks of limiting services for members of the public, on April 27, local businesses and restaurants in Williamson County began to reopen their dining and shopping areas with limitations and to take stock of the losses they have sustained as a result of the closures.
For local business owners like Kelly Gore, owner of Bound Booksellers in the Westhaven community, losses due to the coronavirus were severe, and there were no waivers for rent and other bills.
"The first couple of weeks, we had a 90% reduction in sales," Gore said. "People were trying to support us in whatever way we could, but we still had significantly less business because everyone was in hold mode. ... We didn't make enough money in the first month to pay rent, so we actively started applying for loans and grants."
Gore is not alone in the struggle to make ends meet during the pandemic. Many small business owners have lost large portions of their projected income due to closures and limits placed on them to combat the virus's spread.
"It's small businesses that have been hurt the greatest," Williamson Inc. President and CEO Matt Largen said during an April 28 conference with local nonprofit Franklin Tomorrow. "At the end of the day, small businesses need customers, and we have to make sure we [reopen] in a safe and responsible way, but that's the one thing that will help—eventually—these companies recover fully: ... having their customer base back."
'The new normal'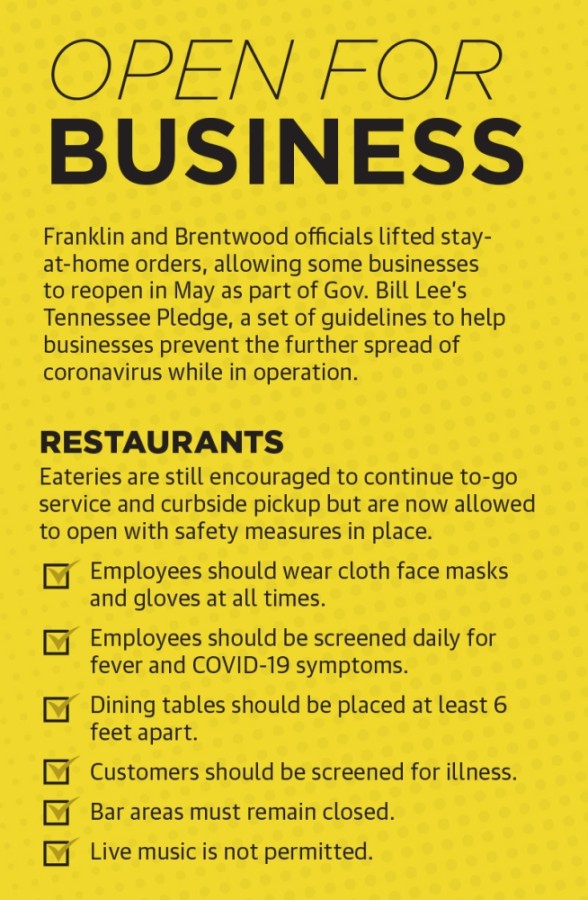 The guidelines for reopening businesses introduced in the governor's Tennessee Pledge include spacing tables 6 feet apart in restaurants and recommending that employees wear cloth masks and continue to practice federal guidelines with regard to social distancing, hygiene and workplace sanitation standards. The pledge also asks restaurants to not reopen bars or offer live music and further outlines safer ways to handle menus and silverware by continuously disinfecting those frequently touched items.
"This is kind of what we refer to as 'the new normal,' at least for the time being, so that we can safely get our economy back going again and get people back to work," said Sen. Jack Johnson, R-Franklin, a member of the governor's task force in charge of the reopening plan. "We know that this is going to have a significant impact on our economy and our revenues for the state. ... We're estimating, so far, there's been roughly a $5 billion impact to our state's gross domestic product, and it's probably not surprising."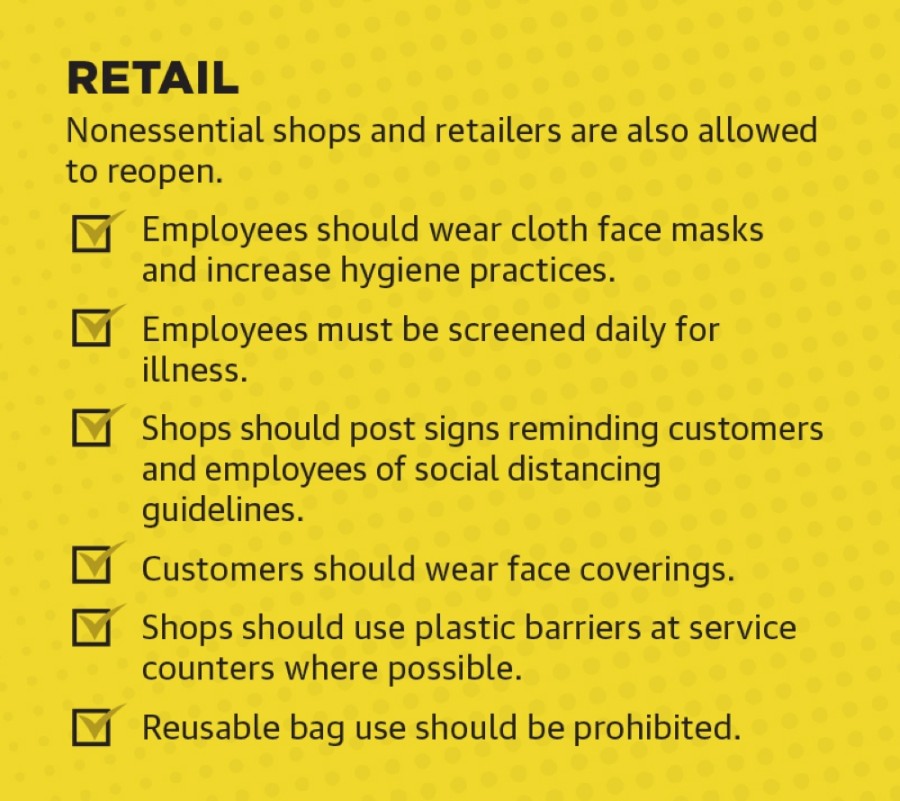 According to a recent survey from Williamson Inc., business owners in Williamson County are still concerned about the spread of the virus despite the downturn of the economy and the guidelines from the Tennessee Pledge, with 64% of respondents expressing concern for the safety of their employees upon being allowed to reopen and 66% having concerns about the health of their customers.
Fighting to come back
As businesses across the state have had to limit services and temporarily lay off staff, the governor said about 15% of Tennessee's workforce has filed for unemployment benefits, and those benefits will become limited as the Tennessee Pledge is implemented and businesses begin to reopen under the new guidelines.
"There are several reasons and several instances that qualify you for what we call PUA, or Pandemic Unemployment Assistance. One of the things that is not [a reason] is that there's some sort of worry about going back to employment," said Jeff McCord, commissioner of the Tennessee Department of Labor & Workforce Development, in an April 28 briefing with Gov. Lee. "If you are offered a job and your employer opens back up, then, you stand the chance of losing those benefits if you don't have a clear reason not to go back."
However, even as businesses begin to reopen, many local business owners are not expecting to recover immediately from experiences of the past months.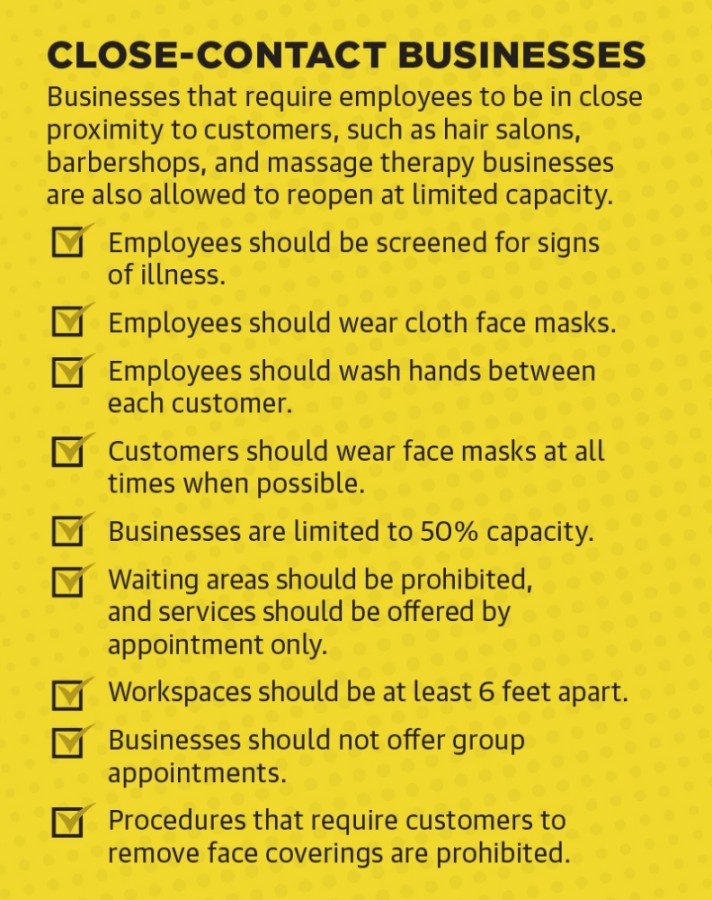 Local business owners, such as Natasha Hendrix, the owner of McCreary's Irish Pub in downtown Franklin, have had to adapt to the difficulties brought about by the coronavirus and state guidelines for reopening. Hendrix said she lost more than 50% of her usual sales revenue and had to temporarily lay off workers.
"I've had to call employees and tell them I didn't have work for them—I mean that brought tears to my eyes," Hendrix said. "I was just thinking to myself, 'Can I pay this bill? Can I stall a little bit?' It was a certain amount of [discomfort] I didn't have to deal with before. It was a humbling experience all around."
Though McCreary's was as full as was possible when it reopened its dining area to the public April 27, Hendrix said the pub was only operating at 50% capacity as of press time. Staff wore masks and gloves and frequently wiped down surfaces.
"Part of the ability to be open is that if you're serving the public outright, you have to wear gloves and masks, and that has [its] own challenges, but it is what it is," Hendrix said.
Though longstanding businesses were not immune to the economic effects of the virus, newer businesses had to quickly adapt without a large customer base to call upon. Mark Cook, the owner of Hop House Tennessee Taps, said his business's revenue has dropped by about 80% as a result of the pandemic since it first opened its doors Feb. 1. The business has had to offer takeout options to adapt.
"We had just over a month to get started, so we hadn't even established trends or expectations when we had to change the entire business model," Cook said. "We had to cut back hours and lost some employees to unemployment because of that. ... Operating hours were reduced, and several employees opted to use unemployment, but we hope they will return when we are back at full capacity."
Long-term effects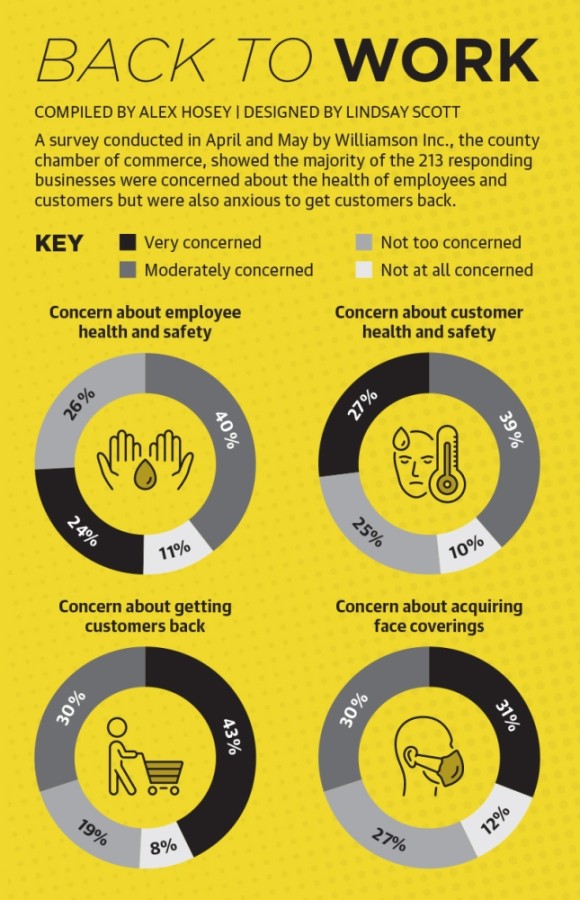 While local officials do not yet have a clear picture of the full ramifications of coronavirus on the region, Visit Franklin President and CEO Ellie Westman Chin said the economic impact the virus has had on the hospitality and tourism industry has already surpassed the effects of the attacks of Sept. 11, 2001.
"The tourism industry got hit the hardest, first," Westman Chin said. "Almost 40% of jobs that have been lost have been in the tourism industry, so we are excited to have the opportunity, once it is safe, once the mandates are starting to be lifted, once we have guidelines in place, to start inviting our visitors back."
She said many local businesses also relied on a customer base of residents and tourists.
"We know that, based on our research and surveys, a lot of our visitor-facing businesses, their business is about 50-50—about 50% residents and 50% visitors," Westman Chin said. "That's why it's important for our residents to get out because right now, we're missing our 50% visitor part because we can't invite those folks in right now, and people don't want to travel."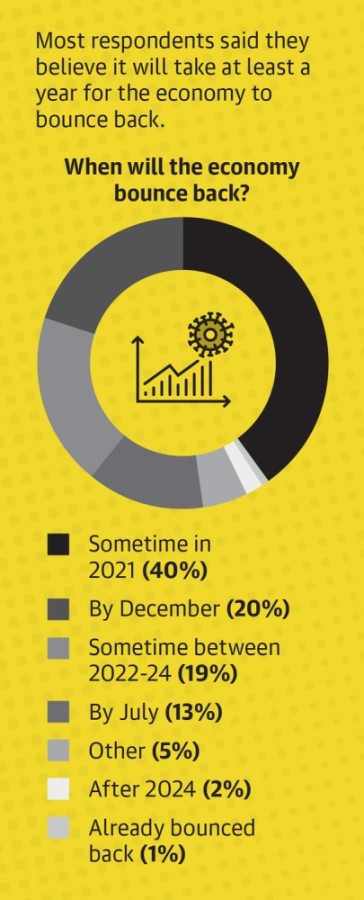 Besides the support from local customers, small businesses in Williamson County have found some relief from federal aid, like the Paycheck Protection Program, which, according to the results of a Williamson Inc. survey, has given out over $26.5 million in aid to 180 businesses that responded to the survey. However, even with federal aid, 61% of respondents said they believe it could be at least a year—or longer—until the economy has fully bounced back.
"The fundamentals of the Williamson County economy were strong before this, and the fundamentals will be strong after this," Largen said. "What we don't know is how long this is going to last, but I feel completely confident that eventually, we'll recover. It's just going to be a matter of time."