Updated 2:35 p.m. April 2
Tennessee Gov. Bill Lee announced April 2 he will sign Executive Order No. 23 calling for all residents to stay at home until April 14 unless they are carrying out essential activities, according to a release from the governor's office.
This order overrides Lee's previous safer-at-home order issued March 30.
"Over the last few weeks, we have seen decreases in movement around the state as Tennesseans socially distance and stay at home," Lee said in a statement. "However, in recent days we have seen data indicating that movement may be increasing and we must get these numbers trending back down. I have updated my previous executive order to clearly require that Tennesseans stay at home unless they are carrying out essential activities."
Lee said during an April 2 press conference that businesses will be given a chance to comply with the new orders before local and state agencies become involved.
"We're asking business to act responsibly and not put public health at risk, and we except that they'll do that," he said.
According to data from the Tennessee Department of Transportation, the state saw a drop in vehicle movement from March 13-29; however, data from March 30 showed travel increasing.
"April stands to be a very tough month for our state," Lee said. "COVID-19 is an eminent threat and we need you to understand that staying at home isn't an option—it's a requirement for the swift defeat of COVID-19 in Tennessee."
Original post: 2:36 p.m. March 30
Tennessee Gov. Bill Lee announced March 30 the state is now under a safer-at-home order to limit the spread of coronavirus in the region by mandating social distancing practices.
Lee said coronavirus has been confirmed in 77 of the state's 95 counties and has caused 13 deaths statewide. While many cities have already implemented stay-at-home orders, Lee said he was concerned about the number of rural communities that are seeing growing case numbers.
Executive Order 22 mandates that all non-essential businesses "that cannot possibly safely operate" close for at least a 14-day period. Lee cited business including barbershops, salons, recreational and entertainment outfits as examples of these types of businesses. State-deemed essential services include hospitals, doctor's offices, restaurants that offer to-go service only and grocery stores.
"Today, I'm announcing measures that will implement safer-at-home guidelines in every county in our state to better our approach to social distancing while also protecting the livelihood of Tennesseans," Lee said. "This is not a mandated shelter-in-place order, because it's deeply important to me that we remain a state that protects personal liberties, but it is a strong urging for Tennesseans to stay at home when at all possible because I also believe that with personal liberty comes personal responsibility."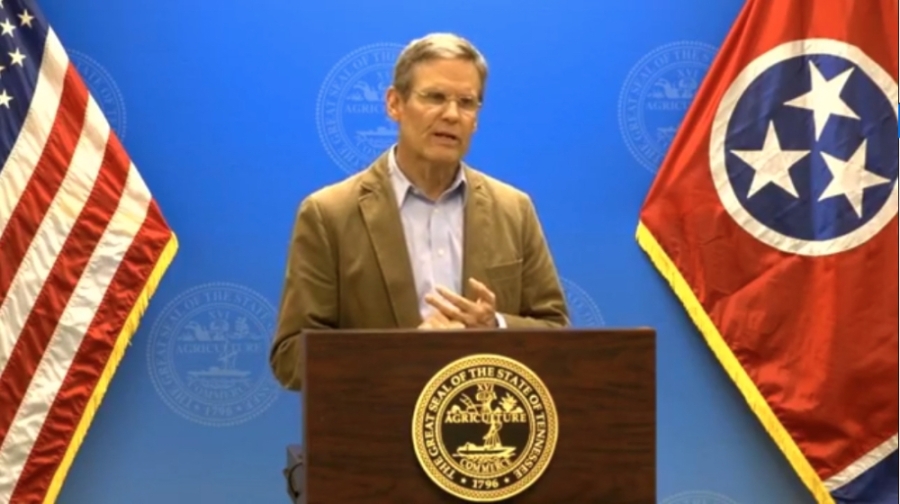 Residents are advised to avoid leaving their home except for necessary trips, such as going to the grocery store for essentials only.
"We need you to stay home where at all possible," Lee said during a press conference.
This order follows a series of restrictions announced by the governor's office, including an order announced March 22 restricting all outside visitors to nursing homes and assisted living facilities, and a March 24 announcement calling for schools across the state to remain closed through April 24.
The Tennessee Department of Health announced March 30 the total number of cases of coronavirus across the state is now at 1,834, an increase of nearly 300 cases since yesterday. This is the highest day-over-day increase to date, according to daily data released by the TDH.
This order is not expected to add any new restrictions for residents in Davidson County—which has been under a stay at home order since March 22—or for many cities in Williamson County that have declared a state of emergency, closing all but essential businesses on March 20. Both orders were originally set to last 14 days, however officials have yet not announced whether those orders will be extended.
"The faster we blunt the surge of this spread, the faster we all get to go back to work," Lee said. "The COIVD-19 pandemic has caused tremendous uncertainty for Tennesseans and left many small businesses in a vulnerable position, so we're also calling on the business community to embrace alternative business models and partner with us in the fight of COVID-19."
According to recommendations from the Centers for Disease Control and Prevention, individuals can practice social distancing by staying at least 6 feet away from other individuals and avoiding non-essential trips to public places, especially if they are sick.