For Cuts N Blessings owner Anthony McLemore, working in a barbershop was never about cutting Black or white customers' hair but rather about making whoever is sitting in his chair look and feel their best.
"I'm a Black owner, and the business is Black-owned, but the business is not a Black business," McLemore said. "I don't want my shop to be a Black shop or [for] just Black people to go there because that means I'm limiting my skills; I'm limiting my clientele; I'm limiting my availability for people to want to come in. So, I don't want that—I want to be diverse."
However, he said, some people enter his shop, take one look around and leave. McLemore said he often follows them out to give them a business card and let them know his shop cuts all types of hair—because whether it is from unintentional bias or unfamiliarity, that person had a preconceived notion the shop was not for them.
"Half the ones that didn't know—they actually came back into the shop," he said. "And they're still customers to this day. ... So I've also tried to make a difference in a community with diversity by not only opening and having the invitation but actually showing people that whether it was stereotypes that people have or biases or [it's] unfamiliar, [they're welcome]."
McLemore's experience is just one of many seen in the Williamson County community and nationwide. Last summer, the effects of the coronavirus pandemic were compounded by calls for social justice following the killings of George Floyd, Ahmaud Arbery, Breonna Taylor and several other Black Americans.
That summer's wave of collective action and protests sparked an idea for local business leaders to create a network for Black business owners in the area to find support and resources while lifting up their individual businesses in the community.
In February and March, the area chamber of commerce, Williamson Inc., rolled out the launch of the
Black Business Coalition
, a group wherein Black business owners can network and find resources for capital and professional development.
"In the wake of the George Floyd tragedy, I called a number of Black business leaders in Williamson County and Middle Tennessee," Williamson Inc. President Matt Largen said. "We just had a really candid conversation on what we could do as a chamber of commerce when it came to supporting Black businesses in our county and in our community."
Creating a coalition
While the organization was officially rolled out this spring, area business leaders have been working in the background for the past several months. Coalition Co-Chair Robert Blair said stakeholders have been meeting every week for the past six months to form a group with a framework and sustainable goals.
"My initial ask to Matt [was that] I wanted to make sure this was something that when the tide floated in or floated out, they would still be there. We were looking at something that was long-term, not something that was temporary, just because of the climate in our country or in our city," Blair said.
The group is served by four co-chairs: Blair, owner of a local media company and chair of the Franklin Special School District board of education; Tara Blue, executive director of the Community Child Care Center in Franklin and board member of Williamson Inc.; Jemond Daughtry, co-owner of The Good Food Group; and Jeffery McGruder, chief relationship officer with Citizens Banking & Trust Company.
The coalition has already created a
Black Business Directory
, an online resource that lists more than 70 Black-owned and -operated businesses in Williamson County. Entries range from local artists and medical professionals to restaurateurs and financial experts.
Editor's note: Not all businesses in the directory could be mapped.
Through the coalition, the group hopes to increase Black membership in the chamber by 10%, which would provide more Black representation for Williamson County businesses.
"For us, the goal is to seek to help underrepresented businesses and organizations grow and prosper," Largen said. "That's really the bottom line: helping Black businesses who have not been represented in our organization."
Tabitha Sanders, co-owner of I Love Juice Bar on Carothers Parkway, said the coalition has been needed for a while.
"It is something that we have not had; it is something that is well overdue," Sanders said. "It should have been around a long time ago. A lot of people don't know that there are these Black businesses, they think of them as just businesses. So having that coalition with help bring life to the fact that there are small Black businesses in the Franklin area."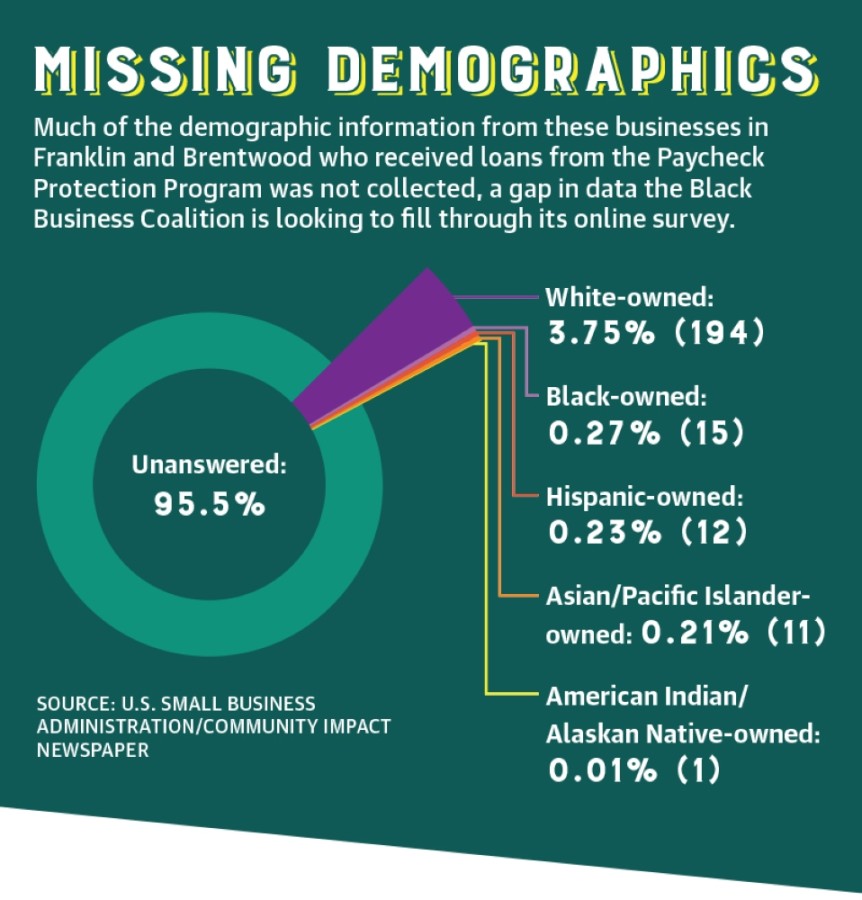 Finding resources, data
While many small businesses have struggled in the past year, businesses owned by people of color have often had to deal with concurrent challenges, including a lack of financial support.
More than 5,000 businesses in Franklin and Brentwood received financial support through the federal Paycheck Protection Program approved by U.S. Congress in March 2020. But of the 233 businesses for which demographic information was available in U.S. Small Business Administration loan data from 2021, just 15 Black-owned businesses received loan funds, or less than 7%.
Blair said there were barriers for many Black-owned businesses that kept them from even applying—whether they did not have existing relationships with banks or simply needed help filling out paperwork.
"You need some guidance, and a lot of times, you really need somebody to walk you through that," Blair said. "I think for that reason—the amount of minorities, of Black and brown companies and people applying for things like that—it just hasn't happened."
Debra Moore, vice president of community lending and relationship director for Renasant Bank, said that while a preexisting relationship with a bank can be helpful for small businesses, it is not a requirement for many loan programs.
"We eagerly championed the opportunity to provide necessary assistance to thousands of small business, in and around our various states and areas of operation, to support their sustainability amid the COVID-19 pandemic," Moore said. "Our commitment to the small business community through our PPP program resulted in over 25% of such loans supporting minority and female-owned businesses."
However, a great deal of PPP data locally and nationally is incomplete because submission thereof is voluntary, according to the SBA. More than 95% of loans distributed in Franklin and Brentwood did not bear any demographic information.
To help fill in some of these data gaps locally, Blue said, the coalition will be working over the coming weeks to distribute a survey for Black business owners in the area. This will help determine if they had access to PPP loans and allow the coalition to find out what other resources respondents need.
"That is the purpose for the survey because that will speak directly to what they're lacking," Blue said. "Did they apply for the PPP loans? Did they not get it? Were they explained to as to why they did not? That's the reason for why we needed that survey: because there are so many people we needed to reach out to."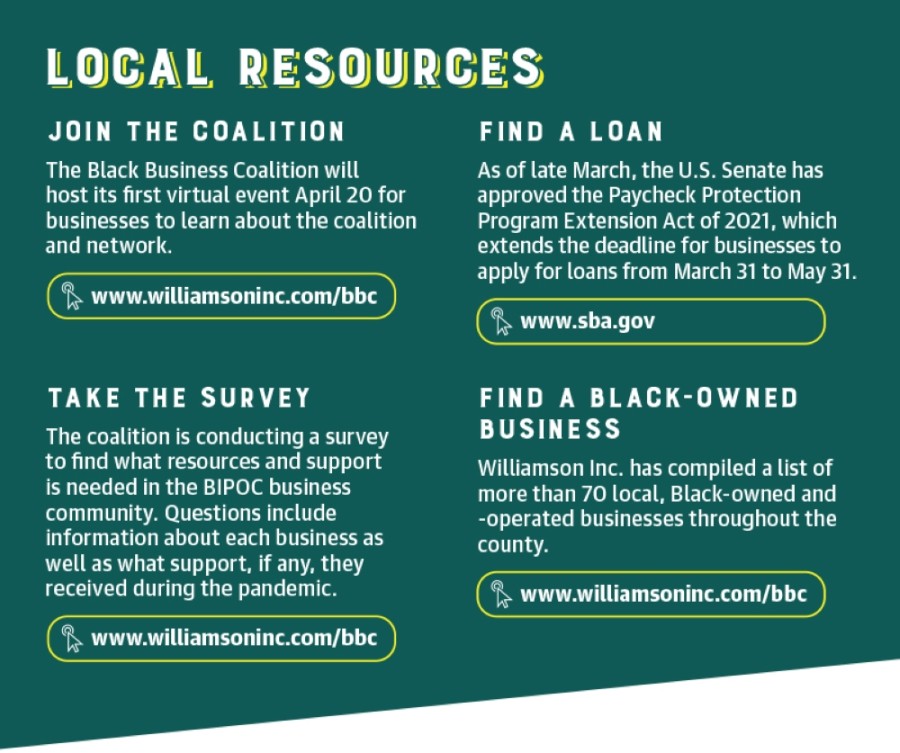 Making connections
In addition to helping local owners find resources to help further their business, one major aspect of the group will be networking opportunities.
The coalition will work to hold networking events throughout the year, Blair and Blue said. The first will be held virtually April 20; however, Blair said, more and more people are receiving the coronavirus vaccine, so he is optimistic that these events will be held in person in the near future.
"I think it's going to be exciting," Blair said. "I think it gives businesses a voice and representation, and I think they're excited that there's an avenue that says, 'Hey, we want to listen to what you're having issues with or where you're having barriers.'"
McLemore said he hopes that awareness about existing Black businesses in the community will also help people feel more comfortable about choosing a locally owned business.
"Hometown barbershops are designed for the community," he said. "It directly involves people from the community."