While 2020 may not have been an ideal time to start a business, The Merrystem owner Lauren Bourgeois said there has never been a greater need for a shop that helps add comfort in times of hardship.
"Honestly, I think it was the perfect time to open because so many people were going through so much, and if there was anything people needed, it was to send support and beautiful things," Bourgeois said. "Flowers are a really sweet conduit of that encouragement. It's just a little token, and you can do that through so many ways, but flowers are just close to my heart."
Bourgeois opened the shop in downtown Franklin in October 2019. She designs custom floral arrangements, each with a unique design that can be customized using warm and cool color palettes and in-season blooms. Customers can order online in advance or visit the shop at its storefront during business hours.
"People are welcome to walk in and get one stem, get a ton, or they can pick up orders if they don't want to pay for delivery or if they just want to take it themselves," she said. "I love that, too, because then they can see exactly what they're getting before walking away with it and really put their personality into the arrangement as well."
The shop also has a small retail section where customers can purchase vases, chocolates, cards or beeswax candles as an add-on or gift.
The shop sources flowers locally and from Ecuador, which allows for a wider range of seasonal flowers. As spring approaches, Bourgeois said she is excited to begin incorporating in-season blooms.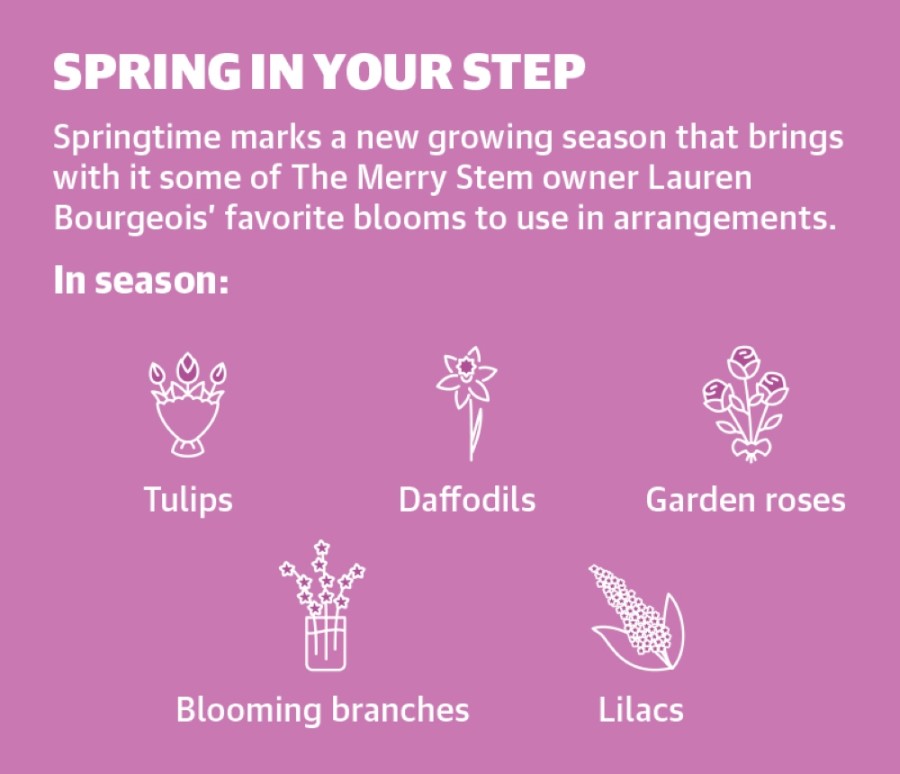 "In springtime, blooming branches are my favorite thing to design with—so fun," she said.
Bourgeois said while she is often selective about taking on events, 2020 brought an unexpected trend of microweddings, small events that required only small arrangements. The shop offers delivery in Franklin and the surrounding area for a small fee; however, Bourgeois said she is happy to help people find independent florists if they need delivery further away.
"There are so many independent florists in Nashville that it's easy for me to recommend someone that I've worked with before that I know will do a really great job," she said.
In the future, Bourgeois said, she hopes to add more staffing to the shop to expand her business, but for now, she is happy to help people add some color and beauty to their day.
"It's been humbling in every regard and really cool meeting sweet folks and offering encouragement in all of this," she said.
The Merrystem
117 Fifth Ave. N., Franklin
615-807-2394
www.themerrystem.com
Hours: Mon.-Fri. 10 a.m.-2 p.m., closed Sat.-Sun.