City information: McKinney population, average resident age and more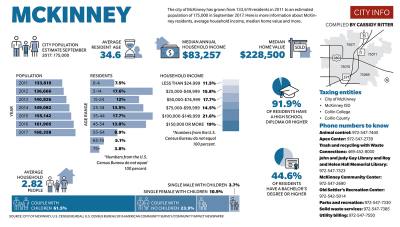 The city of McKinney has grown from 133,619 residents in 2011 to an estimated population of 175,000 in September 2017.
Now is the chance to help your local community succeed. Become a Patron by contributing to Community Impact Newspaper and gain daily insight into what's happening in your own backyard. Thank you for reading and supporting community journalism.
become a ci patron
contribute today
[gallery columns="1" ids="295287"]
---
---
MOST RECENT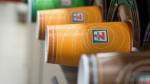 The franchise addition is a 7,000-square-foot convenience store and fuel stop, joining many locations already based in McKinney and thousands of 7-Elevens across the nation.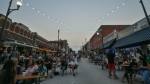 Work included a new underground utility infrastructure, designated loading zones, wider pathways, refreshed landscaping and festoon lighting.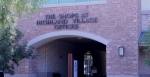 Read the latest business and community news from the Dallas-Fort Worth area.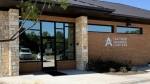 The new facility dedicates about 8,400 square feet to autism support, and treatment options include early intensive behavioral intervention, at-home therapy, and part-time and after-school support.
A fundraiser started by Communities Foundation of Texas connects donors with nonprofits in their area.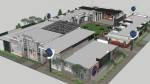 The West Grove project is a planned 500,000-square-foot retail, restaurant and entertainment destination located at the southeast corner of US 380 and Custer Road in McKinney.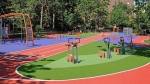 Read the most popular business and community news from the past week from the Dallas-Fort Worth area.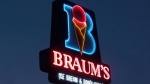 Braum's has stores in Oklahoma, Kansas, Texas, Missouri and Arkansas, each located within 300 miles of the Braum's Family Farm located in Tuttle, Oklahoma.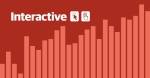 Texas added nearly four million people between 2010 and 2020, according to the latest Census data.

A pilot project in the corridor between I-635 and SH 121 just south of McKinney will evaluate the effectiveness of allowing solo drivers to use the HOV lane while also providing an incentive to cars with more than one occupant.
The restaurant is listed as "Permanently closed" on Google, and a sign posted to the front of the restaurant described the closure notice as well.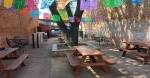 Read the latest business and community news from the Dallas-Fort Worth area.