Jan 11
< back to all events
Beer & Goat Yoga at Fulbrook Ale Works - Sat. Jan. 11th @ 2PM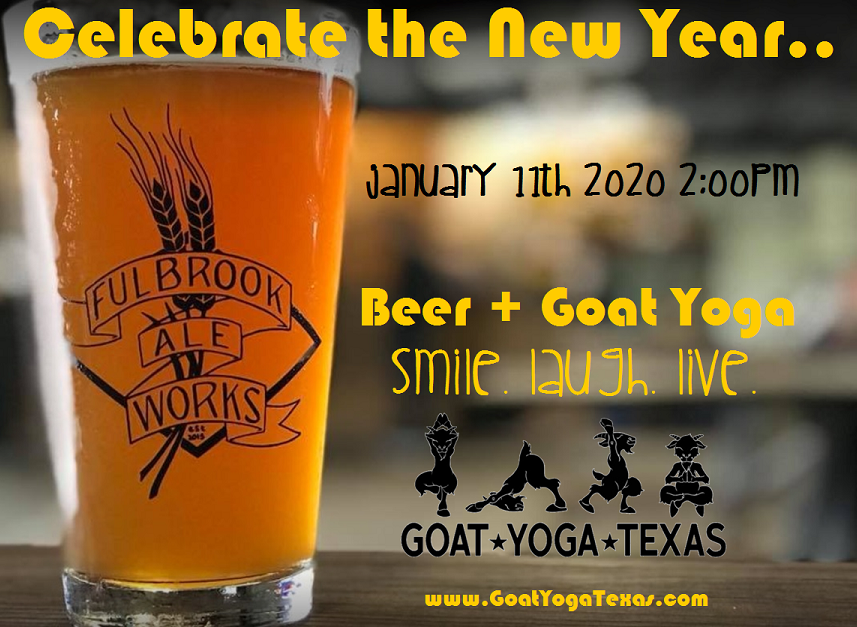 EVENT DETAILS
Goat Yoga Texas, Houston's Top-Rated Goat Yoga, invites YOU to enjoy a fun and unique experience under the beautiful Texas sky as we take our Yoga practice to the next level.... WITH A HERD OF CUDDLY MINIATURE GOATS! ***This class is located at FULBROOK ALE WORKS!! Ticket price INCLUDES an hour and fifteen minutes of Goat Yoga and a beer or beermosa!!*** Be sure and take time for yourself, reconnect with nature, and grab a beer with your friends at Fulbrook Ale Works! Our classes feature 45 minutes of Yoga for all levels led by certified Yoga teacher and Health Coach Kimberly Brooke, followed by 30 minutes of photos and baby goat snuggles. Please bring a Yoga mat or a big beach towel as we cannot provide rental or loaner mats due to hygiene! Also, keep an eye out for our class email (this sometimes gets trapped in the SPAM folder) that we send out the morning of class with additional information and any weather-related alerts. **THIS IS AN AGE-RESTRICTED EVENT** Goat Yogis 10 and older are welcome to participate... only 21 and up can consume alcohol at this event. Our future Goat Yogis who are 9 and younger can enjoy the goats during the 30 minutes after class with supervision.
EVENT TYPE CATEGORY
location
Fulbrook Ale Works
address
Fulbrook Ale Works, Farm to Market 359, Richmond, TX, USA
Fulbrook Ale Works, Farm to Market 359, Richmond, TX, USA could not be mapped.