Jan 29
< back to all events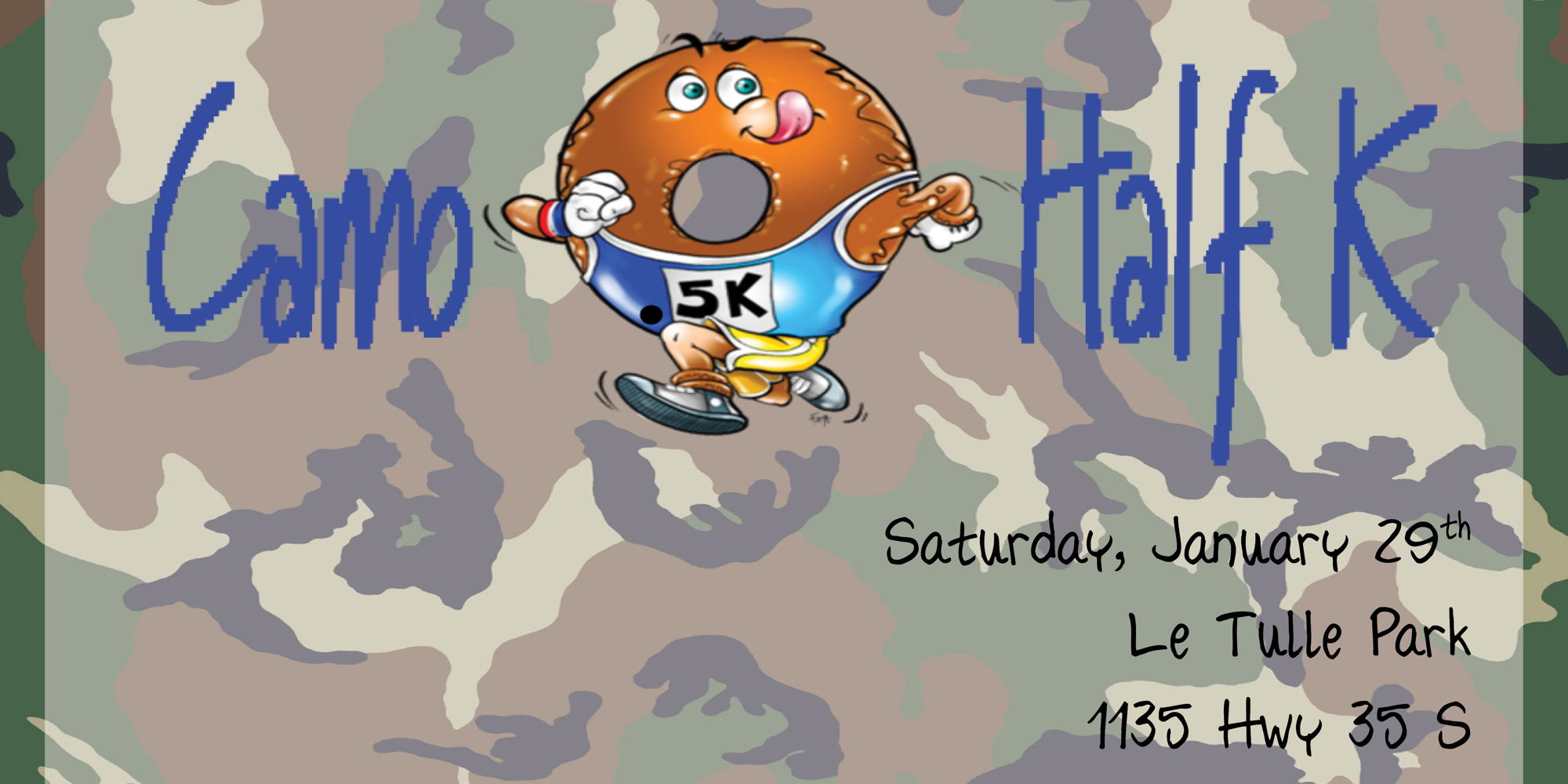 EVENT DETAILS
Camo Half K Saturday, January 29th Part of the 2022 Games of Bay City! We've all dreamed of crossing that finish line, American flag in hand, exhausted from the competition, or sweet tea, donuts or hot cocoa. Now you get to be that person! Join your fellow underachievers for a day (um, maybe more like 10 minutes) of glory, self-congratulatory celebration and participation medals to kick off the new year! The 4th annual Camo Half K will be held at 11:30 a.m. (or so) on Saturday, January 29th at Le Tulle Park. (1135 Hwy 35 S) Of course, y'all know that 2022 is an Olympic year, and this is most definitely not the Olympics. Not even close. But in an honor of those fine athletes who actually "train" for a "race", we are going to hold our own version…. Before the "race" charge your engines with donuts and hot cocoa. The "race" begins at 11:30 a.m. (or sometime thereafter, you got time – CamoFest doesn't start til Noon downtown anyway), run, jog, walk, dance, waddle or crawl your way around the lake loop at Le Tulle to the finish line to re-fuel with more donuts, hot cocoa and sweet tea! We will end the day with an "awards" ceremony where everyone that finishes will receive their Half K medal and more photo opportunities. Trophies will be given out for fastest male and female and slowest overall. Fees: Pre-Registration $25 Day of Registration $35 Fee includes: Race Shirt, key chain and medal You can register three ways: 1) In person at Bay City Parks Administration, 1209 10th Street, Monday through Friday from 8 a.m. to 5 p.m. 2) Register on-line at https://www.cityofbaycity.org/190/Parks-Recreation. Click on the Events and Programs button. 3) Register the day of at the event. Want more information on this event or other Parks and Recreation's programs, events, facilities or parks? Check out the city's webpage at https://www.cityofbaycity.org/190/Parks-Recreation; or follow us on Facebook: @BCPAR; Instagram: @BCPARD or Twitter: @baycity_parks. Whatever it is that you want to do – Get Your Play On in Bay City!
EVENT TYPE CATEGORY
address
Le Tulle Park, Bay City, TX, USA
Le Tulle Park, Bay City, TX, USA could not be mapped.