Jan 16 - Jan 31
< back to all events
Free Small ThunderCloud Sub for We Are Blood Donors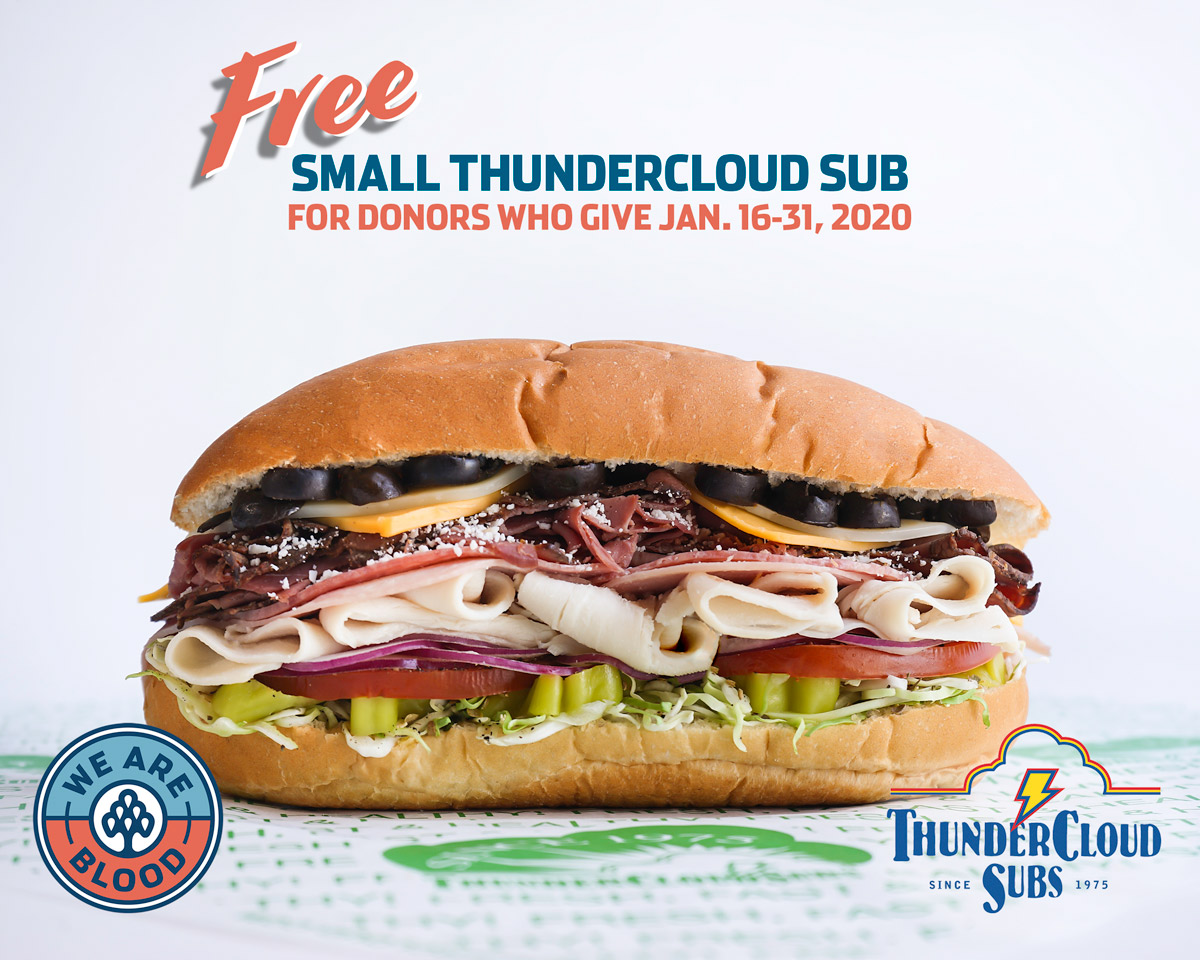 EVENT DETAILS
For Immediate Release Media Contact: January 6, 2020 Angela Hinson Breakaway Public Relations angela@breakaway-pr.com 512-761-4567 Lunch is on We Are Blood! Donate Blood January 16-31 and Receive a ThunderCloud Sub Voucher (Austin, Texas) –– We Are Blood is kicking off National Blood Donor Month this January with the help of Austin favorite, ThunderCloud Subs. Donate at any one of We Are Blood's three donor centers or at any mobile blood drive from January 16 through January 31 to receive a voucher for a free small sub sandwich. Supplies are limited, so schedule your appointment online today or by calling 512-206-1266. For locations and hours, or to make an appointment, visit https://weareblood.org/donate-blood/donation-locations/. WHEN: January 16 through January 31, 2020 WHERE: We Are Blood donor centers and mobile drives # # # About We Are Blood We Are Blood is the exclusive provider of our community's blood supply. They have been drawing Central Texans together since 1951, when they were founded by the Travis County Medical Society as the "Travis County Medical Society Blood Bank." For over 66 years, their work to inspire folks to donate blood locally hasn't stopped, and they now serve 40 hospitals and medical facilities in the 10-county area with a mission to provide and protect the community blood supply, to inspire Central Texans to save lives locally, and to always to always treat everyone they serve like family. For more information and to book an appointment at any of their three donation locations or multiple mobile drives, visit https://weareblood.org, https://www.facebook.com/wearebloodtx/ or https://www.instagram.com/wearebloodtx/.
EVENT TYPE CATEGORY
location
We Are Blood donor centers or mobile drives
address
We Are Blood, North Lamar Boulevard, Austin, TX, USA
We Are Blood, North Lamar Boulevard, Austin, TX, USA could not be mapped.