Sep 26
< back to all events
Breakfast for Dinner: Date Night Virtual chocolate tasting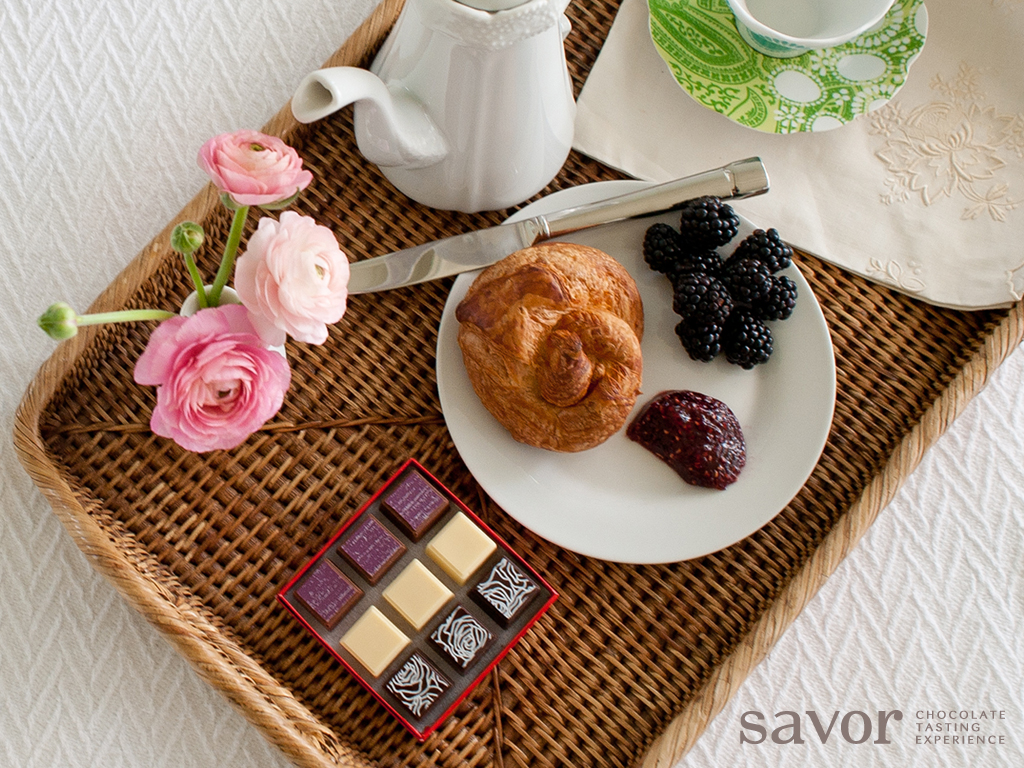 EVENT DETAILS
Join us for date night … Syrup dripping down a stack of perfectly plump pancakes, warm and flaky homemade cinnamon rolls, indulgent fruit-stuffed french toast - it's time to make your lovely date breakfast for dinner. From our luscious maple-scented Pancakes and syrup chocolate truffle to the smoky notes of brown sugar and cinnamon in our Cinnamon roll chocolate truffle, get a bite of your morning favorites in an unconventional way. Savor the tastes of breakfast for dinner with Delysia Chocolatier's special Date Night virtual chocolate tasting for two. Broaden your culinary palate as you sample uniquely handcrafted chocolates at Delysia's SAVOR: Chocolate Tasting Experience Date Night experience. For a romantic 'night in' experience, our Date Night bundle provides chocolate truffles for 2 people, personally curated by our Owner and Chocolatier, Chef Nicole Patel. Get ready for Delysia Chocolatier's Date Night virtual chocolate tasting for two as we relish in the simple beauty that is Breakfast for dinner - so sit back, relax and let us do the cooking! To purchase tickets, please visit this link: https://delysia.com/product-category/experiences/ ____________________ How our virtual tasting experiences work: At Delysia's Virtual Chocolate Tasting Experience, customers will broaden their culinary palate as they explore aromatic and flavor profiles with our guided and systematic, immersive approach to tasting Delysia's artisanal handcrafted chocolates. Enjoy our Date Night bundle of two 4-piece chocolate truffle tasting sets (one for you and one to share) while learning about the art of savoring gourmet chocolate, in the comfort of your own home. Each assortment provides truffle samples for up to 2 people as a romantic experience for couples from the comfort of their own home. Tickets must be purchased by Monday evening to allow us ample time to ship the chocolates to your doorstep. Store in your refrigerator or a cool dry place until the tasting, bringing them to room temperature at least 30 minutes before the virtual experience. To purchase tickets to this virtual experience or future events, please visit this link: https://delysia.com/product-category/experiences/ Instructions and the conference link will be emailed to you 24 hours before your tasting. Our virtual chocolate experience will last 45 minutes, followed by a 15 minute Q&A session. If you have questions throughout the tasting, type them on the screen and we will answer them real time throughout the experience. Delysia Chocolatier Tasting Room & Chocolate Boutique: With the ongoing crisis, our Tasting Room & Chocolate Boutique is currently closed to the public. Please join us for one of our virtual chocolate tastings or shop online. Our full product line of handcrafted chocolates are available online, shipped directly to your doorstep with FedEx.
EVENT TYPE CATEGORY
cost
$40 (2 person tasting bundle)
location
Virtual Chocolate Tasting
address
2000 Windy Terrace Suite 2C
2000 Windy Terrace Suite 2C could not be mapped.