Amy Ferguson, 12-year Alpharetta resident and owner of Southern Yankee Staging & Design, has not always been in this role. Prior to opening her home staging and interior design business out of her home, she worked full-time from home as an accountant until her children went to grade school. She then stepped away from the workplace to care for her children.
"At that point, I said I was never going to go back to accounting because I was done with it. I said, 'It doesn't fill my cup anymore,'" Ferguson said.
After her children started going to middle school, Ferguson said she had more free time than when they were younger. She picked "a low-hanging fruit" and started working in a virtual, part-time accounting position; however, she said this switch back to her former career reinforced the idea that accounting still did not "fill her cup." But she knew she loved home design—she said she was always rearranging and redecorating her room as a child.
"I feel like it was God-sent. I prayed about it for a long time and I didn't know what it looked like, but I wanted to have my own business and I wanted it to be somewhere in design," she said. "It was honestly this stereotypical scenario. I was in the shower and the word 'staging' came to me. I feel like God put it in my head and said, 'This is what I want you to do.'"
Ferguson started researching home staging, earned a nationally-ranked staging certification and launched Southern Yankee Staging & Design in Alpharetta a year and a half ago. She offers virtual and in-person interior design services, as well as staging services for Alpharetta, Milton and the Greater North Fulton area.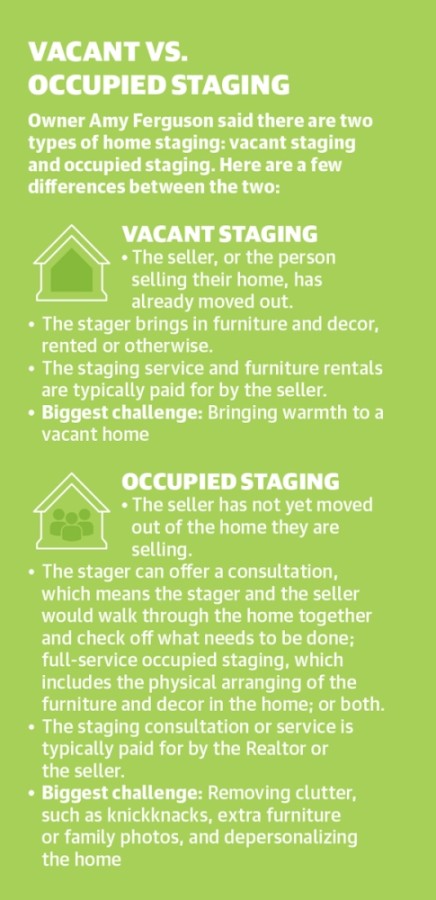 There are two types of home staging, Ferguson said: vacant staging, which means the seller of the home has already moved out; and occupied staging, which means the seller is still living in the home. People typically see vacant staging on television shows like "Fixer Upper" on HGTV, according to Ferguson: the home has already been vacated, so furniture and decor have to be brought in and arranged. In occupied staging, a realtor refers the seller to a home stager like Ferguson to help them figure out what steps should be taken to make their home more visually appealing—and therefore would be more likely to sell.
Contrary to popular belief, usually no one keeps the furniture used in vacant home staging, Ferguson said; however, she keeps an inventory of items such as rugs, pillows, throw blankets and home decor in her basement for use, but furniture is rented. She said people who use home staging are 85% more likely to generate higher sales prices than a home that is unstaged, and more than 70% of buyers find it easier to visualize themselves in a home when it is staged.
"Home staging is more than what you see on HGTV. There's really a science—psychology specifically—behind presenting your home in a certain way, also known as staging it, to help potential buyers envision themselves in the home," she said. "Staging is not a transaction, it's a personal experience."
Since the COVID-19 pandemic hit the North Fulton area in March, Ferguson said she has "seen the flywheel take off" for her business, but on the home design side rather than staging. Clients can book design services online from Ferguson, either for virtual design boards or for in-person design services.
"As people have spent more time in their space during the pandemic, they're going out and spending money to redesign their spaces and improve them now that they're home more," she said. "I try to design with less of my vision, and more of my clients' visions. Each home and each client is different and that's what makes this job so rewarding because I get to help people make their home feel like a home."
Southern Yankee Staging & Design
770-500-2991
www.southernyankeedesign.com
Hours: Mon.-Sat. by appointment