Homes are selling faster year over year in Alpharetta and Milton, in part because fewer homes are on the market as the North Fulton region rides out the coronavirus pandemic, according to data from First Multiple Listing Service.
Home sales for March-May in the four ZIP codes in the Greater Alpharetta and Milton area dropped 24.9% year over year compared to 2019. However, homes sold in May were on the market an average of 39 days, down from 42 days in May 2019, FMLS data shows.
Local realtors said the ongoing COVID-19 pandemic only exacerbated the existing low home inventory issue in the area, which can impact home affordability, but the market has seen fast turnaround time in home sales following the lift of the statewide shelter-in-place order at the end of April.
Maura Neill, a Realtor and regional director of Region 4 for the Georgia Association of Realtors, said July 6 that she had no listings available; every single one of her listings was under contract or already sold. Region 4 covers Alpharetta and Milton.
"If a property doesn't sell in the first weekend right now, it sells in the first couple of weeks. For our clients who are ready to list, we're having to mentally prepare them for how fast homes are selling, which means they have to find a new home faster, too," Neill said. "As great as it is for your house to sell in a weekend or even in two or three weeks, it's a strain and a stress, even more than usual, to think about 'What if I can't find a house?'"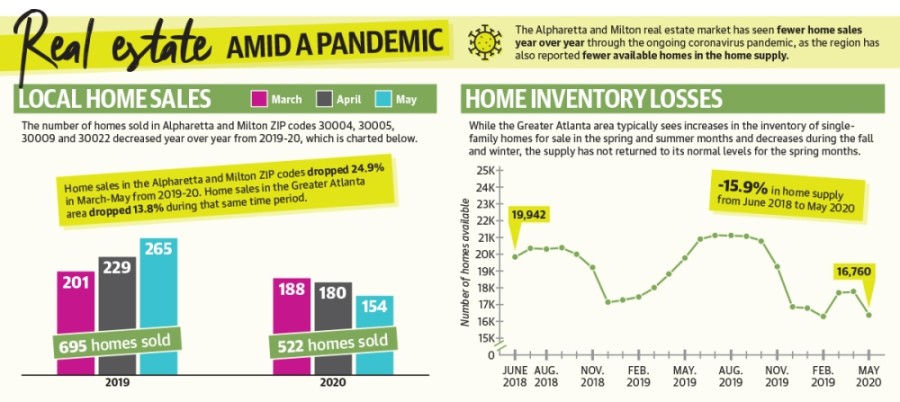 Home inventory shortage
Local Realtors said even before the pandemic, there was a home inventory shortage in the Greater Atlanta area, particularly in North Fulton. In February, there was a 3.5-month supply of homes in the North Fulton area, FMLS data shows. In May, inventory increased slightly to a 3.9-month supply of homes—compared to a 5.9-month supply in May 2019.
This means if no homes are put on the market for the next four months, the market would run out of homes for sale in 3.9 months. Home inventory shortages like this can lead to affordability problems, according to Ginger Lightburn, a Realtor for Village Realty who covers Alpharetta and Milton.
"Lack of inventory can turn [the market] into a seller's market, driving up the prices, which makes homes less affordable. It means the seller can be in the driver's seat, knowing there aren't many other options for buyers," Lightburn said.
Neill said she has been telling clients in the North Fulton area that the home inventory has been historically low for the last 18 to 24 months, long before the pandemic.
While she said there is more than one factor contributing to the low inventory—such as homeowners staying in homes longer and being more wary of the market after the real estate market crashed in the 2008 recession—she said she tries to look at it as a healthy inventory.
"A better way to think about it is that we have a healthy inventory because what is listed is selling, rather than what is listed is sitting," Neill said. "Could we use a little bit more inventory? Sure. But I don't think we want to get back to the point where it's a true buyer's market and buyers can make low offers, forcing prices to depreciate and live inventory to just sit on the market."
Leo Thomas, also a Realtor for Village Realty, said Alpharetta and Milton are particularly desirable areas to live in because of the reputation of the schools and the communities, as well as the entertainment, shopping and job opportunities.
This has made the demand for homes in Alpharetta and Milton high—and therefore making home prices higher—but the supply of homes has not kept up, he said.
"North Fulton is one of the most expensive places to be in Georgia. If a house is priced right, it's gone," Thomas said. "Everyone wants to be there."
Future of real estate
While May home sales in Alpharetta and Milton were still below March and April, Thomas said they started to see upticks in sales in June; however, many sellers are still afraid to put their homes on the market.
"A lot of people are scared to sell. They don't know what's going to happen, so they're waiting, which is why we're still seeing that low housing inventory problem," he said.
Although real estate agents and other real estate industry employees are staying busy, Thomas said he is concerned about a second shutdown as coronavirus cases are increasing more rapidly in Georgia and nationwide.
Neill said some of her clients are hesitant to sell or buy because they want to limit their own exposure to COVID-19, and wait to see if their jobs are secure out of concern for another shelter-in-place order.
"We do have some buyers and sellers who are still limiting their own exposure to the outside world. Some buyers don't want a lot of people coming into their home, and some sellers don't want to be in a stranger's home," she said. "There's also a concern about, 'Will I have a job in six months?' There are a lot of moving pieces."
Having a healthy real estate market and availability of affordable homes bolsters the local economy, Lightburn said. A second shutdown could hurt the market more and cause another negative economic trickle down, she said.
"Having the availability of affordable housing means you have people coming in that can afford to live there, going out and spending money at local restaurants, grocery stores, gas stations, everything," she said. "If we have a second shutdown, it wouldn't just affect real estate. It would affect everything—and we could potentially see a lot more distressed properties hitting the market and a lot more people not being able to pay their mortgages."