Public health measures taken to slow the spread of COVID-19—such as business and school closures, shelter-in-place orders and social distancing protocols—have created a hidden fight for some residents of Alpharetta, Milton and nationwide: a battle with mental health and substance abuse.
According to data from
Mental Health America
, a nonprofit dedicated to spreading awareness about overall mental health and addressing the needs of those living with mental illness, the number of Georgians taking any of the nine mental health screenings offered via MHA increased from 498 in January to 2,620 in May—a 426% increase. The nine free, online screenings MHA offers include depression, anxiety, eating disorders, post traumatic stress disorder, addiction and other mental health disorder tests.
"What we're seeing really is a mounting health crisis," said Maddy Reinert, the program manager of population health for MHA.
As mental health issues rise, substance abuse issues have also risen—and with bars closed and restaurants suspending eat-in dining, take-home alcohol sales statewide went up. According to numbers released by the Georgia Department of Revenue on May 6, the state collected $18.42 million in alcohol taxes in April, an increase of 12.95% from April 2019.
Lynda Micheletti, the chief operating officer at
Sunrise Detox
, an Alpharetta alcohol and drug detox center, said she has seen an uptick in demand for both mental health and substance abuse resources since the pandemic hit, which she said can go hand-in-hand.
"Behavioral health issues like mental illness and substance abuse have ties to each other," Micheletti said. "Oftentimes people with mental illnesses like anxiety or depression will turn to substances to self-medicate or cope."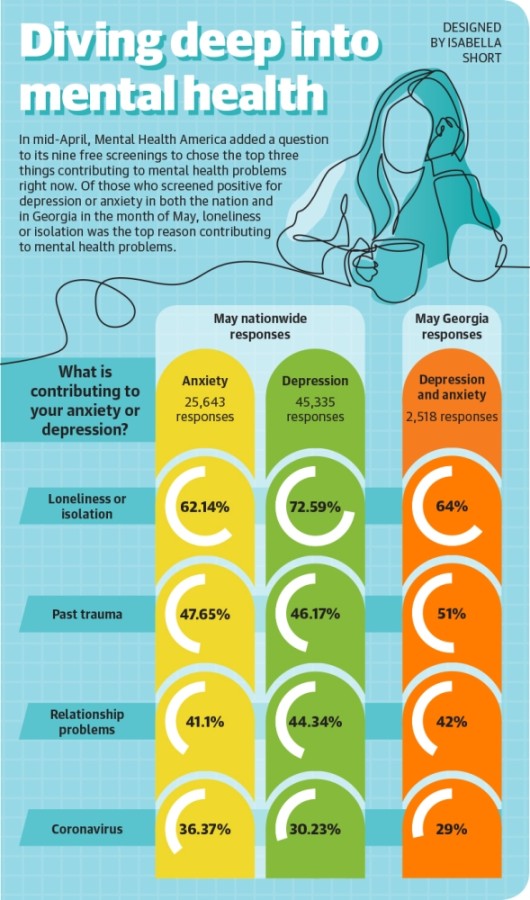 Mental health stigmas
The coronavirus pandemic—and the subsequent economic downturn—have resulted in increased feelings of anxiety, depression and isolation for people already suffering from mental illness, but also for those who have never experienced mental illness before, local mental health professionals say.
Georgia ranks 47th out of all 50 states in terms of access to mental health care, resources and insurance, according to MHA. This lower ranking has resulted in a misunderstanding of mental health overall, said Dr. Kirsten Moore, clinical director of
Balance & Potential Inc.
and licensed clinical psychologist. Balance & Potential Inc. is a therapy and counseling center located in Alpharetta.
Moore said even in casual settings, she does not often tell people she is a psychologist because of the stigma behind mental health in the area and through the state. She purposefully excluded any mention of therapy, counseling or psychology in her business name because some patients worry about someone seeing them walking in to be treated.
"I've lived in many different states, and there was one I lived in where my neighbors brought me a list of potential dentists, school tutors, doctors, but they also included mental health therapists and family counselors. I couldn't believe they were so open," Moore said. "But in Georgia, there's more of a stigma here than in some other states. Things are changing in recent years, but we've got a long way to go."
Moore said she started seeing an uptick in new clients in mid-May due to increased feelings of anxiety as the state began reopening in late April. She said she expects her number of clients to increase as the months continue, particularly after unemployment benefits run out.
Moore also said she has seen an increase in the need for patients to use her office's sliding scale for payment for therapy sessions, in which she and other licensed clinical psychologists can adjust the necessary payments for a patient if they cannot afford to pay in full immediately. She said this increase in financial adjustments is due to patients losing their jobs, either temporarily or permanently.
"I already have plenty of people that can barely pay for our health services," Moore said. "We're definitely going to have a big problem across the nation with people not having the money to literally survive, and that typically leads to higher rates of depression and anxiety in particular, which leads again to an increased demand for mental health resources."
One stigma of mental health is the perception that people with mental health disorders are broken or different, or that because the disorder does not always manifest physically, it does not exist, said Sean Pfister, executive director for
National Alliance on Mental Illness Northside Atlanta
, which encompasses the North Fulton County area.
NAMI Northside and
NAMI Georgia
offer free virtual support groups for those with mental health disorders as well as family support groups for those who have loved ones with mental health problems. Dave Saunders, a support group facilitator for NAMI Georgia, said the main reason behind mental health stigmas is a lack of understanding.
"The stigma usually comes from the general population that maybe don't have any understanding or any personal contact with someone that has mental health issues," Saunders said. "That creates a fear of people with mental health issues, which only leads to division."
Pfister said to combat this, one of the biggest solutions is to talk about mental health more in social circles, the workplace and beyond.
"Mental health doesn't discriminate. It's very common—1 in 5 Americans will have some sort of mental health condition," he said. "Get involved, support a family member or loved one that you know might need your help. The more we talk about it, the more commonplace it will feel for people to seek help."
Substance abuse on the rise
Prior to COVID-19, mental health disorders were still prevalent in substance abuse patients; however, public health recommendations encouraging less contact with other people—in addition to COVID-19's impact on the economy—have exacerbated mental health disorders and substance abuse problems, Micheletti said.
"Substance abuse and mental health go hand-in-hand. People with mental illnesses often turn to substances like alcohol or drugs to help them cope with the mental illness," she said. "We're seeing more and more people coming in with suicidal thoughts, depression, anxiety, that [before COVID-19] they weren't reporting those things and turning to substances as a result of COVID-19."
Micheletti said loneliness, isolation and boredom are among the top reasons contributing to mental health and substance abuse problems, which she said she has seen in patients at Sunrise Detox.
According to the MHA screenings in May, loneliness or isolation was the top concern contributing to mental health problems out of 2,518 responses from Georgia residents, totaling 64%. The following top reasons included past trauma at 51%, relationship problems at 42% and concerns about COVID-19 at 29% of the 2,518 responses, of which respondents could choose up to three answers.
"It's as easy as someone driving to the store to pick up a six-pack [of beer], and next thing they know they're in a telehealth session getting a prescription for Xanax and now they're in detox again even if they haven't had a relapse in 10 years," she said. "That's some of what we're seeing here as the pandemic continues, even if we're starting to go back to somewhat normal."
Micheletti said she predicts more of an uptick in substance abuse disorders, mental health problems and unemployment—and therefore lack of access to health benefits—in the coming months; but the key is keeping access to treatment at the forefront, she said.
"I'm really hopeful that in the future coming months, there's a plan put together so that everyone is able to get help and not only by telehealth," she said. "Telehealth has benefits and I believe in it, but if you look at what addiction is, it's not something that can just be treated once a week on a computer by a therapist."