Sitting in the heart of downtown Crabapple is Milton's Cuisine & Cocktails, one of the longest-standing restaurants in Milton. The restaurant opened in August 2006, four months before Milton became an incorporated city in December, said Derek Dollar, the executive chef and one of the restaurant's managing partners.
However, the farmhouse that is home to Milton's Cuisine & Cocktails has been nestled between Mayfield Road and Birmingham Highway for about 150 years. It was once a 1930s cottage, Dollar said, and there is still a 1-acre garden on-site—aptly titled Milton's Acre—where Dollar grows fresh produce to use in Milton's dishes.
Dollar said there is a "vast difference" in using produce from a grocery store versus using fresh produce, which he said helps make Milton's food—featuring new Southern dishes like southern fried chicken breast, prime bacon meatloaf and sesame crusted mountain trout—stand out from other restaurants. He said he grows produce in Milton's Acre that manage well in Georgia's climate, such as summer squash, zucchini, tomatoes, radishes and okra.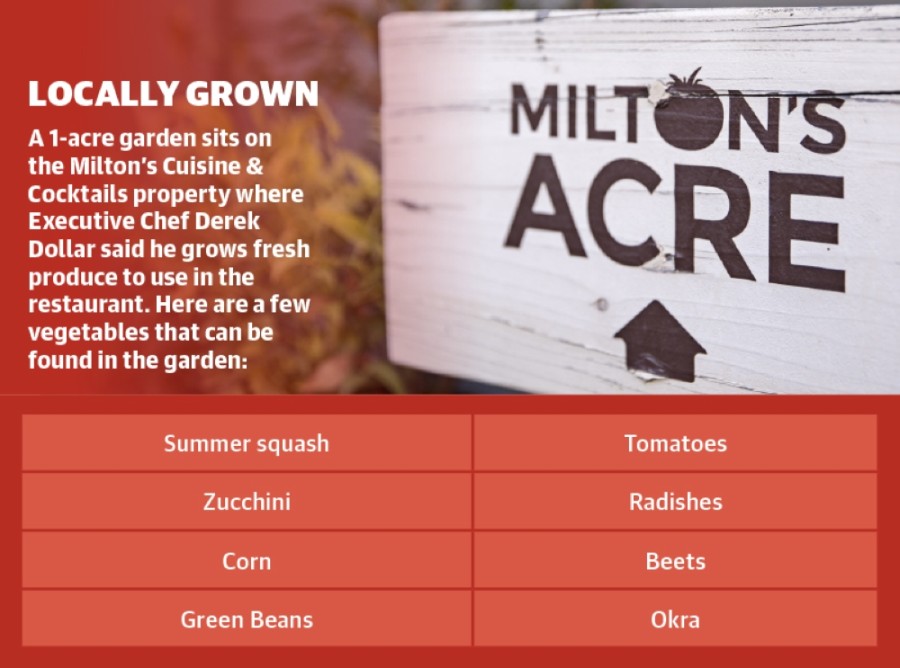 "When you get a zucchini, for example, right out of the garden from that day ... it's got that warmth still, and when you eat it while it's still warm, it's got this tremendous flavor," Dollar said. "If you break open a zucchini from the garden, it literally will drip water. It has so many nutrients, so much water content and you lose a lot of that over time like from the produce at Kroger for example."
While Dollar did not join the Milton's team until several years after they opened, he said he has always worked in the restaurant industry. He started busing tables at 15 years old, eventually switching to work in the kitchen and going on to complete culinary school from the Art Institute of Atlanta.
He creates the menus for Milton's—which change seasonally—and picks the produce planted in Milton's Acre.
"We've had guests that have asked if we have a certain vegetable or something in the garden, and we'll say yes and go harvest something and cook it for them," Dollar said. "It's pretty incredible that we can do that for our guests."
Milton's was not traditionally designed for a large to-go meal service, Dollar said. The restaurant is open for dinner only—although he plans to open for lunch in the future—and did not promote takeout much before the COVID-19 pandemic hit in March.
After the restaurant closed its doors for dine-in, Dollar implemented curbside pickup and delivery services, as well as a "meat market." He said he was selling the frozen meats and fish wholesale just to help keep the lights on.
"We're not really known as a to-go restaurant, mainly dine-in. I mean, you're talking 5-10% of our sales were to-go and now it's much more than that," Dollar said. "We kind of put this restaurant on its head just to survive ... and we did very well, better than most."
Since then, Milton's has resumed dine-in service with adjusted hours and health protocols, and continues to offer curbside pickup, to-go service and delivery from Uber Eats and DoorDash. Dollar said the restaurant also started serving brunch again from 11 a.m.-3 p.m. on Sundays, beginning in early June.
"To be able to satisfy people and start something, make it with my hands and produce it, and then put it in front of somebody. That's definitely the best part," Dollar said. "I just enjoy what I do."
Milton's Cuisine & Cocktails
800 Mayfield Road, Milton
www.miltonscusine.com
Hours: Wed.-Sat. 5-9 p.m., Sun. 11 a.m.-9 p.m., closed Mon.-Tue.