"I haven't seen a paycheck in about two months," said Darren Henderson, chef and owner of Crust Pasta & Pizzeria in Alpharetta.
This is the reality for some business and restaurant owners in Alpharetta, Milton and elsewhere in Georgia as the coronavirus pandemic caused the closure of restaurant dining rooms beginning April 6, per an executive order from Georgia Gov. Brian Kemp. The closures have resulted in a $2.5 billion revenue loss to the state's restaurant industry from March 17 to May 4, according to Sarah Thorson, director of partnerships and events for the Georgia Restaurant Association.
In the city of Alpharetta, dine-in service ended earlier after Alpharetta City Council members passed an ordinance March 20, prohibiting dine-in services at any restaurant within city limits.
"I couldn't sleep for days when all of this was going on and I cried thinking about the decisions I had to make. I have 80-85 employees that depend on me to take care of their families," Henderson said. "I feel the heaviness and the weight of responsibility [as a business owner]."
While Kemp allowed dining rooms to reopen beginning April 27 as long as specific health guidelines are met, most restaurant owners—including those in Alpharetta and Milton—did not reopen dining rooms then due to strict state regulations and public health concerns, said Kali Boatright, president of the Greater North Fulton Chamber of Commerce.
"There are restaurateurs that are saying to me, 'I don't feel comfortable with my servers walking up to a table with a face mask on, where you can't even read their expressions.' How do you develop a relationship with a patron or have that same service level? But at the same time, they want to keep the doors open," Boatright said. "There are so many things for these restaurateurs to consider and it's weighing on them."
Not a grand reopening
With public health guidelines continuing to change and state-mandated requirements for opening dining rooms—a document with 39 numbered guidelines for restaurant staff, including wearing face masks, checking the body temperature of every patron and employee, and limiting capacity to 10 people per 500 square feet of public space—Henderson said the health risks to his staff and patrons, as well as the capacity limits, were not worth resuming dine-in service.
"At 10 people per 500 square feet, which for Crust, that's 30 people. I can do 30 curbside orders in a matter of minutes as opposed to dine-in," he said. "I know I'm going to make people mad by not opening, and I know if I open, I'm going to make people mad. It's a no-win situation for us."
Even though restaurants were allowed to reopen dine-in areas April 27, Henderson—like many Alpharetta and Milton restaurant owners—decided not to reopen Crust's dining room, but continue offering curbside pickup and takeout orders. He said until government mandates are lifted, he will not reopen his dining room.
Meanwhile, Phil Brown, owner of Pepperoni's Tavern in Alpharetta, reopened his dining rooms and added outdoor sidewalk seating May 4, per the city of Alpharetta's temporary outdoor operations permit application. The city implemented this application process May 4, making portions of some public sidewalks and parking spaces available to restaurants that need to comply with social distancing requirements.
Curbside pickup and takeout orders are still accepted at Pepperoni's, and Brown has also implemented a contactless serving method to keep customers comfortable if they prefer to minimize physical interactions.
"I've been getting feedback from customers that they miss going out to a restaurant and they want to be out to have some reminder of normalcy," Brown said. "But I also completely understand those who are not comfortable dining inside yet, and that's why we have multiple options for ordering. I just felt this was the right thing for my business."
Other restaurateurs elected not to open at all. Botiwalla, located in downtown Alpharetta, has been temporarily closed since mid-March, said Meherwan Irani, founder of the Chai Pani Restaurant Group and owner of Botiwalla.
Irani said his staff attempted to do takeout and curbside pickup for about 10 days, but he decided to temporarily close the restaurant to protect their safety and to avoid rushing to change his business model.
"Our staff was starting to feel the strain and the stress of continuing to scramble to convert our business model over and over," Irani said. "I felt like everybody needed a moment to take a deep breath and think rationally instead of reactively to what we were facing for the long term, and come up with a solution that was viable for the long term—like an actual sustainable takeout model that could keep us in business and not just run ad hoc."
Entering a new normal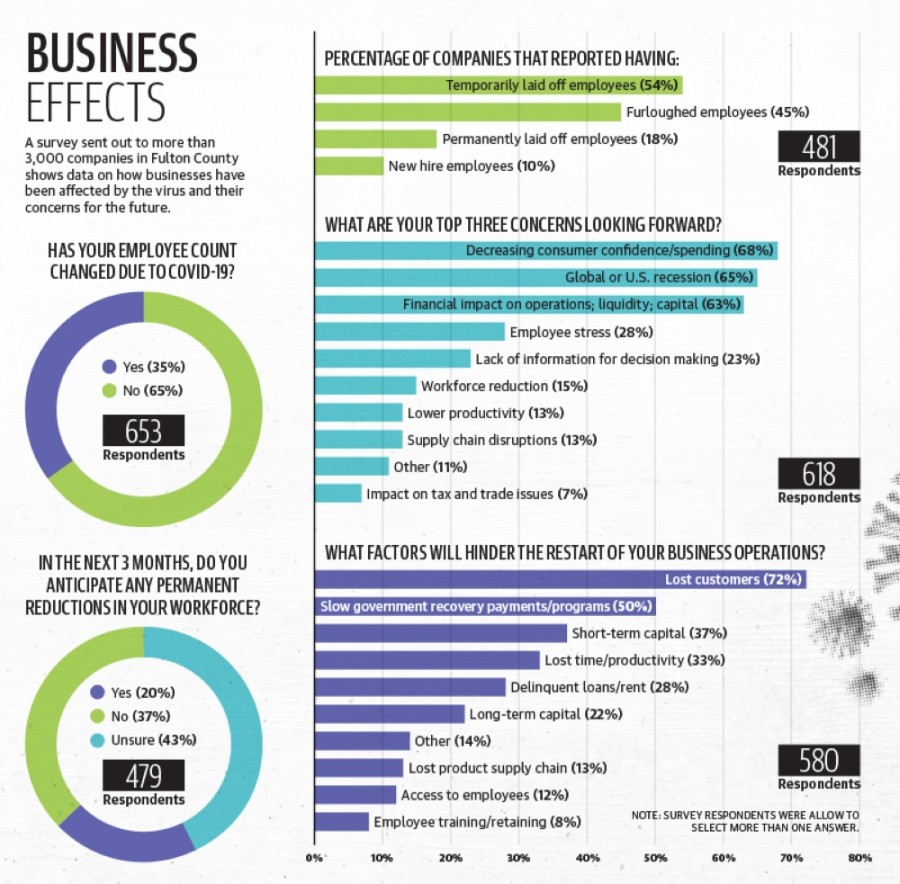 Until a vaccine for the coronavirus is available, public health experts say expanded testing capacity, serology tests—or antibody tests, which can show who has previously been infected with the virus—continued social distancing and using personal protective equipment like face masks are all necessary for public safety.
In Georgia, COVID-19 testing has increased by 90.6% since restaurants could reopen April 27, totaling 251,288 administered tests as of 7 p.m. May 11, according to data from the Georgia Department of Public Health. This means case counts have also risen, but not at the same pace. Case counts increased 40.4% during that same time, with 34,002 cases statewide as of 7 p.m. May 11—meaning 13.53% of the administered tests have returned with a positive test result as of press time May 12.
"We've come out of where we thought the peak was going to be, and we certainly expect that we might see other peaks throughout the year as Georgia continues to open back up; however, we are also prepared to take on additional patients," said Jon-Paul Croom, president of Wellstar North Fulton Hospital, during a GNFCC forum May 7.
All of this means restaurant owners—both locally and statewide—have to plan for an uncertain future and adjust business models again, after already adjusting due to the closure of dining rooms, said Kelley Hughes, owner of Scratch...fresh in Milton.
"No one really knows what's going to happen going forward, as much as we try to predict, so how can you plan for that?" she said. "Every single business owner is going to have a new business model after this. None of us can go back to what our normal was before, because that's not going to be normal anymore."