It has been six days since the city of Alpharetta implemented a new emergency ordinance prohibiting dine-in service at all food-serving establishments within city limits due to the outbreak of the coronavirus. Michael Field, owner of the longstanding Wildflour restaurant on Windward Parkway in Alpharetta, said he could have laid his head down and given up; however, he chose to improvise.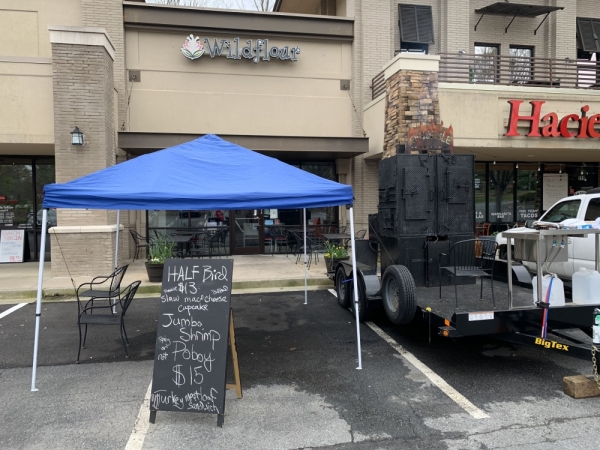 Traditionally, Wildflour seats about 20 tables and booths inside with takeout options available. Field still offers takeout but added curbside pickup and curbside ordering, which he called a "makeshift drive-thru." Customers can remain in their vehicles, and Field or another Wildflour employee will come outside to take orders and payment at their car window. Field said he also makes sure all staff are wearing gloves all day for extra protection for both themselves and customers.
"This is what we'll have to deal with for the next few weeks, months, however long this thing lasts. We've just got to make do, you know?" Field said.
In addition, Field also parked his barbecue trailer out front with a tent right next to it, with a chalkboard menu of barbecue specials of the day. Normally, he said he does not bring out the barbecue trailer to the restaurant and instead uses it for various nationwide barbecue competitions as well as the Taste of Alpharetta, which was originally scheduled for May 7 but was canceled March 20.
Wildflour has been in the Alpharetta community for about 14 years, Field said, which has led to a series of regular customers for Field's gourmet sandwich restaurant—some of which have dishes named after them, including the Lin & Mary, the Maureen and the Betty Anne sandwiches. Field also has one salad—the Miss Lilly—named after his daughter.
Field offers a variety of sandwiches, salads, desserts and pastries at his restaurant, all made to order and from scratch, he said.
"My regulars are who's still coming here right now. They still want to support us despite not being able to come inside to eat," Field said.
From March 23-24—days after the ordinance took effect—he said he had between 30-45 sales each day. He had about 80 sales March 25, he said, and a slower day March 26; however, he said he remains optimistic.
"Some days are half wonderful; others are wonderful. That's how I'm choosing to look at it," Field said. "We'll make it through this."
In the meantime, guests can order takeout or curbside pickup by emailing
[email protected]
or calling the restaurant during business hours—Monday through Friday 11 a.m.-4 p.m. and Saturday 11 a.m.-2 p.m.—at 678-822-9453. Curbside ordering is also an option, and delivery is available via DoorDash.